Orwell, in short, may have become more important as a symbol than for anything he actually wrote. Both of these books seek to reverse that suspicion, one by tethering the symbol to some distinctly fallible human flesh, the other by subjecting Orwell's political prose to the kind of scrutiny ordinarily reserved for the novels of Henry James.
John Sutherland has been reading and rereading Orwell ever since the 1954 BBC dramatisation of Nineteen Eighty-Four alerted him to the novel's existence. So he feels under no constraint either to bless or to damn a writer whose 'inextinguishability' will ensure that he continues to be read long after detractors and zealots alike have fallen silent. The organ which is the subject of this offbeat biography belonged in the first instance to Blair, even if its subsequent fame owes rather a lot to Orwell. Blair, it would appear, 'was born with a singularly diagnostic sense of smell. He had the beagle's rare ability to particularise and separate out the ingredients that go into any aroma.' Orwell became something of a 'nasal virtuoso'. Meta-beagling turns out to be Sutherland's own rare ability. Dogged does not begin to do justice to the tenacity he has shown in pursuit of his subject's pursuit of pong.
Odour is front and centre in Orwell's work, and Sutherland has provided some helpful 'smell narratives' that enable us to follow an oblique path through some of the best-known texts (fiction and documentary) from one hotspot of rankling secretions to another. Unsurprisingly, given the genres Orwell favoured, bad smells predominate: 'sour' sweat and 'sweetish' (or 'sickly') excrement top the bill, but there's an honourable mention, too, for machine-age effluvia such as petroleum vapour. Still, we're not to suppose that extreme olfaction only ends in nausea. It's crucial, for example, to the Orientalism of Burmese Days, animating as few other sensations could the embrace in which John Flory wraps his 'house concubine', Ma Hla May. 'A mingled scent of sandalwood, garlic, coconut oil and the jasmine in her hair floated from her. It was a scent that always made his teeth tingle.' Sutherland devotes considerable attention to the aphrodisiac effect on Orwell of sweet-smelling open spaces. Edenic lovemaking in a 'golden countryside' embellished with wild peppermint is George Bowling's dream in Coming Up for Air; and Winston Smith's, too, in Nineteen Eighty-Four. I've sometimes thought that Orwell's famous distinction between good, bad and good-bad books could be applied to the odours that pervade the ones he himself wrote. To my mind, it's the good-bad smells that reveal the most. These would certainly include the aromas which greet those protagonists who have gone missing from the bourgeois fold, on their not quite reluctant return to it at the end of the novels: glue, in A Clergyman's Daughter; mackintosh, in Coming Up for Air. These are uncanny smells, at once ancient and modern, familiar and abject.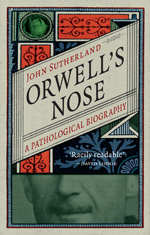 As the notorious comment about the readiness with which people of his own background and generation were prepared to believe that the working classes smell makes plain, Orwell's hypersensitivity should be understood as the product of a specific place and time. Sutherland gives due weight to social context, but his main theme is the smell of mortality, rather than that of class difference. The most provocative conclusion he draws concerns the cavalier attitude Orwell routinely displayed towards his own health, or lack of it. This recklessness has attracted the attention of previous biographers. D.J. Taylor sees in it a 'detachment from physical sensation' that can sometimes appear 'faintly inhuman'. Sutherland's suspicions are darker still. Virtually everything Orwell did in life, he notes, 'was bad for his lungs and his lifespan'. So why did he do it? The 1942 essay 'How the Poor Die' recalls a time in Paris, in February 1929, when his lungs collapsed, and he was taken off to a pauper's hospital, which had (inevitably) a 'foul smell, faecal and yet sweetish'. That Orwell had let it come to that, Sutherland suggests, might hint at 'suicidal pathology'. A further twist in the biographical smell narrative finds Orwell working for the BBC during the Second World War, in the cubicle next to William Empson. Orwell immediately propositioned Empson's partner, Hetta Crouse, but to no effect. 'It was the smell, Empson grimly implied.' Sutherland reports that Hetta and Orwell's first wife, Eileen, were in agreement about the deterrent of 'George's disgusting body odour'. It's a startling reversal. Orwell, for so long the collector of aromas, had become his own prize specimen. Mr Common Decency, it seemed, was capable of a level of performative self-neglect worthy of New York's erstwhile Dada punk-queen, the Baroness Else von Freytag-Loringhoven. In the final pages of his book, Sutherland returns to 'How the Poor Die', and to the stink of 'natural' death. Is that what Orwell, in his last days, now confirmed as tubercular, was so keen to avoid? 'The odour of mortality,' Sutherland concludes with a flourish. 'Write on the unofficial death certificate, "suicide".'
*
Or Orwell is an altogether different proposition, as its 61 pages of industrial-strength endnotes make abundantly clear. Alex Woloch's purpose is to remedy the relative neglect visited on an 'iconic political writer' by 'literary theory and criticism' – despite, or perhaps because of, their increasing preoccupation with politics. Whereas Sutherland prefers to stay out of disputes about the kind of socialist Orwell was, Woloch attributes to him an explicit and more or less unwavering political intention. The horizon of his argument is established by Orwell's remark, in 'Why I Write' (1946), that 'every line of serious work that I have written since 1936 has been written, directly and indirectly, against totalitarianism and for democratic socialism, as I understand it.' Some, at least, of literary theory and criticism's long-standing antipathy to intention will have to be revoked. Still, it was not so much the 'for' and 'against' that needed explaining as the medium of their expression. 'Why I Write' insists that, however polemical its intention, a book or magazine article must constitute an 'aesthetic experience' if it is to have any effect. 'What I have most wanted to do throughout the past ten years is to make political writing into an art.' The art of political writing lay in the effacement of personality: 'Good prose is like a windowpane.'