Obama's NSA Conference Could Be Subtitled 'The Guardian Gets Results'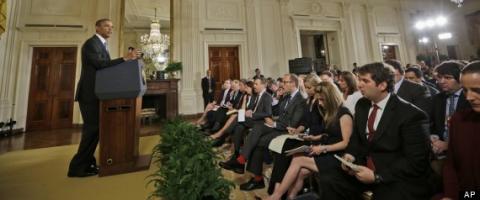 President Obama says he'll work with Congress to change the oversight of some of the National Security Agency''s controversial surveillance programs and name a new panel of outside experts to review technologies., AP Photo/Pablo Martinez Monsivais
President Obama's press conference on Friday was full of headline-making news about new proposals to reform the American surveillance system. But another headline could also be appropriate: "Journalism gets results."
Or, as the Guardian's Spencer Ackerman put it: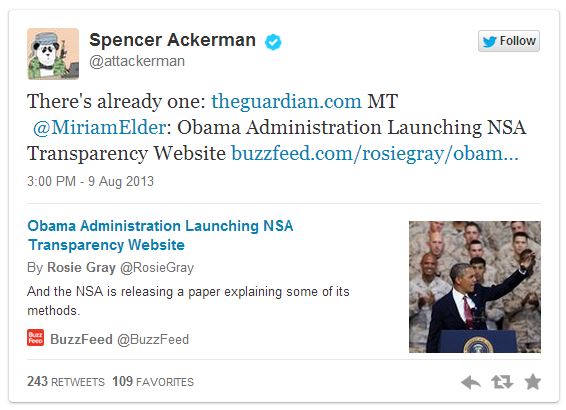 The press conference came after weeks of steady reports about the scale and scope of the National Security Agency's surveillance capabilities, all stemming from a mountain of leaks from former NSA contractor Edward Snowden. The vast majority of the reports appeared in the Guardian.
Obama said that he had been thinking about the nation's surveillance programs before the Guardian's stories, but this claim was meant with a healthy amount of skepticism: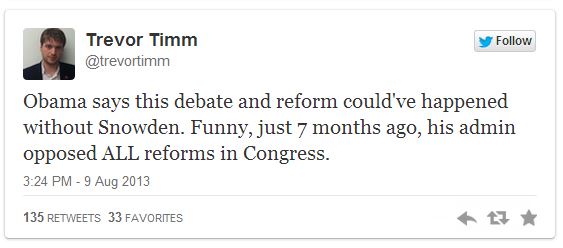 Washington Post writer Timothy Lee expanded on the point:
Yet the Obama administration showed little interest in subjecting the NSA to meaningful oversight and public debate prior to Snowden's actions. When Sen. Ron Wyden (D-Ore.) asked for a "ballpark figure" of the number of Americans whose information was being collected by the NSA last year, the agency refused to give the senator any information, arguing that doing so would violate the privacy of those whose information was collected.
Moreover, Obama himself mentioned "repeated leaks of classified information" at the very start of his remarks about his reform proposals — a clear indication that the Guardian and Snowden had influenced the debate.
"There's no doubt that Mr. Snowden's leaks triggered a much more rapid and passionate response than would have been the case if I had simply appointed this review board," he said.
Obama's decision to both acknowledge Snowden's impact and to propose changes also led some to wonder how he could still paint Snowden in a bad light: