The Sun Must Set on Mass Surveillance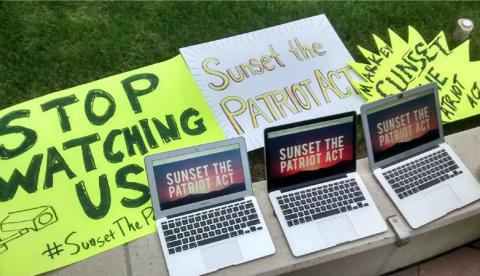 The Senate's pro-surveillance wing is scrambling to advance new legislation to preserve the NSA's unchecked ability to spy on all of us.
And they're in a rush. Authorization for the federal government's bulk collection of phone records is set to expire on June 1.
Their efforts were scuttled last Friday -- moments before members of Congress returned to their home states for the week-long Memorial Day recess -- as Senate Majority Leader Mitch McConnell failed to muster the votes needed to continue the surveillance program under Section 215 of the Patriot Act.
These proposals "would result in the establishment of even more secret law," the letter argues. "And surveillance programs implemented thereunder may again contravene to congressional intent and public wishes."
Senators will return to Capitol Hill on Sunday afternoon -- and unless they extend it, Section 215 will "sunset" at midnight ET on June 1.
Government intelligence agencies hold up Section 215 as one of a litany of laws that supposedly justify their ongoing abuse of our rights.