High School Students Across the Country Stage Walkouts to Protest Trump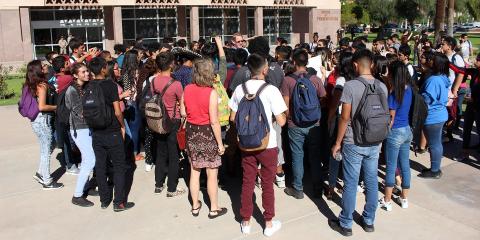 High school students protesting Donald Trump's election at the state capitol in Phoenix on Nov. 9, 2016.,
HIGH SCHOOL STUDENTS across the country staged walkouts today to protest Donald Trump's election as president of the United States.
Roughly half of Berkeley High School, or 1,500 students, participated in a walkout Wednesday morning, Berkeley Unified School District spokesperson Charles Burress told CBS San Francisco.
"Not my president," they chanted as they marched.
Similar protests happened in Phoenix, Arizona; Boulder, Colorado; Seattle, Washington; and Des Moines, Iowa, according to news reports and social media.
"This is what democracy looks like," Seattle West High School students chanted.
At Valley West High School in Des Moines, Vice Principal David Maxwell told KETV-7 that students were given 15 minutes to protest.
"The district prefers that its students are in class and participating," Burress said. "However, we do understand their concern and we take it very seriously when they feel passionate about political issues. We're doing everything we can to support them."