Donald Trump Really Wishes He Were a Dictator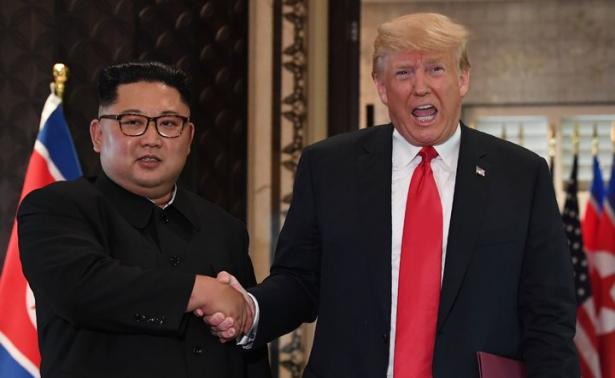 , SAUL LOEB / GETTY IMAGES
There's nothing President Donald Trump admires more than strength. When he really wants to disparage people, he'll call them "weak" or "low energy" or "sleepy."
 And for Trump, no one is stronger than a strongman. 
"He's the head of a country. And I mean, he is the strong head," Trump said of North Korean leader Kim Jong Un on Friday morning. 
"He speaks, and people sit up at attention," he added. "I want my people to do the same."
Trump later clarified that he was joking. Sure, but it's not as if it's the first time he has, often seriously, expressed admiration for dictators and their totalitarian states. 
He used to belittle Kim, but lately, Trump has been lavishing praise on the North Korean leader ― while acknowledging that he has done "bad things."
Trump has praised Kim as "tough" and "talented" and has not made an issue of his human rights abuses, which include executing his opponents. As someone who also inherited his position from his father, Trump has been sympathetic to the young leader. Cut him some slack, he has a big job ahead of him. 
"Hey, when you take over a country, tough country, with tough people, and you take it over from your father, I don't care who you are, what you are, how much of an advantage you have," Trump said this week as he was returning from their summit in Singapore. "If you can do that at 27 years old, I mean that's one in 10,000 that could do that. So he's a very smart guy. He's a great negotiator. But I think we understand each other." 
In Singapore, Trump commented that he liked how positive the coverage of Kim is on North Korean TV ― which is entirely run by the state — and joked that one of the female anchors should move to the United States so that he could get the same treatment, according to The Washington Post. 
But Trump finds these jokes funny in part because, well, there's some truth in them. He really does like dictators and seems to want to be one: 
He expresses admiration for dictators. 
Trump praised Rodrigo Duterte, the president of the Philippines, for doing an "unbelievable job on the drug problem." Under his crackdown, thousands of people believed to have used or dealt drugs have been extrajudicially killed. Trump has called Egyptian President Abdel-Fattah el-Sisi a "fantastic guy" and commented approvingly of the way he handled a 2013 coup that took down the president at the time: "He took control of Egypt. And he really took control of it." Thousands of protesters were killed. Trump also praises Russian President Vladimir Putin all the time. 
He wanted a military parade. 
Trump has brought generals into his administration and really wanted a military parade to honor his presidency. Dictators often use these shows of force to project strength and remind people who's in charge. Trump never served in the military and received five draft deferments during the Vietnam War.
He wants government institutions to go after his political enemies.
Trump wants law enforcement to be his personal force. He has made clear he's upset that Attorney General Jeff Sessions hasn't acted as his protector in the Department of Justice's Russia investigation, and Trump has expressed his frustration with the fact that he can't use the department to do things he would like, such as go after his opponents. "But you know, the saddest thing is, because I am the president of the United States, I am not supposed to be involved with the Justice Department. I'm not supposed to be involved with the FBI. I'm not supposed to be doing the kind of things I would love to be doing, and I am very frustrated by it," Trump said in 2017. "I look at what's happening with the Justice Department. Why aren't they going after Hillary Clinton?"
He says politicians who don't praise him may be committing "treason." 
Trump was unhappy that many Democratic members of Congress didn't stand up and applaud during his State of the Union address, and he called them "un-American." "Can we call that treason? Why not? I mean, they certainly didn't seem to love our country very much," he said. Politicians of the opposing party traditionally do not stand or applaud during parts of a State of the Union they don't agree with. 
He called Tiananmen Square a "riot."
In a 1990 Playboy interview, Trump praised the Chinese government for its violent military crackdown on the 1989 student-led pro-democracy demonstrations in Beijing. "The Chinese government almost blew it. Then they were vicious, they were horrible, but they put it down with strength. That shows you the power of strength. Our country is right now perceived as weak," he said.
President for life? 
In March, Trump praised China's President Xi Jinping for consolidating his power, saying, "He's now president for life. President for life. No, he's great. And look, he was able to do that. I think it's great. Maybe we'll have to give that a shot someday."
Another joke. Sure. OK. 
Do you have information you want to share with HuffPost? Here's how.
Amanda Terkel is Washington Bureau Chief, HuffPost.