Progressive Caucus Slams DCCC Head Cheri Bustos for Her Assualt on Primary Challengers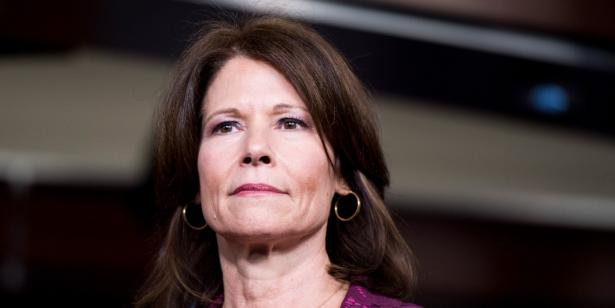 Rep. Cheri Bustos speaks during the Bipartisan Heroin Task Force news conference on Jan. 10, 2018., Photo: Bill Clark/CQ Roll Call via Getty Images
THE LEADERSHIP OF the Congressional Progressive Caucus has met with the top brass at the Democratic Congressional Campaign Committee and pushed back hard against a new party policy to blacklist consultants who work with primary challengers.
Rep. Ro Khanna, D-Calif., vice chair of the caucus, was also in the meeting with Rep. Cheri Bustos, D-Ill., and said that the turn the DCCC has taken in the 2020 cycle under her reign is worse on a small-d democratic level than previous cycles, when the party was not exactly kind to challengers.
"Pramila Jayapal, Mark Pocan, and I met with Cheri Bustos to make it clear that we strongly oppose her new policy that stifles competition and blackballs any consultant who works for a challenger. We made the point to Cheri that Nancy Pelosi, and Ben Ray Luján never adopted such a heavy-handed policy," Khanna told The Intercept in a statement. "Ben Ray Luján in particular had a much kinder and more inclusive approach."
Khanna said that it is such an egregious assault against the progressive wing of the party that even Rahm Emanuel, the hard-knuckled, hippie-punching DCCC chair from 2006, wouldn't have countenanced it. "This unprecedented grab of power is a slap in the face of Democratic voters across the nation. It's something even Rahm Emanuel would not have done and is totally tone-deaf to the grassroots activists across our nation. Voters are sick of the status quo holding on to power and stifling new voices. They are sick of D.C. politicians who care more about holding on to power than a true competition of ideas," said Khanna.
The pressure on Bustos is a rare defense of freshman Rep. Alexandria Ocasio-Cortez, D-N.Y., by her Democratic colleagues. Ocasio-Cortez is most closely associated with the effort to primary incumbent Democrats in safe seats who are not representing their communities. She previously served on the board of Justice Democrats, which is actively recruiting challengers, and remains close with the group. Ocasio-Cortez and Justice Democrats have both made clear that they are only targeting safe Democratic seats, so as not to put the Democratic majority at risk, but paranoia within the Democratic caucus has left that promise to fall on deaf ears.
"Let's be clear. If this policy remains in place, it will mean that we will not allow new Ayanna Pressleys or AOCs to emerge. It's simply wrong," Khanna said. "It's also hypocritical for a party that champions strong antitrust. The DCCC is acting as a monopoly by saying that anyone who does business with them can't do business with any competition. It's the classic antitrust violation and an unfair restraint on trade. Many progressives in Congress will fight until this rule is changed. We stand for reform in Congress and reform of the Democratic Party machinery to make sure they prioritize our voters and the grassroots."
Ryan Grim is The Intercept's D.C. Bureau Chief.