Progressive Rep. Rashida Tlaib Fires Back at Centrist Democrats: 'I Can't Be Silent'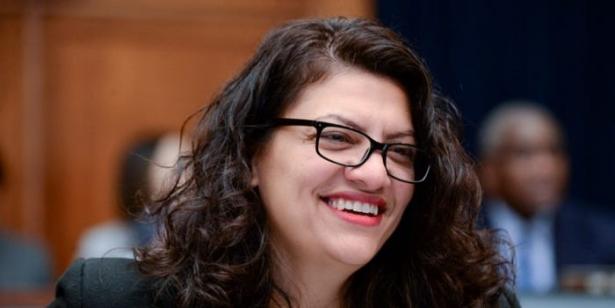 Rep.Rashida Tlaib ,REUTERS
Rep. Rashida Tlaib (D-Mich.) on Tuesday spoke out against centrist Democrats who are blaming progressives like her for the party's unexpected losses in the House this election.
Though Democrats managed to hold on to control of the House, Republicans have picked up at least six seats in the lower chamber. Some moderates have pointed the finger at progressives, claiming their calls to "defund the police" following George Floyd's death in May and their opposition to fracking may have alienated voters.
But Tlaib and other progressive House members are pushing back against the criticism from their center-left colleagues.

"We're not going to be successful if we're silencing districts like mine," Tlaib told Politico. "Me not being able to speak on behalf of many of my neighbors right now, many of which are Black neighbors, means me being silenced. I can't be silent."
She continued: "We are not interested in unity that asks people to sacrifice their freedom and their rights any longer. And if we truly want to unify our country, we have to really respect every single voice. We say that so willingly when we talk about Trump supporters, but we don't say that willingly for my Black and brown neighbors and from LGBTQ neighbors or marginalized people."
In a call with the House Democratic Caucus last week, Rep. Abigail Spanberger (D-Va.), who came dangerously close to losing her race this year, lashed out at progressives, chiding them for opening up Democrats to attacks about "socialism" and appearing to be anti-police.
"We need to not ever use the word 'socialist' or 'socialism' ever again," Spanberger said on the call, audio of which was leaked to the press. "We lost good members because of that."
Democratic infighting has grown in recent years with the arrival of progressives like Tlaib and Rep. Alexandria Ocasio-Cortez (N.Y.), whom House Speaker Nancy Pelosi (D-Calif.) has tried to distance herself from in an effort to appease moderates.
Pelosi and other Democratic leaders have catered to centrist Democrats, whose faction helped regain control of the House in 2018 by winning conservative-leaning districts.
Republicans have seized on figures like Tlaib and Ocasio-Cortez to paint Democrats as extreme radicals — which is a version of GOP attacks that have been used against liberals, including Pelosi, for decades.
A memo being circulated by top progressive groups ― including Justice Democrats, the group that propelled Ocasio-Cortez to topple 10-term incumbent Joe Crowley in 2018 ― lays out ways Democrats can rally more support.
"While we are all happy about President-elect Joe Biden's resounding defeat of Donald Trump, Democrats are right to be concerned about their underperformance down the ballot," states the memo, a copy of which was obtained by Politico.
"As we speak, Congressional Democrats are debating why they underperformed and some have been quick to blame progressives," the memo continues, adding: "We cannot let Republican narratives drive our party away from Democrats' core base of support: young people, Black, Brown, working class, and social movements who are the present and future of the party."
The memo calls on Democrats to invest in that core base, connect economic justice to racial justice and adopt an economic message that "connects with all working people."
"Scapegoating progressives and Black activists for their demands and messaging is not the lesson to be learned here," according to the memo. "It was their organizing efforts, energy and calls for change needed in their communities that drove up voter turnout."
Tlaib and other members of the so-called Squad ― a group of progressive members of Congress that includes Tlaib, Ocasio-Cortez, Ilhan Omar of Minnesota and Ayanna Pressley of Massachusetts ― say their agenda is a way to win voters not lose them.
"If [voters] can walk past blighted homes and school closures and pollution to vote for Biden-Harris, when they feel like they don't have anything else, they deserve to be heard," Tlaib told Politico. "I can't believe that people are asking them to be quiet."
Hayley Miller is a senior reporter based in New York with a focus on breaking news. She covers politics, crime, the media and more. Previously, she was a senior editor for HuffPost's contributors platform.