labor
Amazon Teamsters' Rolling Pickets Hit Facilities Nationwide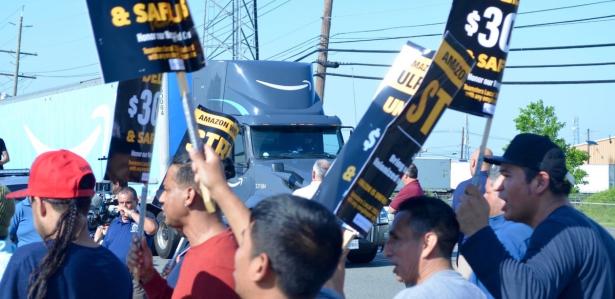 Two hundred Teamsters from six different locals joined newly-unionized Amazon delivery drivers from California in picketing an Amazon warehouse in northern New Jersey July 6.,Matt Leichenger
Brandi Diaz was at a customer's door in Palmdale, California, delivering stuff for Amazon, when the customer asked her, "What's the difference between you and UPS drivers?"
"He said the difference is UPS is union, Amazon is not. He referred to us as 'Jeff's Bozos.'
"I am no longer Bezos' Bozo!" Diaz said over honks and chants from 200 Teamsters from six different locals and some labor allies at a picket line outside an Amazon warehouse in northern New Jersey July 6.

Diaz and her co-workers voted to join Teamsters Local 396 in April. They are Amazon delivery drivers, but they were nominally employed by an Amazon contractor, the Southern California company Battle-Tested Strategies.
BTS, with 84 drivers, is one of Amazon's 2,500 delivery service partners (DSPs)—contractors who carry out the package deliveries, even while Amazon retains full control.
AMAZON DICTATES
Amazon sets workers' hours, wage floors, routes, and the number of packages they must deliver. It decrees from what vendor a DSP must lease the Amazon-branded vans, and even dictates the drivers' uniforms.
Amazon controls how many water bottles workers can take with them, and monitors to ensure they make the required 400 stops per day.
BTS voluntarily recognized the union and agreed to a contract that would hike wages to $30 an hour by September, compared to the $19.75 drivers were earning before.
That's when things got complicated. Since Amazon sets the pay for DSPs, BTS couldn't implement a raise without its approval. After BTS recognized the union, Amazon announced on April 24 that it would cancel its contract with BTS on June 24.
"Amazon wants to have it both ways: total operational control but no employment responsibility," wrote employment scholar David Weil in an email to Labor Notes. "As the sole source of deliveries, Amazon controls key aspects of what BTS does as a contractor."
The Teamsters argue that Amazon is a joint employer with BTS, and therefore has to bargain, but Amazon has refused to recognize the union or come to the negotiating table. In response, the Teamsters filed unfair labor practice charges in May.
"The Teamsters request to the National Labor Relations Board to review Amazon's decision to cut off BTS as a contractor—right before BTS recognized the union—poses the critical question: Can Amazon have it both ways?" Weil wrote. "Can they benefit from a contractor that operates as an extension of Amazon but not be held responsible?"
FACING THE BOOGEYMAN
Diaz and her co-workers knew from the start of their organizing that they risked Amazon firing them all. And even after the company announced their job would end, they pressed forward, walking off the job twice last month to demand Amazon bargain with its drivers and dispatchers.
Since June 24, they've been on strike to demand the e-commerce giant stop its unfair labor practices. They've been jumping from one picket line after another at seven warehouses across California, New Jersey, Connecticut, and Massachusetts, taking aim at Amazon's logistics chain.
"Labor law permits workers at one employer who are seeking to improve their wages and working conditions to extend primary pickets to related employers—in this case Amazon facilities across the country," said veteran labor organizer Rand Wilson. "The Teamsters are turning adversity into an advantage by mobilizing a national campaign in support of workers at the one small DSP in Palmdale that formed a union."
On the picket line, Teamsters are also gathering contact info from non-union workers who show an interest. Instead of simply leafleting at the gates, they're bringing Amazon workers to share their stories and inspire others to join in.
"I'm just trying to make greedy corporations give a little bit to those who do a lot and need it," said BTS/Amazon delivery driver Cecilia Porter at the picket line in New Jersey. "If we can pave the way for everyone, and encourage everyone to stand up for themselves, I'm out here and I'll keep doing it until I can't do it anymore."
"Amazon is like the boogeyman," Diaz said. "But eventually you're gonna have to face that boogeyman and get over your fears."
Last week's pickets hit three types of Amazon warehouses: a fulfillment center in Connecticut, where customer orders are packed; a sortation center in New Jersey, where packages are routed to local facilities; and a delivery station in Massachusetts, where packages are put into delivery vehicles and dispatched to mailboxes or doorsteps.
The Teamsters have indicated that more picket lines are in the offing nationwide until Amazon reinstates the unlawfully fired workers, recognizes the union, respects the contract that BTS negotiated, and enters bargaining as a joint employer.
SCORCHING HEAT
Workers began organizing at BTS last August over low wages and unsafe conditions.
They were driving around in scorching desert heat that turned their vans, many with broken air conditioners, into ovens; Amazon even limited how many water bottles they could carry during a 10-hour shift. They also had to fend off dog attacks; last year an Amazon delivery worker in Missouri was killed by dogs.
After workers presented a list of demands—and threatened to walk off the job if they went unmet—Amazon fixed some of the vans, provided workers with cooling towels, and allowed them to carry two 16-ounce bottles of water a day.
Soon after the worker action, Amazon arranged for BTS owner Johnathon Ervin, an Air Force veteran, to participate in a union-busting training, where he says Amazon told a BTS representative: "If you unionize, your contract will be cut."
DAUNTING TASK
The Teamsters face a daunting organizing task: bringing Amazon to the table to bargain with these delivery drivers. From there they could expand to other DSPs and warehouses in its logistics chain.
UPS Teamsters are currently negotiating their contract. A credible strike threat has extracted concessions at the bargaining table. UPS has been forced to concede union demands to eliminate two-tier wages for drivers and surveillance cameras in package cars, end overtime that requires members to work six days, and establish Martin Luther King Day as a paid holiday. In the private sector, workers usually have to swap out MLK Day for an existing holiday or take it unpaid.
Next up are lifting wages to $25 per hour for part-timers at the lower end, among other economic demands. A strong Teamster contract at UPS could show Amazon drivers what a union can do. "If we're going to be successful in organizing Amazon, we need the best contract in the industry," Teamsters President Sean O'Brien told the Boston Globe last month.
One example is relief from the heat. In the current UPS negotiations, the Teamsters have won air conditioning in new trucks and the installation of fans and heat shields in existing ones. Last year, 24-year-old UPS driver Esteban Chavez Jr. collapsed in the back of his truck while delivering packages in Pasadena and died; temperatures were in the upper 90s.
But contract talks between UPS and the Teamsters broke down last week over better wages for part-timers. Members have authorized a strike if UPS fails to deliver a new pact before the current deal expires July 31.
Amazon is a wily company. To keep any union drive from having much leverage, it has limited the size of DSPs to 100 workers, and since 2019 it has decreed that each operator can own only one DSP. Amazon made this change after Teamsters Local 377 organized 46 workers at Silverstar Delivery near Detroit; Silverstar fired the workers, and Amazon later canceled Silverstar's Michigan contract.
ASTROTURF?
Amazon has characterized the roving picket lines as "initiated and attended by mostly outside organizers," with "no impact on our operations or ability to deliver for customers."
From what I saw, that's not true. Along with BTS/Amazon delivery drivers, the picket lines included UPS part-timers, grocery workers, and former Teamsters who now drive large feeder trucks for Amazon. While most of the crowd were Teamsters, there were also a few supporters from the independent network Amazonians United, the worker center Make the Road New Jersey, and the Democratic Socialists of America.
The show of solidarity from the labor movement moved Diaz and Porter.
"They have our backs, and we haven't been part of the local for that long," said Diaz. "I've worked for Amazon, and they never had my back. What we get is, 'What's taking you so long? Why aren't you done yet?'"
Brenda Cook, a UPS part-time package handler in Teamsters Local 177, joined the picket line because she saw a righteous fight for better wages similar to her own. She said she's ready for a possible UPS strike: "I'll be right out down the line, front and center to fight."
Another picketer, Teamsters Local 804 member Phil Rubianes, had worked at an Amazon warehouse in Phoenix before he started driving for UPS. "With the election of O'Brien, I've been getting really excited about the labor movement," he said. "It's the most dynamic that it's ever been in my life. And it seems like Amazon is a place where the movement is poised to make a lot of inroads and breakthroughs."
Laura joined the picket from her job at ShopRite. She has been a member of Teamsters Local 863 for only four months. But "when I learned that members of my union were unjustly fired, I felt it was important to be here with them to show that we support them," she said in Spanish, adding a saying commonly used in the Dominican Republic: "Today it is you, tomorrow it can be me."
'NOT THE ONLY ONES'
I also spoke through a chain-link fence with Amazon workers in Transportation Operations Management who move trailers around the warehouse yard. They deliver these trailers to nearby warehouses—including the one that unionized last year, JFK8 on Staten Island, nine miles away.
They were apprehensive, trying to figure out if I was conducting surveillance for Amazon. But they had been following the organizing at Amazon, and had discussed the union with JFK8 workers.
They were generally supportive of the BTS strikers, with a degree of trepidation. Would they support a union? Yes, they said, if it would boost their wages higher than the current $25 per hour.
The Teamsters say trucks have honored the picket lines, slowing deliveries. Speed is Amazon's brand, and its massive warehouse and logistics chain is designed to move goods fast. Any interruption or delay gives workers leverage.
By 5:30 p.m. at the New Jersey picket line, people were parched from hours of marching in the heat. Diaz and Porter were drinking water in a shady area when a tractor-trailer with an Amazon logo pulled to the side. The driver asked why the workers were picketing.
Diaz climbed the truck's passenger-side steps and told him that she and her co-workers are on strike fighting for better wages and safer vehicles. She could feel the cool air blowing from the truck's air conditioning; she told him they're fighting to get A/Cs in their vans too.
He turned off the truck and joined the picket line.
"It's gonna be a long fight," said Diaz. "We're out here trying to extend the picket lines to get the word out. We're not the only ones that feel this way. There are others that feel the same way."