https://portside.org/2017-07-22/donald-trump-and-coming-fall-american-empire
Portside Date:
Author: Jeremy Scahill
Date of source:
The Intercept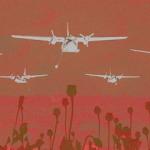 Even as President Donald Trump faces ever-intensifying investigations into the alleged connections between his top aides and family members and powerful Russian figures, he serves as commander in chief over a U.S. military that is killing an astonishing and growing number of civilians. Under Trump, the U.S. is re-escalating its war in Afghanistan, expanding its operations in Iraq and Syria, conducting covert raids in Somalia and Yemen, and openly facilitating the Saudi's genocidal military destruction of Yemen.
Meanwhile, China has quietly and rapidly expanded its influence without deploying its military on foreign soil.
A new book by the famed historian Alfred McCoy predicts that China is set to surpass the influence of the U.S. globally, both militarily and economically, by the year 2030. At that point, McCoy asserts the United States Empire as we know it will be no more. He sees the Trump presidency as one of the clearest byproducts of the erosion of U.S. global dominance, but not its root cause. At the same time, he also believes Trump may accelerate the empire's decline.
McCoy argues that the 2003 invasion of Iraq was the beginning of the end. McCoy is not some chicken little. He is a serious academic. And he has guts.
During the Vietnam war, McCoy was ambushed by CIA-backed paramilitaries as he investigated the swelling heroin trade. The CIA tried to stop the publication of his now classic book, "The Politics of Heroin." His phone was tapped, he was audited by the IRS and he was investigated and spied on by the FBI. McCoy also wrote one of the earliest and most prescient books on the post 9-11 CIA torture program and he is one of the world's foremost experts on U.S. covert action. His new book, which will be released in September, is called "In the Shadows of the American Century: The Rise and Decline of U.S. Global Power."
"The American Century, proclaimed so triumphantly at the start of World War II, may already be tattered and fading by 2025 and, except for the finger pointing, could be over by 2030," McCoy writes. Imagining the real-life impact on the U.S. economy, McCoy offers a dark prediction:
"For the majority of Americans, the 2020s will likely be remembered as a demoralizing decade of rising prices, stagnant wages, and fading international competitiveness. After years of swelling deficits fed by incessant warfare in distant lands, in 2030 the U.S. dollar eventually loses its special status as the world's dominant reserve currency.

Suddenly, there are punitive price increases for American imports ranging from clothing to computers. And the costs for all overseas activity surges as well, making travel for both tourists and troops prohibitive. Unable to pay for swelling deficits by selling now-devalued Treasury notes abroad, Washington is finally forced to slash its bloated military budget. Under pressure at home and abroad, its forces begin to pull back from hundreds of overseas bases to a continental perimeter. Such a desperate move, however, comes too late.

Faced with a fading superpower incapable of paying its bills, China, India, Iran, Russia, and other powers provocatively challenge U.S. dominion over the oceans, space, and cyberspace."
Alfred McCoy is the Harrington professor of history at the University of Wisconsin-Madison. He is the author of the now-classic book "The Politics of Heroin: CIA Complicity in the Global Drug Trade." His new book, out in September, is "In the Shadows of the American Century: The Rise and Decline of US Global Power."
This week, I interviewed McCoy for the Intercepted podcast. We broadcast an excerpt of the interview on the podcast. Below is an edited and slightly condensed version of the full interview. In this wide-ranging interview, we discuss Trump and Russia, the history of CIA interference in elections around the world, the Iran-Contra scandal, the CIA and the crack-cocaine epidemic, U.S. proxy wars, narcotrafficking in Afghanistan, and much more.
Jeremy Scahill: One of the things that you're best known for is a book that continues to this day to be relevant when studying covert U.S. operations around the world, as well as the international narcotics trafficking industry, and of course you tie both of those together. We're going to get into all of that in a moment but I wanted to begin by asking you to assess this current moment that we're in with Donald Trump. How do you see him in a historical context, and what does his presidency represent about the American Empire?
Alfred McCoy: What I think right now is that, through some kind of malign design, Donald Trump has divined, has figured out what are the essential pillars of U.S. global power that have sustained Washington's hegemony for the past seventy years and he seems to be setting out to demolish each one of those pillars one by one. He's weakened the NATO alliance; he's weakened our alliances with Asian allies along the Pacific littoral. He's proposing to cut back on the scientific research which has given the United States — its military industrial complex — a cutting edge, a leading edge in critical new weapons systems since the early years of the Cold War. And he's withdrawing the United States, almost willfully, from its international leadership, most spectacularly with the Paris Climate Accord but also very importantly with the Trans-Pacific Partnership.
And he seems to be setting out to systematically demolish US global hegemony. Now, it's important to realize that the United States is no longer the preeminent global power we were, let's say at the end of Eisenhower's presidency, back in 1960. Our share of the global economy has declined substantially. We're about to be eclipsed by 2030, by China, and become the world's number two economic power. China's making some breakthroughs in military technology. The world system is spreading its wealth and there are a number of second tier powers, the rise of the European Union, et cetera. It's a more complex world, so United States can no longer dictate to the world, or at least much of the world, like we could back in the 1950s.
Having said that, the presidency is a weaker office internationally than it used to be. Nonetheless, there are presidents, and I say Barack Obama was one of them, George H.W. Bush was another, these presidents through skillful diplomacy, their knowledge of the international system, their geopolitical skills, they could maximize U.S. influence on the world stage. They could use U.S. military power strategically, deftly, they could lead international coalitions, they could set the international agenda. Trump is turning his back on all of that and I think he's accelerating perhaps markedly, even precipitously, the U.S. decline.
JS: Since Trump became president, everyone is sort of wrapped up in the palace intrigue, and what did Trump know about Russia and when did he know it, and did he know about Don Jr's meeting with this lawyer who is being described as "Kremlin-connected?" And I think all of that is a very important story because it could bring down his presidency, but at the same time my sense is that the CIA and the darkest elements of the U.S. military are actually in a pretty flexible position right now because Trump is so hands-off and, because as you say he's not an effective manager of empire. What are your thoughts on that?
AM: That's correct. Much of the military establishment and its links with the intelligence community is in place. Let's say that some of the new initiatives— cyberwarfare—well the Trump Administration understands the importance of that and indeed he has advisors that do, so the continued evolution of that, the development, that will continue, space warfare is in a long-term trajectory. Weapons systems take as long as 10 years to go from design, prototype, testing, and either rejection or acceptance. So that transcends any administration, even a two-term administration. So there's a long-term trajectory.
President Eisenhower, that famous phrase that he warned us about in his last address, the military industrial complex—he built a complex in which he integrated scientific research, basic research in the universities and private corporations, and then dozens of defense contractors who have more or less permanent contracts to maintain their research and production establishment—he integrated that with the U.S. military and that will survive any American president.
Unfortunately what Trump doesn't seem to understand is that there's a close relationship between basic research, like research in artificial intelligence, and your capacity to come up with the next new thing that will give the United States a leading edge in military technology. And that's what he doesn't understand, that's the one way he's damaging the whole complex. But otherwise, you're right, it's on a longer-term trajectory about ten, ten-year cycles of research, procurement, and deployment of new weapon systems and that transcends any single administration.
To read the rest of this interview click here.
Subscribe to the Intercepted podcast on Apple Podcasts, Google Play, Stitcher, and other platforms. New to podcasting? Click here.