https://portside.org/2015-11-07/jeffco-voters-recall-three-conservative-school-board-members
Author: John Tomasic
Date of source:
The Colorado Statesman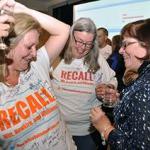 The political landscape in the state seemed to shift beneath Jefferson County Tuesday night, or at least that's how it felt on Union Boulevard in Lakewood, as county school board election results flashed onto screens at election parties set up across the street from one another, delivering news of a landslide victory that recalled the three-member conservative board majority and put in place an entirely new, five-member school board.
Conservatives Ken Witt, John Newkirk and Julie Williams were recalled after being elected in 2013 by wide majorities.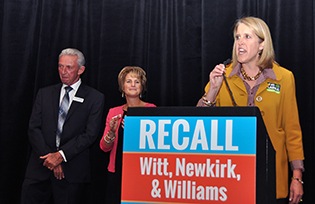 "Public education in Jefferson County Colorado is not for sale," says Ali Lasell as Ron Mitchell and Susan Harmon stand by on Nov. 3 at the Sheraton Denver West in Lakewood. The three are among five new Jeffco School Board members elected following the recall of three conservative board members.
They were replaced with "clean slate" candidates Ron Mitchell, Susan Harmon and Brad Rupert. Candidates Ali Lasell and Amanda Stevens, who were part of the slate and were running for open seats, also won handily.
After nearly two years of heated controversies and months of intense, often emotional campaigning — supporters and opponents of the recall poured more than $1 million into the local race — it was over nearly as soon as the polls closed at 7 p.m., when initial results showed the recalls winning with roughly 65 percent of the vote.
"We're just the flag bearers," said Mitchell, who will take over the seat held by Witt, the Jeffco board president. "What a night, what a year with these citizens. They did this, the voters, the parents and kids who stood up to outside interests and took back their schools."
Stevens said the celebration came with an obligation to mend fences.
"I'm not done fighting," recalled Jefferson County Board of Education member Julie Williams tells a reporter as her son Randy stands by on Nov. 3 at an election night watch party at José O'Shea's restaurant in Lakewood. Williams and the other two conservative members of the board, Ken Witt and John Newkirk, were elected in 2013 by wide margins but were all recalled from office by voters this week.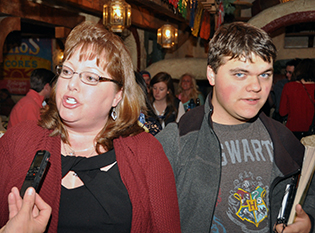 Photo by Ernest Luning/The Colorado Statesman
"We're going to need help getting started in the job. We look forward to bringing in the seven former board members who supported us as well as members of the community, including those who may feel marginalized by the election. We'll need to hear from them, too. Otherwise, we'd just be flipping the script and mirroring the problems that have weighed on the district. Our community needs reconciliation."
Williams, perhaps the most widely known of the ousted conservative majority, seemed both shaken and determined.
"The liberal bosses and the union agenda are very, very powerful," she told The Colorado Statesman. "And when the majority of the media is out there willing to broadcast lies, how can you win with that?"
"I'm not done fighting," she added. "This is about power and control and money over the hearts and minds of our children. That's why I'm in this race, and that's why I'll keep fighting."
Ballrooms and 'Big Units'
Jefferson County school board politics have made headlines across the state and the nation for nearly two years. Pundits called the election Tuesday a political "proxy war" over larger right-left economic and cultural issues, a key battle for the future of public education, a warm up for the 2016 presidential election year in a bellwether county in a crucial swing state.
It was difficult for observers — at least as much as for those at the heart of the campaigns — not to see the election as a story about more than a school district. The mood on both sides of the contest Tuesday night seemed freighted with larger considerations.
The second-floor ballroom at the Denver West Sheraton filled quickly. Hundreds of parents and teachers talked close with one another. High school students milled about, trailing their parents. Elementary school kids played tag and rolled around on the floor.
When three large screens at the front of the room lit up suddenly with the county clerk's elections results page, screams and shouts rose to the rafters, fists shot into the air, people hugged and danced.
Ashlyn Maher's face flushed as she watched one of the screens. She was an active recall supporter last year when she was a senior at Chatfield High School. She said she flew in for election night from Tucson, where she now goes to college.
"I left for the airport at 4:30 a.m.," she said. "I'm so happy and I'm so tired and I know that it's still early but those numbers are better than anything I could have imagined." She hugged her friend and whooped at the screen, where Board President Witt's name floated above a bar that showed him losing roughly 65 percent to 35 percent.
It never got much better for Witt, nor for the other two recall candidates. They all lost by just about 30 points.
Across the street, the conservative board members and their supporters crowded into the upstairs rooms at José O'Shea's, a buzzing Mexican restaurant that was the site of the board majority's election night watch party. It shared space with a trivia contest for non-political patrons. Sports questions came over loud speakers at a regular clip: "Which Major League Baseball pitcher was nicknamed 'The Big Unit'?"
At one table, Ben DeGrow, education reform policy specialist at the libertarian-leaning Independence Institute, typed away amid plates and glasses, flipping between screens, checking vote totals. But by 7:30 p.m. it was clear that the controversial board members the Independence Institute had supported would lose their jobs in a landslide.
Advanced Placement and Planned Parenthood
Williams was, for many, the face of the election. She made news last year after proposing a curriculum committee to review the district's Advanced Placement American History courses — to make sure, as she put it, that the courses "present positive aspects of the United States and its heritage" and "promote citizenship, patriotism, essentials and benefits of the free enterprise system."
To critics, the proposal smacked of right-wing revisionism. Teachers, students and parents responded with weeks of protests before the proposal was withdrawn.
Williams said that district personnel, including former Superintendent Cindy Stevenson, many teachers and the media lined up against her and the three-member board majority from the beginning, after they were elected with strong support in 2013.
"The union bosses have had control over our education for 40 years, and when we won in 2013, we ran on a platform of reform with overwhelming majorities. But the very next day, Superintendent [Stevenson] resigned. She said she didn't want to work with the conservative board. She never gave us a chance — the people in the district never gave us a chance.
"Within a few months, there were 500 feet on the ground. Then we had the [union] hiring operatives come in and work against us, and then the National Education Association bringing in experts to lead the group. So how could we even have a chance?"
Witt said the election results were disappointing but not surprising.
"Change meets with a lot of resistance," he said later in the evening, after the crowds at both watch parties had begun to thin out. "But I'm proud of what we did. We put charter schools on equal footing in regard to funding. We instituted pay-for-performance, so the district can truly reward and recognize its best teachers. And the people on the new board have committed to maintaining those reforms, so I hope the public holds them to their words."
Williams said the loss of the conservative majority would mean higher taxes and that special interests would exercise greater influence in the schools.
"We will go deeper into the Common Core standards. Planned Parenthood will have a stronghold in our classrooms. It's already being reported that there are special Planned Parenthood kits that families can purchase."
Planned Parenthood Votes Colorado, a political arm of the health care provider, rallied Jeffco residents to vote for board members who support comprehensive sex education, which meant votes against the conservative board members. Planned Parenthood has long sold its "Birth Control Training Kits" to health instructors.
AFP and the Kochs
Conservatives have battled for decades to break teachers unions, but they have redoubled efforts in recent years to remake public education and, in the process, shift to the private sector control over what they see as an enormous and growing sphere of government influence and spending.
"About a decade ago, the outside money and agendas came in to make the schools another front in the political wars," said Sen. Andy Kerr, D-Lakewood. "Tonight, parents stood up. They gave the middle finger to the Koch brothers and their politics."
Americans for Prosperity, a right-leaning organization funded by the oil-billionaire Koch brothers, has worked political issues intensely in Colorado in recent years, including school reform.
The group organized walks in Jefferson County neighborhoods in advance of the election and paid a field director and part-time staffers. It also paid something in the "low six figures," according to the New York Times, on ads and mailers.
Spending was high on both sides. The election will have cost well over $1 million, though the identities of many of the sources of that money will never be revealed.
Americans for Prosperity state director Michael Fields said his group was taking the long view. AFP will continue to work to promote school choice voucher programs, equal funding for charter schools and stricter "pay for performance" teacher compensation systems, Fields said.
"[These] are the right policies for helping our kids have the tools they need to succeed," he said in a release. "Now is when the real work begins. We will continue to advocate for policies in education that are best for students and families."
"Jeffco and Arapahoe counties are always important areas for policy debates," he told The Statesman before the election. "We'll also be focusing on areas like Adams and Pueblo (counties), where residents are shifting more conservative, especially on economic issues."
It's not over yet
"I know it's not over," Laselle told the Sheraton crowd a little after 7 p.m., as the five likely winners took to the stage as the crowd went wild. "But it appears to me that public education in Jefferson County Colorado is not for sale. We have you all to thank for that."
Recall supporters raised and spent hundreds of thousands of dollars, much of it from local and national teachers unions, although because of the way it was passed through different committees, the extent of spending and ultimate sources could remain dark.
The newly elected board members said they weren't interested in cleaning house when they take office later this month. "I don't think it's the time for firing any members of the district. That would send the wrong message," said Stevens, referring to Superintendent Dan McMinimee, a former Douglas County administrator whose hiring last year drew sharp criticism from opponents of the conservative majority.
"Dan wants to work with people. I imagine we'll all want to meet with him and compare visions," Mitchell said.
Stevens and Mitchell, however, said the new board was unlikely to retain the services of Miller Sparks, the law firm the outgoing board hired for $7,500 per month.
Recall supporters charged that that the decision to hire attorney Brad Miller was conducted in secret meetings by the board majority, listing the move among their reasons for launching the recall. (In one of the odd twists leading up to the election, Witt called a press conference last month to announce he was filing an ethics complaint against himself to determine whether he and his cohorts had actually violated state open meeting laws, although the panel he asked to weigh in said it doesn't have jurisdiction in the matter.)
From one perspective, the landslide election results seemed to put a period on the tumultuous, headline-grabbing and sometimes bizarre events of the last two years in the district. But there was also a sense that the swing district was still writing early chapters in its story of education reform politics.
State Rep. Brittany Pettersen, D-Lakewood, said she was confident that school board elections wouldn't simply seesaw every two years between candidates representing the two sides of the education policy debate.
"I think this election shows that people know that elections are different now. From now on, they'll know what to look for, they'll know what's coming."
Elsewhere in the state, all three of the reform-minded conservative school board incumbents up for reelection in Douglas County lost, although conservatives there retain a slim majority. Board President Kevin Larsen lost to Anne-Marie Lemieux in District C. Craig Richardson lost to Wendy Vogel in District A. And Richard Robbins lost to David Ray in District F.
In Denver, the longstanding reform-oriented majority held, even though DPS board president Allegra "Happy" Haynes, one of the reformers, barely eked out a victory against relative unknown challenger Robert Speth.