https://portside.org/2015-11-10/cuomo-create-15-minimum-wage-new-york-state-workers
Author: Jesse McKinley
Date of source:
The New York Times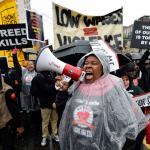 ALBANY — Gov. Andrew M. Cuomo plans to unilaterally create a $15 minimum wage for all state workers, making New York the first state to set such a high wage for a large group of public employees.
The increase, which Mr. Cuomo will announce on Tuesday, would place New York's public employees far ahead of other states on minimum wage, and at the vanguard of a national movement to address stagnant wages for tens of millions of American workers.
Using executive authority, Mr. Cuomo, a Democrat, would gradually increase the hourly rate: State workers in New York City would earn $15 an hour by the end of 2018; state workers outside of New York City would also see wages rise, though more slowly, with rates climbing to $15 by the end of 2021. All told, some 10,000 workers would see a bump in pay, according to the governor's office, with the vast majority of those living upstate or outside the city.
Bo Lee Hatiesburg, MS I am O.K. with giving state employees $15 an hour. Burger flippers, not so much. The governor's action comes on a day when fast-food workers across the country are striking for a uniform $15 hourly wage, a movement that Mr. Cuomo has championed in New York and even as a growing number of cities have acted to raise wages. But Mr. Cuomo's action is the first time a governor has raised wages to $15 for so many state employees.
In a statement, Mr. Cuomo framed his decision as part of a larger fight against poverty. It is a theme that he touched on in January after being elected to a second term, and has recently returned to, pushing for a statewide $15 wage for all employees, both public and private.
That idea has faced resistance from Republicans in Albany, and some conservative fiscal groups, who warn it would be disastrous for the state's economy and job growth.
But on Tuesday, Mr. Cuomo said he would act unilaterally for employees on the state's payroll.
"I believe that if you work hard and work full time, you should not be condemned to live in poverty," he said in the statement, adding that "families nationwide continue to be left behind by an insufficient minimum wage. And it's time that changed."
The job categories affected by the plan include lifeguards, office assistants and custodial staff. Wages in New York City would be raised first, the official said, because of the higher cost of living in New York.
Mr. Cuomo's action comes on the heels of several other executive actions seemingly meant to appease and please the liberal wing of his party, which has faulted the governor in the past for his working too closely with Republicans, who hold the majority in the State Senate. In addition to the increase in the minimum wage for fast-food workers in New York — which Mr. Cuomo accomplished in July via a state wage board — Mr. Cuomo has also empowered the state attorney general, Eric T. Schneiderman, to look into police-related killings. And last month, he expanded protections for transgender people, building on a 1945 state law that barred discrimination on the basis of sex.
"He wanted this as a baseline at any negotiations," said the official, about the $15 rate. "And he wanted us to lead by example."
The governor's action may also put new emphasis on broader increases in the minimum wage in New York during the coming legislative session that begins in January, the official said.
The governor's action was hailed by groups that have seen a building momentum for higher pay.
"It shows the power of the movement towards $15 wages," said Paul Sonn, general counsel at the National Employment Law Project, a nonprofit group based in New York, which advocates for higher wages. "And it shows real leadership from the governor. He's a smart politician and he's throwing his weight behind a winning political and economic issue."