https://portside.org/2015-11-12/tidbits-november-12-2015-asian-voters-bernie-sanders-and-labor-portside-satire-cops-and
Author:
Date of source:
Portside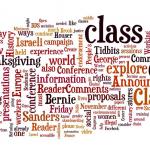 Interesting analysis, and one of the keys to the 2016 Presidential race.
Masaru Edmund Nakawatase
I've no longer can tell the difference between a satire and "real" news
Junko Davis
Guess their remaining debate(s) will amount to an infomercial.
Ronald King
Bernie Sanders is a realist and a visionary, one who worries about the poor and unemployed all the time and not only for a few moments. The America that voted for FDR and not Herbert Hoover could become part of the 21st century and make people and not corporations the priority.
Marc Batko
#FeelTheBern !!!!!!!
Bernie Sanders- not only "electable" but pretty much a last chance at saving what America was/shouldbe/theMiddleClass from what America has become.
Anna Paidoussi
I don't understand it, and am personally ashamed of my union for their endorsement of Hilary.
Joanne Kosloski
Portside readers should remember that one of the conditions of  the Working Families Party endorsement of the Governor was the raise in the  minimum wage. While no one would argue that this was the only or even decisive factor[ it takes a movement-always] it was a factor, especially when you consider the role of SEIU in the endorsement and in the FF15.
Ask a present day minimum wage worker what move they would  have preferred and you would get a near unanimous response in favor of the  endorsement and the trade off.
This is not even an argument in favor of the WFP  endorsement which had other complicating factors involved. It is an argument  that a left that cares about the working class shouldn't rush to judgement  in the name of purity, political correctness, or whatever you wish to call it,  without taking into account how a move might actually affect the  real  lives of working people.
Larry Moskowitz
Single pay! The only Way!
(pardon me, I'm an ex-pat Alaskan who lives in Beijing. This expression might have been coined already so sorry....) 
Mike Liston
Better teacher training on how to deescalate a relatively minor situation is also needed. Cell phone use in class is an behavior that could be redirected with a non adversarial response. I know many teachers are on their last nerve ending with kids who have unfathomable lives beyond the classroom. That's why teachers pay should match the level of training required to be able to elicit a desire for learning from the highly resistant. Some natural skill, respect and compassion are also needed. Students will go to great lengths to save face, protect a fragile image. Losing a debate over use of a phone is not acceptable. Another route was needed with this girl...not violence in the classroom.
Karyne Dunbar
No, not unfortunately ... prescient and past timely. This malediction, football, must be abolished and sane substitutes prevail. The Coliseum once again provides pastimes to provide cover for the endless wars and worldwide killing. I am so nauseated every time I hear the words football  and Packers.
Joe Radoszewski
Slip sliding into quicksand
John Hammond
This was a very valuable, very strong article. The information about Charlie Hebdo and the France-in-Algeria was critically important.
I do have a question, however. I would like to know what part(s) of the BDS activism was held by the French court to be criminal.
If the mere characterization of Israeli actions as immoral or illegal was held by the French court to be illegal, then a great deal has been lost in France. If the mere description of Israeli actions in OPTs was held to be illegal, then almost all "free speech" has been lost in France.
If, on the other hand, it was the boycott-agitation (alone) which was held to be illegal, then there is some hope. After all, activists can then carry signs saying:
"Israel misbehaves -- please consider whether or not to buy Israeli products"
or
"Israel misbehaves -- Israeli products are for sale here."
which hints at boycott but does not actually say "Do Not Buy Israeli Products".
Peter Belmont
Responding to good citizen Stan Nadel's remark's about events at the al-Aqsa compound in Jerusalem, he obviously does not understand what is going on. Yes, the dispute is between religious groups, but the clear issue is property rights, not any kind of religious rights or freedom.
Perhaps good citizen Nadel can regale us with Lenin's words on property rights, instead of his thoughts on crushing the world's religions.
R Zwarich
Pure greed , is there any sharing in Judaism ?
Metin Mercan
These right wingers may be Jewish, but they don't represent all Israeli Jews nor all Jews.
One of the very first mitzvahs/good deeds taught in Judaism is charity.
Laurie Russell
Despicable!! has the world gone mad?
Bruce Campbell
Four Corners has so much to teach us on so many levels while providing appreciation of Southwest environments -- Hovenweep, Chaco Canyon, Canyon de Chelly.  Go, hike, live the moment, talk to the people, LEARN!
Leanna Noble
and also essential to library science
Peter Filardo
But OBOS is at an urgent crossroads. With minimal royalty revenue and reduced foundation funding, we might be forced to close. At a recent retreat of the OBOS Board of Directors, founders and staff, we defined a tight list of strategic directions to enable OBOS to achieve a more sustainable - and even more effective - future. These are outlined below, and we have already begun their implementation. But we must depend increasingly upon individual donors like you to enable OBOS to survive and continue this important work.
Create a new generation of trustworthy health and sexuality resources - most of it in digital form - for women and girls the world over;
Battle disinformation and continue challenging the many conflicts of interest that impede access to high quality information and services;
Empower the next generation of women's health advocates;
Expand its global partnerships;
Create mutually supportive affiliations with well-aligned educational and nonprofit institutions; and
Recruit new leadership at OBOS to champion this work going forward. 
Please do whatever you can. With your help OBOS will continue!
With much gratitude, 
Judy Norsigian
OBOS co-founder and immediate past executive director
The origin of capitalism and modern industrialism-and, not unrelated, the birthplace of Marxism-modern Europe provided the perfect conditions for a great number of political revolutions. From the monarchical terror of the Middle Ages to the mangled Europe of the twenty-first century, A People's History of Modern Europe tracks the history of the continent through the deeds of those whom mainstream history tries to forget.
Along the way, William A. Pelz examines the German peasant wars of Thomas Müntzer, the bourgeoisie revolutions of the eighteenth century, the rise of the industrial worker in England, the turbulent journey of the Russian Soviets, the role of the European working class throughout the Cold War, and the revolutionary students in 1968. He then brings his story to the present day, where we continue to fight to forge an alternative to a heartless and often barbaric economic system. 
As Germany and Greece argue over who owes what, with the very idea of Europe crumbling around them, Pelz's accessible, provocative history could not be timelier. Sure to resonate with fans of books like Howard Zinn's A People's History of the United States, this people's history sweeps away the tired platitudes of the privileged and provides an opportunity to understand the story of Europe from the ground up.
Paperback:*  $28.00
Used by permission of Clarity Films, producer of Have You Heard from Johannesburg which provided the video to the African Activist Archive Project.
Author: Greyson Korhonen 
October 30, 2015
Somewhere in Havana, Cuba, teens are grinding the rails on American skateboards-even though there are no skate shops on the island. The exchange of skateboarding equipment started informally, after Miles Jackson and Lauren Bradley saw a desire among youth for the sport while studying abroad in Havana. They formed the organization Cuba Skate, with the aim of growing and supporting the Cuban skateboarding community by providing access to equipment. We spent a few days alongside Cuba Skate to uncover the roots of Cuban skateboarding and the passion that helps bridge the cultural divide.
Amanda Girard
November 1, 2015
For several years now, corporations in their unending search for higher profits, along with their media, have been increasingly forcing the culture of "Black Friday" shopping on American consumers. We're all familiar with the custom - after a restful day of turkey, stuffing, sweet potatoes, and football-watching with family, we're expected to get up before sunrise and join the masses for a dreadful day of waiting in traffic, standing in lines, and elbowing other shoppers to save a few bucks on some gadgets we could probably do without.
Stores have even encouraged this behavior and taken it a step further, by starting Black Friday sales on Thanksgiving Day. While thrifty shoppers line up to buy cheap goods, this means that these store workers are spending the day herding shoppers into lines, rather than enjoying time with their families.
1. Crate and Barrel
2. TJ Maxx
3. Barnes and Noble
4. Bed Bath and Beyond
5. BJ's
6. Costco
7. Dillards
8. Home Depot
9. Home Goods
10. Jo Ann Fabrics
11. Lowe's
12. Marshall's
13. Nordstrom
14. P.C. Richard and Son
15. Pier One
16. Publix
17. Radio Shack
18. Sur La Table
19. Sam's Club
20. DSW shoes
21. Gamestop
22. Staples
23. Neiman Marcus
24. Burlington Coat Factory
1. Best Buy
2. Kohl's
3. Walmart
4. Target
5. K-mart
6. JCPenney
7. Toys R Us
8. Sears
9. Macy's
10. Michael's
11. Big Lots
12. Shoe Carnival
13. Old Navy
14. Family Dollar
15. Bass Pro Shops
16. Dollar General
17. Victoria's Secret
18. Office Depot
19. Office Max
20. Dick's Sporting Goods
The mosaic of class, race, and gender: To explore how class shapes racial, gender, and ethnic experience, and how different racial, gender, and ethnic experiences within various classes shape the meaning of class.
Class, power, and social structure: To explore how the social lives of working, middle, and capitalist classes are structured by various forms of power; to explore ways in which class dynamics shape power structures in workplaces and across broader societies.
Class in an age of income inequality:  To explore the implications and consequences of the growing income gap between top earners and the rest for the lived experience in class in different corners of the world.
Class, Community, and the Environment: To explore ways in which class informs communities and environmental conditions where people work as well as where they live; also to consider questions of "home," community formation and sustenance, and environmental justice.
Class in a global economy: To explore how class identity and class dynamics are influenced by globalization, including the transnational movements of industry, capital, and capitalist elites; the experience of cross-border labor migration and organizing; and international labor and environmental standards.
Middle class? Working class? What's the difference and why does it matter? To explore the claim that the U.S. and other developed nations have become middle class societies, contrasting with the notion that the working class is the majority; to unpack the relationships between the middle class and capitalist, working and other subordinate classes both in the developed and the developing world.
Class, public policy, and electoral politics: To explore how class affects public deliberations and policy in a variety of nations around the world, with special attention to health care, the criminal justice system, labor law, poverty, tax and other economic policy, housing, and education; to explore the place of electoral politics in the arrangement of class forces on policy matters.
Class and culture: To explore ways in which cultures and subcultures transmit, sustain, and transform class dynamics around the world.
Pedagogy of class: To explore techniques and materials useful for teaching about class, at K-12 levels, in college and university courses, and in labor studies and adult education courses.
Conference coordinator:
Michael Zweig
Director, Center for Study of Working Class Life
Department of Economics
State University of New York
Stony Brook, NY 11794-4384
631.632.7536