https://portside.org/2016-03-26/yemen-us-backed-saudi-war-destructive-failure
Author: Simon Tisdall
Date of source:
The Guardian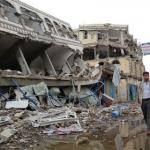 It is difficult to view Saudi Arabia's relentless war of attrition in Yemen as anything other than a destructive failure. The military intervention that began one year ago has killed an estimated 6,400 people, half of them civilians, injured 30,000 more and displaced 2.5 million, according to the UN. Eighty per cent of the population, about 20 million people, are now in need of some form of aid.
The Saudis' principal aim – to restore Yemen's deposed president, Abd Rabbuh Mansur Hadi – has not been achieved. If they hoped to contain spreading Iranian regional influence, that has not worked, either. If the US-backed coalition's campaign was intended to combat terrorism, that too has flopped. Al-Qaida in the Arabian Peninsula (AQAP), in particular, and Islamic State (Isis) have profited from the continuing anarchy.
The conflict pits Aden-based Hadi government forces and their Sunni Arab allies against Houthi Shia militias, backed by Tehran, who control the capital, Sana'a, and much of central and northern Yemen. Already one of the world's poorest countries before fighting escalated last year, Yemen now faces widespread famine. Food shortages are being exacerbated by a growing bank and credit crisis, Oxfam warned this week.
"The destruction of farms and markets, a de facto blockade on commercial imports, and a long-running fuel crisis have caused a drop in agricultural production, a scarcity of supplies and exorbitant food prices," Oxfam said. Sajjad Mohamed Sajid, Oxfam's country director, said: "A brutal conflict on top of an existing crisis ... has created one of the biggest humanitarian emergencies in the world today – yet most people are unaware of it. Close to 14.4 million people are hungry and the majority will not be able to withstand the rising prices."
The UN's 2016 appeal for donor cash has largely fallen on deaf ears. Belatedly responding to international criticism, including pressure for UK and EU arms embargoes, the Saudi government has agreed to scale back military operations pending renewed peace talks. The announcement followed a horrific airstrike on a market in Houthi-controlled Hajja province on 15 March that killed 119 people, including many children.
The UN's human rights chief, Zeid Ra'ad Al Hussein, pointed the finger directly at Riyadh. "Looking at the figures, it would seem that the coalition is responsible for twice as many civilian casualties as all other forces put together, virtually all as a result of airstrikes," he said. Markets, hospitals, clinics, schools, factories, wedding parties, and hundreds of private residences had been hit, Zeid said.
The Saudis' agreement to re-enter UN-mediated peace talks in Kuwait following a proposed 10 April ceasefire looks like an admission that continued military attrition is no solution and is making matters worse. The Houthis are far from defeated, while Iran recently signalled willingness to step up direct involvement, as in Syria.
Brigadier General Masoud Jazayeri, the army's deputy chief of staff, suggested Iran could deploy military advisers. "The Islamic Republic … feels its duty to help the people of Yemen in any way it can and to any level necessary," he said.
Saudi Arabia has paid a high political and diplomatic price for its Yemeni misadventure, with scant return so far. Its actions have turned the spotlight on its lamentable human rights record, notably its recent execution of Sheikh Nimr al-Nimr, a leading Shia cleric. The Yemen bloodshed has alienated western public opinion and European politicians fearful of another Middle East refugee emergency and associated Islamist radicalisation.
Despite the Saudi-led intervention, al-Qaida, in particular, retains a strong and expanding foothold in southern Yemen and uses it as a recruiting and training base. Washington is quietly carrying out its own campaign there behind the Saudi smokescreen. At least 40 AQAP militants were killed in a US drone strike this week.
Saudi failure in Yemen follows strategic reverses in Syria, where Russia's autumn intervention reinforced Bashar al-Assad, Syria's president and Riyadh's sworn foe. Bold plans by Prince Mohammed bin Salman, the impulsive Saudi defence minister, to send troops to support Syria's Sunni rebels have come to nothing, while Saudi involvement in the US-led air campaign against Isis has been minimal.
Iranian leaders, meanwhile, appear ever more confident as they entrench their influence and interests in Syria, Lebanon, Iraq and the Arabian peninsula. Their buoyant mood can be attributed in part to last year's landmark nuclear deal with Washington and the subsequent lifting of western sanctions. The Saudis were appalled. But the US overrode their objections.
Speaking recently, Barack Obama was woundingly candid about US-Saudi differences over Syria and Iran. He spoke of America's Saudi alliance with barely disguised distaste. And he offered some unpalatable advice to his "friends" in Riyadh. "The competition between the Saudis and the Iranians – which has helped to feed proxy wars and chaos in Syria and Iraq and Yemen – requires us to say to our friends as well as to the Iranians that they need to find an effective way to share the neighbourhood," Obama said. Sectarian rivalries were not in the US interest. And the Saudis, he suggested, could no longer count on preferential treatment.
[Simon Tisdall is a foreign affairs columnist and an assistant editor of the Guardian. He previously served as its foreign editor and its US editor.]