https://portside.org/2016-09-29/chicago-cubs-and-socialism
Portside Date:
Author: Harry Targ
Date of source:
Diary of a Heartland Radical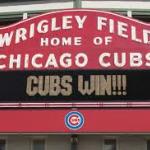 [Harry Targ originally wrote this essay April 10, 2009; and re-published last year when the Chicago Cubs were in the National League playoffs against the New York Mets. "I became a Cubs fan 70 years ago and a Socialist 45 years ago. Maybe this year and next are relevant to both so I repost this old essay. "Go Cubs!" "Go Socialism."' This year, the Cubs have the best regular-season record in all of baseball, and are the first team to win more than 100 games.]
In February, 2008 I sent an e-mail to some old high school friends declaring boldly that this was going to be my year: Obama would be elected president, Socialism would come to America, and the Cubs would win the world series. One dear friend responded by saying he hoped my nurse would be able to adjust my medication.
In years prior to my bold declaration, I would tell my students that Socialism would come to America before the Cubs would win the world series. Since they were on an awesome pace throughout the 2008 season I was sure we would achieve Socialism soon because the Cubs were going all the way in 2008. Alas my team was summarily eliminated from post-season competition by pitifully losing every playoff game.
The impact on my psyche was profound. Not only would I not be able to celebrate with those Cub fan survivors of 100 years of solitude but I would have to return to political activism to achieve Socialism because I could not count on the Cubs to get us over the hump. Even my wife, a heretofore Cub fan, said Basta! "60 Years is Enough." When I asked her a week ago about going to the world series this year to root for the Cubs all she said was she would give me money for a hot dog.
I began writing this column Tuesday morning, just hours after the Cubs with smooth pitching from Carlos Zambrano and an Alfonso Soriano lead off home run defeated the Houston Astros. I even began to fantasize about a long winning streak, even 162 victories. Unfortunately, I did not finish the article before the Cubs lost game two in the tenth inning. There goes the perfect season.
What is behind my pathology. After all Ronald Reagan used to broadcast Cubs games, off of ticker tape reports so he had to make up stories about the game. Right-winger, George Will is one of the most famous Cub fans. And until quite recently the Cubs only played day baseball, thus prohibiting the attendance of most working people.
But there is another element, a kind of spiritual connection between the Cubs, working class Chicago, and all the down and out men and women who have struggled to survive and in the face of economic catastrophe continue to struggle to achieve wellbeing for themselves and their loved ones. Progressive Chicago cultural icons have had a soft spot in their hearts for the Cubs: for example newspaper columnist Mike Royko and folksinger Steve Goodman who wrote a song pleading to be buried in Wrigley Field.
In the end, when Ernie Banks, the Cubs Hall of Fame shortstop, says "wait `til next year" he is reflecting that hope and passion for victory that is the essence of all Cubs fans. Activists in the struggle for a new humane, really democratic socialist society also bear down, continue to organize and with full confidence say also "wait `til next year."
[
Harry Targ teaches foreign policy, US/Latin American relations, international political economy, and topics on labor studies in a Department of Political Science and a program in Peace Studies. He is one of the national co-chairs of the Committees of Correspondence for Democracy and Socialism (CCDS), and is a member of the Lafayette Area Peace Coalition (LAPC), and a former member of the Northwest Central Labor Council (AFL-CIO). His book, Diary of a Heartland Radical, can be ordered at http://stores.lulu.com/changemaker. He can be reached at targhr@gmail.com
.]