https://portside.org/2016-12-29/roundtable-un-security-council-resolution-2334-reflections-noura-erakat-mouin-rabbani
Portside Date:
Author: N. Erakat, M. Rabbani, S. Seikaly, M. LeVine, D. Abdullah
Date of source:
Jadaliyya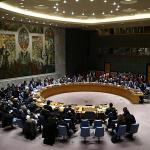 by Noura Erakat
December 27, 2016
by Mouin Rabbani
December 27, 2016
by Sherene Seikaly
December 27, 2016
by Mark LeVine
December 26, 2016
Those who long ago succumbed to cynicism and hopelessness when it comes to the Israeli-Palestinian conflict can find many reasons to discount the importance of Security Council Resolution 2334, passed unanimously (14-0 with the U.S. as the only abstention) on December 23. It is certainly true that Israel will ignore and indeed work actively to undermine the Resolution just as it has ignored innumerable other resolutions demanding a halt to settlement construction or expansion. As one activist tweeted shortly after its passage, in all likelihood Israel will expand the seizure of Palestinian land and construction of settlements just to thumb its nose at the UN (and the departing President Obama) and to demonstrate the irrelevance of the UN when it comes to the Occupation.
By Daud Abdullah
December 24, 2016
The manner in which the vote was taken in the Security Council suggests that non-permanent members are ready and willing to uphold the rule of law, even when it means going against the West and its client states in the Middle East. For the Palestinian people who have long endured Israel's brutal settler-colonialism, the end of 2016 has thus brought some degree of optimism about the future. It is true that they have been down this path before, witnessing the UN take one step forward at critical moments and then two steps backwards thereafter. Their hope will be that 2017 ushers in a clean break from this pattern of international indecision. For the sake of regional stability and global peace, Resolution 2334 must not be squandered. Israel has defied 28 other Security Council resolutions; this must not be the 29th.