https://portside.org/2017-04-10/trump-wants-hand-54-billion-more-one-worlds-biggest-drivers-climate-catastrophe
Author: Sarah Lazare
Date of source:
AlterNet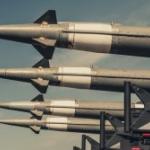 In his proposed budget, President Trump called for dramatic cuts to initiatives aimed at combatting climate change, as well as a wide swath of social programs, to make way for a $54 billion increase in military spending.
Under his plan, the Environmental Protection Agency would be slashed by 31 percent, or $2.6 billion. According to the outline, the budget "Eliminates the Global Climate Change Initiative and fulfills the President's pledge to cease payments to the United Nations' (UN) climate change programs by eliminating U.S. funding related to the Green Climate Fund and its two precursor Climate Investment Funds." The blueprint also "Discontinues funding for the Clean Power Plan, international climate change programs, climate change research and partnership programs, and related efforts."
The move comes as no surprise for a president who once claimed that climate change is a hoax invented by China, ran on a platform of climate denialism and appointed Exxon Mobil oil tycoon Rex Tillerson as Secretary of State. However predictable, the slashing comes at a dangerous time, as NASA and the National Oceanic and Atmospheric Administration warn that 2016 was the hottest year on record globally, in the third straight year of record-breaking temperatures. For people across the global south, climate change is already sowing disaster. Worsening droughts have jeopardized the food supply of 36 million people in southern and Eastern Africa alone.
But Trump's proposal is also dangerous for a less-examined reason: the U.S. military is a key climate polluter, likely the "largest organizational user of petroleum in the world," according to a congressional report released in December 2012. Beyond its immediate carbon footprint—which is difficult to measure—the U.S. military has placed countless countries under the thumb of western oil giants. Social movements have long sounded the alarm over the link between U.S.-led militarism and climate change, yet the Pentagon continues to evade accountability.
"The Pentagon is positioned as a destroyer of the environment, war is being used as a tool to fight for extractive corporations and we now have a state department that is openly run by an oil magnate," Reece Chenault, national coordinator for U.S. Labor Against the War, told AlterNet. "Now more than ever, we have to be really aware of the role militarism plays in climate change. We are only going to see more of that."
The overlooked climate footprint of the U.S. military
The U.S. military has a massive carbon footprint. A report released in 2009 by the Brookings Institute determined that "the U.S. Department of Defense is the world's single largest consumer of energy, using more energy in the course of its daily operations than any other private or public organization, as well as more than 100 nations." Those findings were followed by the December 2012 congressional report, which states that the "DOD's fuel costs have increased substantially over the last decade, to about $17 billion in FY2011." Meanwhile, the Department of Defense reported that in 2014, the military emitted more than 70m tons of carbon dioxide equivalent. And according to journalist Arthur Neslen, that figure "omits facilities including hundreds of military bases overseas, as well as equipment and vehicles."
Despite the U.S. military's role as a major carbon polluter, states are permitted to exclude military emissions from United Nations-mandated cuts to greenhouse gas emissions, thanks to negotiations dating back to the Kyoto climate talks of 1997. As Nick Buxton of the Transnational Institute noted in a 2015 article, "Under pressure from military generals and foreign policy hawks opposed to any potential restrictions on U.S. military power, the U.S. negotiating team succeeded in securing exemptions for the military from any required reductions in greenhouse gas emissions. Even though the U.S. then proceeded not to ratify the Kyoto Protocol, the exemptions for the military stuck for every other signatory nation."
Buxton, co-editor of the book The Secure and the Dispossessed: How the Military and Corporations Are Shaping a Climate-Changed World, told AlterNet that this exemption has not changed. "There is no evidence that military emissions are now included in the IPCC guidelines because of the Paris Agreement," he said. "The Paris Agreement does not say anything about military emissions, and the guidelines have not changed. Military emissions were not on the COP21 agenda. Emissions from military operations overseas are not included in national greenhouse gas inventories, and they are not included in the national deep decarbonization pathway plans."
Spreading environmental harm across the globe
The American military empire, and the environmental harm it spreads, expands far beyond U.S. borders. David Vine, the author of Base Nation: How U.S. Military Bases Abroad Harm America and the World, wrote in 2015 that the United States "probably has more foreign military bases than any other people, nation, or empire in history"—numbering roughly 800. According to reporting from Nick Turse, in 2015, special operations forces were already deployed to 135 countries, or 70 percent of all the nations on the planet.
This military presence brings large-scale environmental destruction to the land and peoples across the globe through dumping, leaks, weapons testing, energy consumption, and waste. This harm was underscored in 2013 when a U.S. naval warship damaged much of the Tubbataha Reef in the Sulu Sea off the coast of the Philippines.
"The environmental destruction of Tubbataha by the presence of the U.S. military, and the lack of accountability of the U.S. Navy for their actions, only underscores how the presence of U.S. troops is poisonous to the Philippines," Bernadette Ellorin, chairperson of BAYAN USA, said at the time. From Okinawa to Diego Garcia, this destruction goes hand-in-hand with mass displacement of and violence against local populations, including rape.
U.S.-led wars bring their own environmental horrors, as Iraq's history shows. Oil Change International determined in 2008 that between March 2003 and December 2007, the war in Iraq was responsible for "at least 141 million metric tons of carbon dioxide equivalent." According to report authors Nikki Reisch and Steve Kretzmann, "If the war was ranked as a country in terms of emissions, it would emit more CO2 each year than 139 of the world's nations do annually. Falling between New Zealand and Cuba, the war each year emits more than 60 percent of all countries."
This environmental destruction continues to the present, as U.S. bombs continue to fall on Iraq and neighboring Syria. According to a study published in 2016 in the journal Environmental Monitoring and Assessment, air pollution directly tied to war continues to poison children in Iraq, as evidenced by high levels of lead found in their teeth. Iraqi civil society organizations, including the Organization of Women's Freedom in Iraq and the Federation of Workers Councils and Unions in Iraq, have long been sounding the alarm on environmental degradation that is giving rise to birth defects.
Speaking at a People's Hearing in 2014, Yanar Mohammed, president and co-founder of the Organization of Women's Freedom in Iraq, said: "There are some mothers who have three or four children who don't have limbs that work, who are totally paralyzed, their fingers fused to each other." She continued, "There needs to be reparations for families facing birth defect and areas that have been contaminated. There needs to be cleanup."
The link between war and big oil
The oil industry is tied to wars and conflicts around the world. According to Oil Change International, "It has been estimated that between one-quarter and one-half of all interstate wars since 1973 have been linked to oil, and that oil-producing countries are 50 percent more likely to have civil wars."
Some of these conflicts are fought at the behest of western oil companies, in collaboration with local militaries, to quell dissent. During the 1990s, Shell, the Nigerian military and local police teamed up to slaughter Ogani people resisting oil drilling. This included a Nigerian military occupation of Oganiland, where the Nigerian military unit knows as the Internal Security Task Force is suspected of killing 2,000.
More recently, the U.S. national guard joined forces up with police departments and Energy Transfer Partners to violently quell indigenous opposition to the Dakota Access Pipeline, a crackdown many water protectors called a state of war. "This country has a long and sad history of using military force against indigenous people, including the Sioux Nation," water protectors stated in a letter sent to then-Attorney General Loretta Lynch in October 2016.
Meanwhile, the extractive industry played a key role in pillaging Iraq's oil fields following the 2003 U.S.-led invasion. One individual who benefited financially was Tillerson, who worked at Exxon Mobil for 41 years, serving the last decade as CEO before retiring at the beginning of this year. Under his watch, the company directly profited from the U.S. invasion and occupation of the country, expanding its foothold and oilfields. As recently as 2013, farmers in Basra, Iraq, protested the company for expropriating and ruining their land. Exxon Mobil continues to operate in roughly 200 countries and is currently facing fraud investigations for financing and backing junk research promoting the denial of climate change for decades.
Climate change appears to play a role in worsening armed conflict. Research published in 2016 in the Proceedings of the National Academy of Sciences found evidence that "risk of armed-conflict outbreak is enhanced by climate-related disaster occurrence in ethnically fractionalized countries." Looking at the years 1980 to 2010, the researchers determined that "about 23 percent of conflict outbreaks in ethnically highly fractionalized countries robustly coincide with climatic calamities."
And finally, oil wealth is central to the global arms trade, as evidenced by the heavy imports of the oil-rich Saudi government. According to the Stockholm International Peace Research Institute, "Saudi Arabia was the world's second largest arms importer in 2012-16, with an increase of 212 percent compared with 2007–11." During this period, the U.S. was the top major arms exporter in the world, accounting for 33 percent of all exports, SIPRI determines.
"So many of our military engagements and wars have been around the issue of access to oil and other resources," Leslie Cagan, the New York coordinator for the People's Climate Movement, told AlterNet. "And then the wars that we conduct have an impact on the lives of individual people, communities and the environment. It's a vicious cycle. We go to war over access to resources or to defend corporations, wars have a devastating impact, and then the actual use of military equipment sucks more fossil fuel resources."
'No war, no warming'
At the intersections of war and climate chaos, social movement organizations have long been linking these two human-made problems. The U.S.-based network Grassroots Global Justice Alliance has spent years rallying behind the call of "No war, no warming," citing the "framework of Dr. Martin Luther King's philosophy of the triple evils of poverty, racism and militarism."
The 2014 People's Climate March in New York City had a sizeable anti-war, anti-militarist contingent, and many are now mobilizing to bring a peace and anti-militarist message to the march for climate, jobs and justice on April 29 in Washington, D.C.
"The foundation is laid for people to make the connections, and we are trying to find ways to integrate peace and anti-military sentiment into that language," said Cagan, who has been preparing for the April march. "I think people in the coalition are very open to that, although some organizations haven't taken anti-war positions in the past, so this is new territory."
Some organizations are getting concrete about what it looks like to stage a "just transition" away from a military and fossil fuels economy. Diana Lopez is an organizer with the Southwest Workers Union in San Antonio, Texas. She explained to AlterNet, "We're a military city. Until six years ago, we had eight military bases, and one of the primary avenues for people getting out of high school is joining the military." The other option is working in the dangerous oil and fracking industry, says Lopez, explaining that in poor Latino communities in the area, "We're seeing a lot of young folks who come out of the military going straight into the oil industry."
The Southwest Workers Union is involved in efforts to organize a just transition, which Lopez described as a "process of moving from a structure or system that is not conducive to our communities, such as military bases and the extractive economy. [That means] identifying next steps forward when military bases shut down. One of the things we're working on is increasing solar farms."
"When we talk about solidarity, it is often those communities exactly like ours in other countries that are being harassed, killed and targeted by U.S. military operations," said Lopez. "We think it is important to challenge militarism and hold folks accountable who are defending these structures. It's communities around military bases that have to deal with the legacy of contamination and environmental destruction."
Sarah Lazare is a staff writer for AlterNet. A former staff writer for Common Dreams, she coedited the book About Face: Military Resisters Turn Against War. Follow her on Twitter at @sarahlazare.