https://portside.org/2017-03-26/guiana-workers-revolt-frances-south-american-colony
Portside Date:
Author: teleSUR / rsf-RT
Date of source:
TeleSur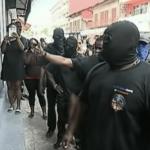 "We, citizens of French Guiana, are tired of living our lives like this," said protest leader Ken Saint-Luce.
A Black-run worker's organization in French Guiana is leading mass protests against the French government, demanding higher wages and protesting the poor quality of social services.
French Guiana, considered an "overseas department" of France, was colonized by the European country in 1503. Since then, France has denied the colony the same labor and healthcare rights that those on the mainland enjoy.
"We, citizens of French Guiana, are tired of living our lives like this," the Collective of 500 Brothers spokesperson Ken Saint-Luce told Surinamese radio station Apintie.
"Life over here has become very difficult. We had been talking to the local government for weeks, but that did not lead to anything concrete," he added, referencing labor and social service negotiations that began earlier this year.
The collective, comprised of workers from over ten industries, forced French-run space station Arien 5 to cancel its planned Thursday launch of a rocket carrying a telecommunications satellite.
Later that day, an Air France flight to Cayenne, the colony's capital, was diverted back to Paris, four hours into its journey, France 24 reported. Passengers were told the flight was returning because of "social unrest."
Since Friday, the collective has blocked roads and closed businesses across the region, calling on Paris to improve living conditions. The French government has responded by sending a delegation of "high-ranking officials" to French Guiana, according to the news station.
"We know Arien 5 is the most important thing here so we're going to intensify our blockade," an unnamed protester told France 24. "We're going to build more road blocks and bring Guiana to a standstill until we get what we want."
French Guiana, with a population of approximately 250,000 people, became a colony for Black slaves after the French exterminated local Indigenous nations. The French used the area to house kidnapped West Africans who were being shipped to Haiti to perform hard labor.
Since then, Paris has used the area to house prisoners from the mainland who are sentenced to forced labor across camps spread along the Atlantic coast. The French government also uses the area to conduct scientific experiments.
Guianan Creole, not French, is the most widely-spoken language in the region.