https://portside.org/2017-04-13/unions-set-oppose-constitutional-convention
Author: Ari Paul
Date of source:
PSC CUNY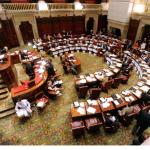 The New York State constitutional convention is sometimes affectionately referred to as a "Con-Con." But public-sector unions know that it's actually just a plain old con job.
This year when New Yorkers go to the polls in November they will decide whether the state should hold a constitutional convention. If a "yes" vote wins, elected delegates would be entitled to tweak provisions in the state's governing document or remake the state's constitution entirely if they so desire.
In the face of state government corruption and what's often seen as chronic inefficiency in state policy making, some government reform groups are pushing for a "yes" vote in order to address issues such as creating an independent redistricting commission for the State Senate and Assembly and enacting new campaign finance measures. These are well-intentioned proposals, but a constitutional convention would also be a dangerous gambit, as it would open up protections for labor, education and social services to attacks from right wing groups.
Unions are gearing up to a push a "no" vote this year, arguing that much of the good-government policy reform can be accomplished without a constitutional convention.
WHAT IS IT?
The state constitution mandates that every 20 years a referendum be held on whether to hold a constitutional convention. That vote will happen on November 7, 2017. As a fact sheet from New York State United Teachers (NYSUT) outlines, "If it passes, three delegates per State Senate district and 15 at-large delegates – 204 in total – would be elected at the next general election, in November 2018. Delegates can include members of the Legislature or other elected officials, as well as political party leaders – and they can hold both positions, collecting both salaries. The convention would meet in Albany in 2019 for an unspecified duration, and then publish its suggested amendments. Any proposed changes are submitted to voters for approval separately or as a group for another public referendum no sooner than six weeks after the convention adjourns."
WHY OPPOSE IT?
First, a bit of history: a coalition of labor groups, environmental organizations and good-government groups successfully pushed a "no" vote on the constitutional convention in 1997. So successfully advocating for a "no" vote is an absolutely doable task.
As many unions have noted, a constitutional convention would put everything on the table for discussion, including the constitutional mandates against the cutting of pensions, a guarantee to a public education, protection of the workers' compensation system, the right for public-sector unions to bargain collectively and a requirement that the state provide social welfare services. Special interest groups that are dedicated to reducing the power of labor unions as well as those seeking the privatization of public services would almost surely be working toward gutting constitutional protections for unions at a constitutional convention.
"No one knows for sure who the delegates would end up being," Fiscal Policy Institute Deputy Director James Parrott told Clarion. "There's concern that a constitutional convention could unleash a lot of lobbying forces that could move it in a direction that is unanticipated and unforeseen. Put those two concerns against the current political backdrop, it's not worth the risk."
Given the national effort by the right to erode welfare and social programs for the poor, redoing the constitution in New York would be political red meat for austerity advocates, as Parrott noted that "the state constitution has a responsibility to care for the needy and to provide health care, and the broader low-income constituent groups are concerned that those provisions could get eroded also."
PSC First Vice President Michael Fabricant said, "While PSC's primary reason to encourage members to vote 'no' is that a constitutional convention puts our members' rights to a pension and to be represented by a union at risk, union leaders are also concerned about the threat to New Yorkers' rights to public education and social services."
He warned that a constitutional convention would be influenced by "big money groups."
There are already indications that anti-union and other right-wing forces want a constitutional convention. The New York Daily News reported that Assembly Republican Minority Leader Brian Kolb said he supported a "yes" vote on grounds that it would undermine the power of "those enjoying the spoils of the status quo."
HOW TO STOP IT
A "no" vote on this year's referendum is one of the top state electoral priorities for public-sector unions. In addition to unions urging their members to come out and vote against a constitutional convention, unions and other coalition partners will have to make the case to the public that issues relating to public integrity and corruption can be addressed in other ways.
For example, the Albany Times-Union reported last year, "Opponents will likely argue that there are other ways, rather than a constitutional convention, to fix things. Voters can approve referendums to amend the constitution, such as what happened when they approved casino gambling two years ago. And lawmakers this year started the process for a referendum that would allow a constitutional amendment to strip felonious lawmakers of their pensions."
It continued, "And they can point to past Con-Cons which didn't necessarily make things better. Con-Con delegates make their own rules. In the 1967 Con-Con, for instance, all of the proposed changes were consolidated into a single up or down vote. The big controversy was to repeal the prohibition on public funding of religious schools. The changes failed."
Another important message unions can send to voters is how expensive and unnecessary such an endeavor would be. District Council 37 Political Director Jeremy John wrote in Public Employee Press, "A constitutional convention would cost taxpayers an estimated $300 million. Unaccountable convention delegates would receive the pay of a state legislator of $79,500 a year, have the right to hire their own staff and receive pension credit. The delegates are also responsible for how long the convention lasts."
ELECTEDS' POSITIONS
In fact, a study last year showed that the 1967 convention cost the state $47 million, or $336.5 million when adjusted for today's dollars, according to the Times-Union.
Governor Andrew Cuomo has voiced mild skepticism about a "yes" vote and no position on the matter appears in his 2017 policy agenda earlier this year, but it isn't assured he will oppose a convention either. State Senator Majority Leader Carl Heastie reportedly supports the unions' concerns and is pushing for a "no" vote.