https://portside.org/2017-05-23/mothers-are-paid-less-fathers-every-state-and-every-education-level
Author: Dayna Evans
Date of source:
New York Magazine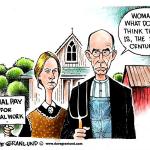 For all the mothers out there who celebrated Mother's Day last week, we hope you saved up your energy for part two. Tuesday, May 23, is unofficially Mothers' Equal Pay Day — the day American mothers have to work until to catch up to fathers' pay in the prior calendar year. Break out the mimosas!
A new
study
released today by the National Women's Law Center explains the reasons for needing a Mothers' Equal Pay Day in the first place. At every education level and in every state, mothers are paid less than fathers. On average, a mother makes about 71 cents to a father's dollar. (That's 9 cents below the current national average for all women compared to all men.)
Mothers who work full-time and have a high-school degree make 67 cents for every dollar made by a dad with a high-school degree. More staggering is that mothers have to earn a bachelor's degree or more in order for their earnings to outpace fathers with only high-school degrees.
The gap is persistent occupationally as well. "For example, one common occupation for mothers — waiters and waitresses — typically pays mothers just $9.12 per hour," the NWLC's report says, "while three others — child care workers, janitors, building cleaners, maids and housekeepers; and cashiers and retail salespeople — pay mothers less than $10.50 per hour. However, none of these twelve occupations typically pays fathers less than $12.50 per hour."
But hey, there's always an upside. If you're a mother who wants to make close to what fathers nationwide are making, you could move to Delaware. In Delaware, mothers only lose out on about $10,000 a year as a result of the gender pay gap, the smallest mother-father pay gap in the country. Cheers.