https://portside.org/2017-06-27/huge-victory-progressives-vow-keep-fighting-gop-health-bill-after-vote-delay
Author: Adam Gabbatt
Date of source:
The Guardian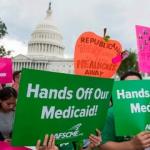 Progressive activists hailed a "huge victory" and a "giant step toward single-payer healthcare" on Tuesday, after Senate Republicans were forced to postpone a vote on their proposed healthcare bill.

Many warned, however, that the battle was not over, promising continued attempts to pressure Republican senators over the Fourth of July recess and beyond.
Thousands of activists from groups including Our Revolution, Indivisible and Planned Parenthood had spent the past week mounting frantic efforts to derail the legislation, which the Congressional Budget Office (CBO) said would leave 22 million more people without health coverage over the next 10 years.

On Tuesday, after a number of GOP senators said they would not vote for the bill, the majority leader, Mitch McConnell, told his caucus he would delay the vote on legislation to repeal the Affordable Care Act (ACA) until after the coming recess.
"It's beyond a victory," said RoseAnn DeMoro, executive director of National Nurses United, which encouraged members to pressure Republican senators to vote against the bill. "What people are saying is, 'We want a society, we don't want a market to protect our health.'"
The bill would have been a victory for insurance companies, DeMoro said, and senators' apparent distaste for the legislation was a blow for both those companies and Republicans.
"I think this is a giant step toward single-payer healthcare – the fact that they defeated the Republicans – because ultimately, embedded in that is a defeat for free-market fundamentalism."
What people are saying is, 'We want a society, we don't want a market to protect our health."
Indivisible, a progressive organization established after the 2016 election to oppose Donald Trump and Republican policies, mobilized activists from more than 3,000 chapters across the country to protest the bill.
"It is a huge, huge victory," said Ezra Levin, Indivisible's executive director. "But it's not a final victory."

Levin said Indivisible's ultimate goal was to defeat the bill outright, but the short-term plan had been to delay a vote until after the Senate recess.
House Republicans who voted for the first and second iterations of their own healthcare bill, which passed in May, faced angry receptions at town hall events during the April and May recesses.
"McConnell was trying to rush it through this week because he knew Fourth of July recess was coming up," Levin said. "He knew senators would be heading back to their states and hearing from their constituents, so he knew it was going to get harder if the vote was delayed."
It was "not a foregone conclusion" that the bill would be defeated, Levin said. "The challenge now is going to keep the pressure up. We cannot forget what happened on the House side. This is a huge blow against Trumpcare but in order to actually defeat this, pressure will have to continue."
Winnie Wong, co-founder of People for Bernie, an independent activist group with more than a million supporters, echoed Levin's concern but praised collaboration between dozens of leftwing groups in the weeks leading up to the delay of the bill.
"It's an effort that is being held up by almost all progressive groups," she said, "whether they have anything to do with the Democratic party or not, I think there is a unification between all progressives right now around making sure Trumpcare does not go through the Senate.
"All these Republican lawmakers are really feeling the heat from their constituents. They are not stupid. And in some states you see them doing the right thing."
Our Revolution, a progressive organization founded in the wake of Bernie Sanders' campaign for the Democratic presidential nomination, said supporters had made "almost 8,000 calls" to the Senate to oppose the bill.
"Today's delay is a victory for the 22 million people who are at risk of losing coverage," said Shannon Jackson, Our Revolution's executive director. "As senators head back home for the Fourth of July holiday we will continue to demand they vote 'no' on this immoral and disastrous bill."
The Working Families Party (WFP), meanwhile, organized weekly protests outside the offices of Nevada senator Dean Heller and a sit-in in the office of Susan Collins of Maine over the past few weeks. It also held a demonstration at Reagan national airport in nearby Arlington, Virginia, on Friday which targeted senators flying home for the weekend.
"An unprecedented resistance movement has knocked Trumpcare off course," said WFP national director Dan Cantor. "But we will not stop organizing, protesting or speaking out until this immoral proposal is crushed, discarded and buried."
Cantor predicted that Republicans' attempts to repeal the ACA "will only serve to strengthen the resolve of millions of Americans to fight for the guarantee of healthcare for all".
In a statement, Planned Parenthood president Cecile Richards called the Republican plan "the worst bill for women's health in a generation" that "would devastate millions of people".
With the threat of a vote after recess week, however, Richards warned that it was "now more important than ever for people to make their voices heard".
"Republican leadership needs to hear over and over that the people of America will not stand to see healthcare stripped from millions, and they will not stand to see Planned Parenthood's patients lose their access to healthcare," she said.
"Now, as senators go home for recess next week, it's time to send the message that we need to stop this harmful bill once and for all."