https://portside.org/2017-07-24/womens-health-care-rights
Author: Dr. Melissa Gilliam, Kiersten Gillette-Pierce, C. Grimaldi
Date of source:
Rewire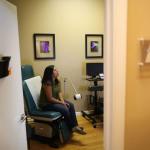 How Mobile Health Units Aim to Revolutionize Reproductive Care in Chicago's Underserved Communities
Dr. Melissa Gilliam, Rewire, June 28, 2017
Nationally, births to teenage mothers are at an all-time low. But there is still work to be done: This decrease in teenage pregnancy has not affected all states and communities equally.
One way to address the structural barriers that may be leading to disparities in reproductive health, including unwanted teenage pregnancy, is to bring adolescent care to the areas that need it most through mobile health units (MHUs), clinics on wheels that provide select health services.
In recent years, MHUs have gained traction in the United States and countries around the world. The use of MHUs, particularly in rural and under-resourced areas, increases ease of access and provides privacy and confidentiality. School-based MHUs, for example can reduce time spent away from school. Nationally, this model has shown great promise in reducing trips to the emergency department and providing preventive care. There are approximately 2,000 MHUs active across the United States—but most existing ones do not provide adolescent sexual and reproductive health care.
Researchers and medical providers at the University of Chicago's Center for Interdisciplinary Inquiry and Innovation in Sexual and Reproductive Health (Ci3), a research organization that I founded in 2012, developed a model in 2015 that uses MHUs to bring contraceptive counseling and access to some of Chicago's most under-resourced communities.
Partnering with the Comer Pediatric Mobile Medical Unit, which was launched by the University of Chicago more than a decade ago, the Ci3 "Design Thinking Lab" is making adolescent sexual and reproductive health care for young people mobile. In addition to the standard services of immunizations and sports physicals previously provided by the mobile medical unit, students at schools it visits can now receive a range of sexual and reproductive health-care services including contraceptive counseling, HPV vaccinations, and several contraceptive methods such as the implant, the Depo-Provera shot, birth control pills, condoms, and emergency contraception. Currently, the MHU is staffed by nurse practitioners from Comer Children's Hospital. We are looking forward to not only expanding the staffing on our existing unit, but to also partnering with other MHUs at locally affiliated medical centers.
There is a clear need for such a service: In Chicago, teens have pregnancy rates that are one-and-a-half times higher than the national average. When considering Chicago's racialized geographical landscape, the disparity is even starker, as teenagers on the predominantly Black and Latino West and South Sides of Chicago have pregnancy rates that are nearly four times higher than that of the predominantly white North Side.
These rates reflect large social and political factors that create disparities in the lives and health of some youth. They also suggest a gap in quality sexual and reproductive health education, counseling, and services. Unequal access to transportation and housing disenfranchises many low-income communities. Teenagers who attempt to obtain medical care often experience these inequalities in a heightened way given that they often lack the time, money, and autonomy required to seek the care and information they need. These issues call for innovative approaches to providing sexual and reproductive health care to adolescents.
In general, teenagers on the South and West Sides of Chicago have jumped at the opportunity to receive vital reproductive health care and counseling. They experience the MHU as a safe and confidential place where they can discuss sensitive issues and ask questions that they may not be able to ask of a parent or caregiver. Nearly all of the young people who completed a post-visit survey on the MHU from October 2015 to March 2016 said that they would recommend the MHU to their friends for sexual and reproductive health services.
Access to sexual and reproductive health care has the potential to positively influence the life trajectories of many adolescents who reside in marginalized communities. When a lack of comprehensive information and services about sexual health results in an unintended teenage pregnancy, it can have a negative impact on educational attainment. Without a high school diploma, much less a college diploma, employment opportunities that would provide long-term economic stability are nearly impossible to come by.
Reproductive health care on MHUs not only means adding services, but ensuring adolescents have agency over their own reproductive health care. This summer, Ci3's design and research teams will work with youth to create new programs and procedures for the MHU to increase access to sexual and reproductive health care in their neighborhoods. They will participate in role-playing activities, map their experiences and knowledge of sexual and reproductive health care, and generate solutions to issues they identify. By engaging youth as designers and taking a youth-centered approach, these workshops have the potential to open the door to innovative and creative approaches that increase access to sexual and reproductive health care for adolescents.
With the input of the adolescent workshop participants, Ci3 will also create a series of toolkits for providers, health institutions, and schools in other cities. The toolkits will guide others who wish to mobilize vital health services in communities interested in bringing sexual and reproductive care to young people.
Placing adolescents at the center of the design process is a key component of Ci3's work. In order to reduce unwanted teenage pregnancy rates in marginalized communities, sexual and reproductive health care must be informed and designed by and for youth and be specific to their contexts and experiences. While the national teenage birth rate is at a record low, the disparity that befalls communities of color is alarming and requires purposeful action. Through the mobilization of our thoughts, our experiences, and—perhaps most important—our practice, we have the potential to reach more youth and provide them with the knowledge and access they need for sexual and reproductive health.
Melissa Gilliam, MD, MPH, is Professor of Obstetrics and Gynecology and Professor of Pediatrics at the University of Chicago. She is Chief of the Section of Family Planning and Contraceptive Research in the Department of Obstetrics and Gynecology, Director of the Fellowship in Family Planning and heads the Program in Pediatric and Adolescent Gynecology. In her clinical work, Dr. Gilliam treats the gynecologic needs of children and young women up to the age of 27.
Black Femmes' Needs Are Ignored in Health-Care Debates, Yet They Have Much to Lose
Kiersten Gillette-Pierce, Rewire, July 7, 2017
If Republicans in Congress have their way and pass their repeal bill to the Affordable Care Act, Black femmes in particular stand to lose.
For this piece, Black femme includes a Black transgender woman, a Black nonbinary person who identifies as a femme, and a Black cisgender woman. (It is important to note that, not all Black individuals with "nonmasculine" gender expressions would classify themselves as a Black femme and some Black individuals with "masculine" identities not listed here would.)
Black femmehood is a recently visible concept used in social justice and Black queer safe-spaces. It acknowledges that Black feminine individuals experience oppressive forces in similar ways and requires social spaces to acknowledge blackness and femmehood in tandem.
Black femmes experience health-care discrimination on arguably two mega levels: anti-Blackness and anti-femmehood. Academia lacks evidence that shows the shared health concerns of Black femmes and consequently lacks the data to express how the Affordable Care Act benefits them—but Black femmes know it does.
Black people in the United States are among the most discriminated when it comes to health care— which is further exacerbated when they are not a cisgender man. Additional layers of oppression, such as gender expression- and sex-based discrimination, bring to the forefront critical issues for Black femmes that are often ignored in health-care debates, such as:
Black maternal and infant health. The maternal mortality ratio for Black women is nearly three times that of white women during pregnancy, childbirth, and the year immediately following childbirth, according to a 2013 study by the Centers for Disease Control and Prevention. In fact, some statistics show the rate in some areas of Mississippi exceeds sub-Saharan Africa in maternal deaths.
In addition, to the detriment of both mother and child, nearly one-quarter of Black women initiate prenatal care too late, or not at all, which contributes to the disparate health outcomes. Infant mortality rates and low-birth-weight rates are also much higher for Black women compared to other groups.
Data on other Black childbearing bodies is a rarity. Because only a few studies document pregnancy among trans people, trans men and nonbinary folks are left vulnerable without continuous reporting on their health-care experiences and outcomes.
Unplanned pregnancies. Black women have the highest rates of unintended pregnancy in the country at about two times the rate of white women. In addition, LGBTQ young women are more likely to become pregnant than non-LGBTQ youth. Racial discrimination, if accounted for, adds another barrier to the sexual education and services LGBTQ youth need.
Birth control prevents a plethora of unplanned pregnancies, including pregnancy as a result of rape. Fifty percent of trans people and one in five Black American women will experience sexual assault at some point in their lives. In addition, LGBTQ young women are at a high risk of sexual assault. Thus, without access to birth control, Black femmes are left vulnerable.
Transition-related care. Many transgender and nonbinary individuals experience gender dysphoria during childhood, which if untreated can lead to thoughts of self-harm or suicide. While the needs of transgender women and nonbinary people are varied, access to reproductive health care is critical for many. Hormone therapy, often the same care provided to patients with endocrine disorders and menopausal symptoms, is imperative to addressing gender dysphoria.
In highlighting dire issues among Black femmes, it is easy to decipher that without health-care reform laws in place this community's well-being will continue to be at risk.
Since former President Barack Obama enacted the Patient Protection and Affordable Care Act (ACA), the ACA has granted benefits and protections to the U.S. population at large, and bolstered the health of some 19 million Black people. Under the ACA, no-cost sharing benefits—or mandated insurance coverage of screenings and other preventive services—granted Black people access to preventive measures and vital screenings addressing issues such as HIV prevalence, breast cancer, and cervical cancer. In addition, the ACA's Section 1557 sought to help increase access to a full spectrum of care for LGBTQ people. It was the first federal law in U.S. history to offer comprehensive protection against sex discrimination in health care.
Section 1557, specifically, mandated an end to denying care or charging more for care to individuals because of things such as pregnancy or pregnancy-related conditions, gender identity, or because they do or do not conform to particular sex stereotypes, thus making care more accessible.
These protections, and many others, are extremely important to Black femmes. Without access to the health-care services they need, Black femmes are at risk of suffering long-term health problems, which could translate into lost income and housing instability for those who do not receive paid time off. This is compounded by the fact that about 90 percent of transgender people surveyed reported they have experienced harassment, mistreatment, or discrimination at work. For many Black femmes, their identities are their biggest vulnerability.
The ACA has improved the quality of life for Americans across the board, and has greatly improved the lives of Black femmes. It has afforded many Black femmes better access to life-saving, gender-affirming care, and the larger opportunity to contribute to society, but it has the potential to do so much more.
Despite the large number of insurance enrollees during the Obama administration and the beneficial impact of the ACA on Black Americans, many of the most basic insurance coverage plans are still inaccessible to Black femmes and their families. Moreover, the states that do not participate in Medicaid expansion under the ACA are primarily Republican states and in the South with large Black populations. Thirty-one percent of uninsured adults in the health coverage gap created by a lack of Medicaid expansion are Black. Many are just above the federal poverty level and just below the income needed to qualify for subsidized insurance, making them ineligible for basic Medicaid in non-expansion states.
It is no coincidence these states also have some of the highest statistics for Black maternal deaths, poor Black maternal and child health, unplanned pregnancies, and alarmingly unsafe conditions for Black trans women and Black gender-nonconforming femmes.
Right now, the move toward policy that safeguards our national health is under attack. Republicans in the White House and Congress are working arduously to repeal the ACA and make it harder for Black femmes to access these benefits and protections that are so desperately need.
"When politicians restrict insurance coverage of abortion care, low-income families, people of color, immigrant women and youth are hit the hardest," according to the Black Women's Health Imperative.
Instead of taking away access, it must be expanded.
We must resist these attempts to take away our bodily autonomy by contacting our senators and demanding the policy we need and deserve. Our lives are worth fighting for.
Kiersten "Gillette" Gillette-Pierce is a 2017-2019 Peace Corps Extension Volunteer, specializing in maternal and child health. A former research assistant for the Women's Initiative at American Progress, where she focused on women's health and rights, Gillette received her BS in Public Health and Women's, Gender, and Sexuality Studies at American University. Follow her @futuregynogee.
House GOP: Eliminate Family Planning Services for Low-Income Families
Christine Grimaldi, Rewire, Jul 13, 2017
Republicans in the U.S. House of Representatives are again proposing to zero out federal Title X family planning funding to health-care providers that serve people with low incomes.
A House appropriations subcommittee Thursday afternoon will begin marking up the fiscal year 2018 Labor, Health and Human Services, and Education (Labor-HHS) funding bill purporting to cut "low-priority programs" while investing in "essential health." The bill axes all funding, about $300 million, for what Republicans on the committee called the "controversial" Title X program.
Republicans have long wielded the appropriations process against Title X. This effort marks the latest House GOP attempt to eliminate the program. The House did not release a draft Labor-HHS proposal the two years in which it escaped the GOP's wrath.
Title X-subsidized providers serve a diverse population of people with low incomes. Of the four million Title X patients, 30 percent self-identified as Black or African American, Asian, Native Hawaiian or Pacific Islander, or American Indian or Alaska Native; 32 percent self-identified as Hispanic or Latino; and 13 percent had limited English proficiency, according to U.S. Department of Health and Human Services (HHS) data from 2015.
Planned Parenthood receives about $60 million in federal Title X funds, per nonpartisan Congressional Budget Office data from 2015.
The health-care organization's affiliates treat about 1.5 million patients through Title X, according to internal
accounting
.
At the same time, Republicans have done everything in their power to undermine Title X.
The consequences of
gutting
Title X don't fly with NFPRHA officials.
"The unintended pregnancy rate is at a record low and the rate of teen pregnancy is at a 30-year low. If Title X is eliminated, we will reverse those public health gains,"
NFPRHA President and CEO Clare Coleman said in a statement.
"Women will be more vulnerable to STDs and at a greater risk of unintended pregnancy and poor birth outcomes. This subcommittee bill must go no further."
Christine Grimaldi is a reporter and writer based in Washington, DC. Prior to joining Rewire, she covered Congress for Bloomberg BNA and completed an MA in nonfiction writing from Johns Hopkins University. Her journalism and essays have appeared in or on Slate,Washingtonian.com, The Morning News, and elsewhere. Contact her @chgrimaldi and grimaldi.christine@rewire.news.
Rewire is a non-profit independent media publication. Your tax-deductible contribution helps support our research, reporting, and analysis.