https://portside.org/2017-09-24/union-collaboration-success-vice-media
Author: Patrick J. Foote
Date of source:
People's World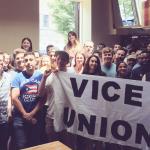 Two unions, Writers Guild of America, East (WGAE) and the Motion Picture Editors Guild/IATSE Local 700(MPEG) have announced that approximately 430 VICE Media employees have chosen to go union. According to a press release "a majority of the company's content creators had signed cards with the WGAE and that a majority of the company's post-production employees had signed cards with MPEG."
A third-party card-check confirmed the majorities on Sept. 22.
The organizing process began on May Day when a delegation delivered a letter requesting that VICE remain neutral on the question of their employees organizing. Negotiations could start as soon as the end of the year.
Executive Director of the Writer's Guild of America, East Lowell Peterson said that he was proud of the collaboration between his union, the Motion Picture Editors Guild, and SAG-AFTRA. SAG-AFTRA's campaign to represent VICE's on-air talent continues.
"The writers, editors, and others who work on VICE's verticals [print media] unionized with the WGAE two years ago and negotiated a solid collective bargaining agreement," said Lowell, "[N]ow, the people who write and produce video content for the web and programs for TV have unionized… and we will begin negotiating agreements that give them a voice on the job."
In a statement, the VICE Union Organizing Committee called the results of the card-check process "a huge step for current and future employees at VICE who want to build power and influence at our place of work and throughout the industry."
The victory marks another successful campaign by media unions like the Writer's Guild and News Guild/CWA in the digital media sector. Over the past year, workers at Salon.com, Huffington Post, and People's World have come together to bargain on their wages, hours, and working conditions.