https://portside.org/2017-09-24/americans-disabilities-act-under-threat
Author: Kristin Miller
Date of source:
Bill Moyers and Company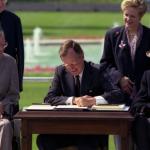 The optics were bad enough when disabled Americans were being dragged out of capital buildings as they protested potential loss of benefits in the first two iterations of Republican health care bills. For the protestors it was all about Medicaid. The Senate bill did away with Obamacare's Medicaid expansion which would drop millions of low-income Americans from the rolls. And the bill completely changed the way Medicaid is financed — getting rid of open-ended funding and moving toward a "per-capita" system. The new Graham-Cassidy bill under consideration needs to be voted on within the next week to get an easy pass with just 51 votes. Like its predecessors, it also halts Medicaid expansion and turns Medicaid dollars over to the states to determine spending.
But disability advocates have even more reason to be distressed by the policies of the Republican administration. Long a dream of the Chamber of Commerce, the real estate industry and those who see "frivolous lawsuits" around every corner, the Americans with Disabilities Act is in danger of having its bite removed. Just after celebrating the 27th birthday of the act, signed into law by President George H.W. Bush, up pops (H.R. 620) The ADA Education and Reform Act of 2017.
As Jake Flanagin at Quartz reports:
The ADA Education and Reform Act of 2017 (H.R. 620) seems like a rather innocuous bill at first glance — it compels the Department of Justice to formulate a program that educates state and local officials and business owners on "strategies for promoting access to public accommodations for persons with a disability." A prime example of fatty, ostensibly meaningless Washington wonk-speak. But it goes further — the bill, if passed, would prohibit civil suits arising out of a failure to provide adequate access to public accommodations for the disabled unless the plaintiff provides offending property owners with a written notice specifying the deficiency. Owners would then have 60 days to respond with a written plan for improvement, and an additional 120 days to correct the deficiency, or at least demonstrate sufficient progress towards a correction.

As of now, if a disabled individual cannot access a business open to the public, they can immediately file a complaint with the Justice Department, which will investigate and determine whether a legitimate ADA violation has occurred. If a violation is identified, most plaintiffs opt to mediate with the offending business under the Justice Department's moderation. If a business fails to cooperate, the Justice Department may sue on the disabled individual's behalf. These individuals may also file lawsuits against businesses in civil court without federal involvement, sidestepping the entire mediation process.
But as Robyn Powell notes at Rewire, the tricky bit is that there's currently no entity charged with making sure that businesses comply with the ADA. So the onus is almost always on people with disabilities to challenge violations.
Disability advocates have come out fighting. Sen. Tammy Duckworth (D-IL), a disabled veteran and wheelchair user, wrote on Facebook: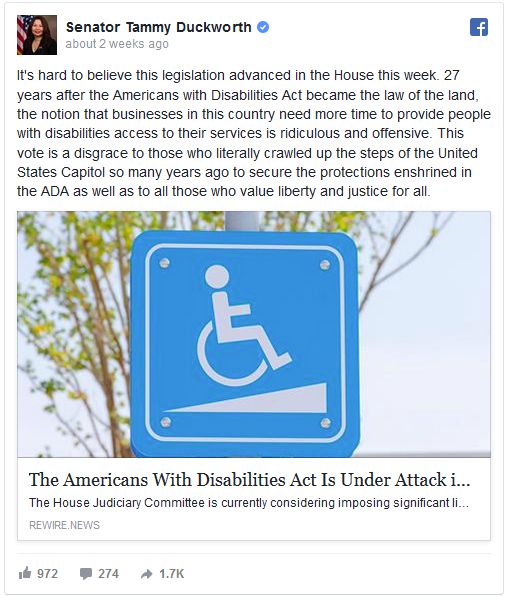 But the view from the other side is not hard to find. Businesswire tells us that the real estate industry is strongly behind the bipartisan legislation. And both 60 Minutes and Forbes have done stories on the "plague" of "frivolous lawsuits."
One of the bill's co-sponsors Rep. Ron Calvert (R-CA) states: "The goal of the Americans with Disabilities Act is to provide access for the disabled — it's not to give unscrupulous trial lawyers the opportunity to abuse small businesses."
The following organizations have endorsed the bill:
American Hotel and Lodging Association, American Resort Development Association, Asian American Hotel Owners Association, Building Owners and Managers Association (BOMA) International, CCIM Institute, Institute of Real Estate Management, International Council of Shopping Centers, International Franchise Association, NAIOP, the Commercial Real Estate Development Association, National Apartment Association, National Association of REALTORS®, National Association of Theatre Owners, National Council of Chain Restaurants, National Federation of Independent Business, National Multifamily Housing Council, National Restaurant Association, NATSO, Representing America's Travel Plazas and Truck Stops, Retail Industry Leaders Association, US Chamber of Commerce.
Human Rights Watch and the ACLU are among the many organizations that oppose it.
_________________________________________________________________
Kristin Miller is a senior producer for Billmoyers.com. She has worked on Now with Bill Moyers, Bill Moyers on Faith & Reason, Moyers on America and Bill Moyers Journal. She's also been a producer for TED, Sesame Street and the Gilder Lehrman Institute of American History.