https://portside.org/2017-10-14/donald-trump-sued-18-states
Portside Date:
Author: Jon Sharman
Date of source:
The Independent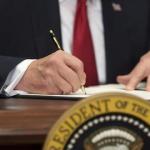 Donald Trump has been slapped with a lawsuit by US states after he signed an executive order scrapping a key component of Obamacare.
Mr Trump said he wanted to end subsidies to insurers that help millions of low-income people pay medical expenses because "I don't want to make the insurance companies rich".
The subsidies cost $7bn (£5.3bn) this year and were estimated at $10bn for 2018, according to congressional analysts. "They're making a fortune by getting that kind of money," the President said.
But there were bizarre scenes at the signing ceremony when, after making a few remarks, Mr Trump appeared to head for the exit without having put pen to paper. Vice President Mike Pence caught him by the shoulder and reminded him to sign the order.
The billionaire's latest action raised concerns about chaos in insurance markets.
It took aim at a critical element of the 2010 law, his Democratic predecessor Barack Obama's signature domestic policy achievement. Frustrated by the failure of his fellow Republicans who control both houses of Congress to repeal and replace Obamacare, Mr Trump has taken several steps to chip away at it.
Democrats accused Mr Trump of sabotaging the law.
Democratic attorneys general from the 18 states as well as Washington, DC, filed a lawsuit in federal court in California later on Friday. The states include: California, Connecticut, Delaware, Kentucky, Illinois, Iowa, Maryland, Massachusetts, Minnesota, New Mexico, New York, North Carolina, Oregon, Pennsylvania, Rhode Island, Vermont, Virginia and Washington state.
The states will ask the court to force Mr Trump to make the next subsidy payment, but legal experts said they were likely to face an uphill battle in court.
"His effort to gut these subsidies with no warning or even a plan to contain the fallout is breathtakingly reckless," New York Attorney General Eric Schneiderman said. "This is an effort simply to blow up the system."
The new lawsuit would be separate from a case pending before an appeals court in the District of Columbia in which 16 Democratic state attorneys general are defending the legality of the payments.
If the subsidies vanish, low-income Americans who obtain insurance through Obamacare online marketplaces where insurers can sell policies would face higher insurance premiums and out-of-pocket medical costs. It would particularly hurt lower-middle-class families whose incomes are still too high to qualify for certain government assistance.
About 10 million people are enrolled in Obamacare through its online marketplaces, and most receive subsidies. Mr Trump's action came just weeks before the period starting on 1 November when individuals have to begin enrolling for 2018 insurance coverage through the law's marketplaces.
The administration will not make the next payment to insurers, scheduled for Wednesday, US Attorney General Jeff Sessions said.
Senate Democratic leader Chuck Schumer expressed optimism about chances for a deal with Republicans to continue the subsidy payments.
"We're going to have a very good opportunity to get this done in a bipartisan way" during negotiations in December on broad federal spending legislation, "if we can't get it done sooner," Mr Schumer told reporters.
Mr Trump offered an invitation for Democratic leaders to come to the White House, while also lashing out at them. "We'll negotiate some deal that's good for everybody. But they're always a bloc vote against everything. They're like obstructionists," Mr Trump told reporters.
The Senate failed in both July and September to pass legislation backed by Mr Trump to repeal Obamacare due to opposition by a handful of Republican senators. One of them, Susan Collins, a moderate Republican from Maine who had been contemplating running for governor next year, on Friday said she planned to remain in the Senate and would use her voice in reforming the healthcare system.
Hospitals, doctors, health insurers, state insurance commissioners and patient advocates decried Mr Trump's move, saying consumers will ultimately pay the price. They called on Congress to appropriate the funds needed to keep up the subsidy payments.
Shares of US hospital companies and health insurers closed down on Friday after the subsidies announcement. Centene Corp closed down 3.3 percent and Molina Healthcare closed down 3.4 percent. Among hospital shares, Tenet Healthcare finished 5.1 percent lower and Community Health Systems declined 4.0 percent.
The nonpartisan Congressional Budget Office has estimated that erasing the subsidies would increase the federal deficit by $194bn over the next decade because the government still would be obligated under other parts of Obamacare to help lower-income people pay for insurance premiums.
Mr Trump, who as a candidate last year promised to roll back the law formally called the Affordable Care Act, received applause for his latest action during an appearance on Friday before a group of conservative voters.
"It's step by step by step, and that was a very big step yesterday," Mr Trump said. "And one by one, it's going to come down, and we're going to have great healthcare in our country."
Earlier on Twitter he called Obamacare "a broken mess" that is "imploding," and referred to the "pet insurance companies" of Democrats.
Republicans for seven years had vowed to get rid of Obamacare, but deep intra-party divisions have scuttled their efforts to get legislation through the Senate, where they hold a slim majority.
Since taking office in January, Mr Trump threatened many times to cut the subsidies. Health insurers that planned to stay in the Obamacare market prepared for the move in many states by submitting two sets of premium rates to regulators: with and without the subsidies.
The National Association of Insurance Commissioners said the change would drive up premium costs for consumers by at least 12 to 15 percent in 2018 and cut more than $1bn in payments to insurers for 2017.
The White House announced the cut-off just hours after Mr Trump signed an order intended to allow insurers to sell lower-cost, bare-bones policies with limited benefits and consumer protections.
Republicans have called Obamacare an unnecessary government intrusion into the American healthcare system. Democrats have said the law needs some fixes but noted that it had brought insurance to 20 million people.