https://portside.org/2017-11-19/second-city-has-been-comedy-mecca-decades-now-its-workers-are-voting-form-union
Author: Yana Kunichoff
Date of source:
In These Times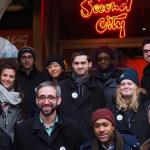 The past decade at Chicago's historic Second City comedy club has been a good one for the business. Along with its range of comedy shows, the company has opened a film school dedicated to comedy, produced a number of high-profile film and television projects, and set up a corporate arm that uses comedy techniques in job training across the country. In a Crain's Chicago Business article last year, CEO Andrew Alexander estimated that the company's revenue has grown from $30 million in 2012 to $55 million in 2016, an increase of 83 percent.
The experience for some of the company's staff, however, has been far less rosy. 
Kitchen, wait staff and bartenders say their wages have been frozen since February 26, and many currently make little more than the city's minimum wage of $11 an hour. When maintenance workers were hit with layoffs early this year, hosting and bar staff were handed the responsibility to clean up the club's theaters, without any increase in payment for their new duties.
And, while part-time employees had previously been provided a weekly stipend for health care through a third-party service, management rescinded that funding in May, blaming new rules governing health care through the Affordable Care Act.
These are among the reasons that Second City servers, kitchen and bar staff are holding a union election this Friday to determine whether to join the United Electrical, Radio and Machine Workers of America (UE). The UE has a long tradition as a radical union, representing workers from a variety of precarious industries. In 2008, the UE supported factory workers in Chicago who had been laid off by the Republic Windows & Doors company as they fought to win damages and open their own cooperatively-operated business, New Era Windows.   
The union drive at Second City is a step towards collective action in an industry that is full of laughs but low on wage rates, regular hours and a real voice in the workplace.
Gina Harrison, a server at Second City, says workers are invested in the success of the company, but also want to see their own needs and issues in the workplace addressed. "We want to hear our employer and we want to be heard by them, simply and fairly," Harrison said at a press conference held last Friday on the steps of the Second City building in Chicago's Old Town neighborhood. "Our goal is a collective voice on the job."
This demand for a stronger voice in the workplace sits at the core of union organizer's demands, along with a $15 hourly wage that would significantly increase the pay of minimum wage workers and end a year-long wage freeze.
Second City carries cache as the club where many of America's most beloved comedians got their start, including Bill Murray, Stephen Colbert, Mike Myers, Steve Carell, Amy Sedaris and Tina Fey. Tickets for weekend shows, starting at $36 a pop, regularly sell out, and Second City remains one of the most prestigious comedy clubs in the country.
The actors who perform at Second City are represented by the Actors' Equity union and recently signed a letter of support for the staff unionization effort, say staff union organizers. Management's response to the staff union drive, however, has been less welcoming. Organizers say that since they announced the union campaign, employees have been forced to attend multiple captive audience meetings, which supporters claim are being used to spread misinformation about the role of the union.
In a statement to In These Times, Second City CEO Alexander writes: "We are deeply concerned about the frustration being expressed by some of our employees here at The Second City. We are confident in our ability to work through the issues together given the chance, and are committed to fostering a positive environment to work and create."
The labor movement's history in comedy clubs is patchy, but there have been a number of efforts to organize. The Comedy Store strike of 1979, saw several late-night television hosts, including David Letterman and Jay Leno, walk off the job to protest one of Los Angeles' most famous comedy clubs asking young writers to perform for free while headliners were paid handsomely. Striking performers ultimately won payment for many young writers, though some comics were blacklisted. And in 2004, performers formed the New York Comedians Coalition to demand that clubs across the city raise their per-set pay rates, and won.
UE, the union organizing the Second City workers, has recently helped run several successful unionization campaigns with service employees whose jobs are precarious and without benefits, including graduate student workers in Iowa and movie theater concession workers in New England.
Ahead of the Friday union vote, staff at Second City say they would like to see a culture change where management sees the club's employees as an asset rather than a cost. "When Second City says it is afraid that there is some third party entity coming in, they are afraid of us," says Ryan Andrews, a bartender and member of the organizing committee. "We are the union, we are the members, we are the workers." 
YANA KUNICHOFF
Yana Kunichoff is a Chicago-based investigative journalist and documentary producer. Her work has appeared in the Guardian, Pacific Standard and the Chicago Reader, among others. She can be reached at yanakunichoff at gmail.com.