https://portside.org/2017-12-12/shift-change-how-new-orleans-hospitality-workers-are-organizing-their-industry
Portside Date:
Author: Kat Stromquist
Date of source:
Gambit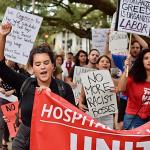 On a chilly evening just before Thanksgiving, about a dozen New Orleans Hospitality Workers Committee (NOHWC) members were gathered around a long table in a well-worn Claiborne Avenue meeting room papered with signs from other activist projects ("Reproductive Rights Are Not for Sale," "Homes for People, Not for Profits").
One by one, members took turns speaking up: not to give thanks, but to say what they hoped to change at their job or in the hospitality industry. Stopping the manager who skims tips from employees, someone said. Waitstaff not paying for kitchen mistakes out of their paychecks. Getting a guaranteed 40-hour work week and a chance to earn overtime.
"People sometimes feel like 'Oh, things just naturally change over time,'" NOHWC organizer and server Meg Maloney told Gambit, a few days earlier. "[But] no one is going to do this work for us."
Through grassroots activism and formal labor organizing, workers are trying to solve the puzzle at the heart of the New Orleans hospitality industry.
By almost any measure, the industry — and the tourism it sustains — is the city's most important economic driver. According to the University of New Orleans' quarterly Metropolitan Report, "leisure and hospitality" provides a job for roughly one of every seven workers in the area, employing 88,900 people as of August 2017. Announcing the success of tourism in the post-Hurricane Katrina era, a jubilant New Orleans Convention and Visitors Bureau press release noted a record-shattering 10.45 million people visited the city in 2016 and spent an estimated $7.41 billion in its restaurants, hotels and stores.
But at rallies and in interviews this fall, New Orleans hospitality workers consistently have said they don't feel like they're benefiting from tourism growth. They describe an industry populated with unstable workplaces, where people can and do get fired for minor infractions such as calling in sick; grueling schedules that often come out just a day or two before the start of the work week, disrupting plans and family life; and segregated environs that frequently become teakettles of racism and sexism (the latter illustrated most recently by the sexual harassment scandal that engulfed celebrity chef John Besh).
Perhaps most pressing, workers say the ever-increasing bounty from tourism isn't being reflected in their wages. By the numbers, they're correct: Hospitality workers are some of the worst-paid employees in the city, where restaurant workers made an average hourly wage of $9.84 in 2016, according to the Bureau of Labor Statistics. Drawing on 2014 U.S. Census data, a recent report from Loyola University's Workplace Justice Project noted 34 percent of Orleans Parish's primary jobs that paid less than $1,250 a month were in "accommodation and food services." It's a pattern of compensation workers say is both insufficient and unfair, considering the value they create — and how much of their lives they give to their jobs.
"A lot of people have this thought about [the hospitality industry], that it's supposed to be a shitty job," server and NOHWC organizer Ashlee Pintos says. "But another unique thing about New Orleans is that a lot of the workers in the city — that's their career. It's not just a job that they do to get through ages 18 to 22. This is something that they support their families on."
In an echo of national worker's rights movements such as Fight for $15 and OUR Walmart, New Orleans hospitality workers are coming together in an attempt to rearrange the building blocks of their industry. Both on their own and with the support of a union, workers are becoming their own advocates, in an effort to — as Marlene Patrick-Cooper, the local organizing director for the UNITE HERE union, often says — "turn poverty jobs into middle-class jobs." Their hope: to improve working conditions, lobby for a greater piece of the economic pie and become a muscular new constituency in the city.
Hospitality workers are some of the worst-paid employees in the city, where restaurant workers made an average hourly wage of $9.84 in 2016, according to the Bureau of Labor Statistics. click to tweet They work in dining rooms, behind bars, in kitchens and on pedicabs, but recently NOHWC members have been spending a lot of time at bus stops.
That's one place where they've been canvassing, collecting signatures and taking surveys of uniformed hospitality workers — as well as listening to and reframing issues. "[Workers] don't see ... the problems that they're having as a collective problem. It's like reminding people that you're not the only one that has been having huge issues with lack of bus service, or not being paid enough," Maloney says. "It's systematic."
What began as a meeting of five people in January has turned into a grassroots project run entirely by hospitality workers, some of whom are first-time organizers inspired by the work of community organizing groups The People's Assembly and Take 'Em Down NOLA. NOHWC's goal is to pressure local politicians, city groups such as New Orleans Regional Transit Authority (RTA) and business leaders with demands for a more worker-friendly industry — while conducting a hearts-and-minds campaign to mobilize other industry workers, even when it's uncomfortable to do so.
"It feels like advocating for these sort of things is something that exists outside of polite conversation," Anthony Jones, a hotel front desk agent and NOHWC organizer, says. "[Also], there's a very real chance of getting fired."
The centerpiece of the group's advocacy is its 10-point Work Week Ordinance, which resembles regulations that passed in New York City in May. It's designed to give workers more control over their lives by ending last-minute and retaliatory scheduling, and it could upend industry practices such as back-to-back close-to-open ("clopening") and consecutive ("double") shifts. Organizers say this type of scheduling isolates workers in the industry, making it hard to tend to children, pursue other interests, participate in community activities and go to school.
By Nov. 20, the ordinance had collected 1,700 signatures in support — more than half the number a petition supporting the parallel New York law received when it was delivered to the local city council. In the coming year, NOHWC members will solicit state-level endorsements for the ordinance, which contains a paid sick day statute. (1997 and 2012 pre-emption laws prevent cities and parishes in Louisiana from establishing their own minimum wage and paid sick day provisions.)
As an organization, NOHWC is young, and its priority list can seem dauntingly ambitious. But having a wide range of goals has led to some early successes — and that's where the bus system comes in.
The group has argued that industry workers, particularly those with low incomes or who work in the parking-challenged French Quarter, are more dependent on public transit. In May, organizers coordinated a ride-along with RTA officials on a late-night route to New Orleans East, which an RTA spokesperson confirms resulted in a change to that route's start time to accommodate hospitality workers' schedules.
"Although it was a very small change in the bus system, we actually put pressure on [the RTA] and something changed," Pintos says. "It kind of gives you a little taste of the potential of people's power."
NOHWC organizers support unions, but envision themselves building a "people's movement" that isn't tied to union drives at individual workplaces. When hospitality workers do try to formally organize (i.e., with a union's support), the industry presents some barriers.
According to University of Denver professor Aaron Schneider, who studied organizing efforts among Tulane University's cafeteria workers when he taught in New Orleans, low pay and the seasonal nature of hospitality hiring make workers "hypersensitive" to the risk of losing their jobs if they fear unscrupulous managers trying to (illegally) squash union drives. De facto segregation in the industry, where workers of color are concentrated in worse-paid, back-of-house roles, also damages organizing efforts.
"If people understand that some jobs are for some people and other jobs are for other people," Schneider says, "then the idea that, in fact, there's a shared interest across all jobs, it is harder to build."
Erika Zucker, Workplace Justice Center policy advocate, also points out that Louisiana's complicated, racially charged legacy with the industrial unions and its status as a right-to-work state (meaning, among other things, employees are not obligated to pay dues at unionized workplaces, undercutting unions' influence) create a less-than-receptive local climate for organized labor.
Economists and workers' rights advocates long have argued that union membership can secure higher wages and better benefits for workers across industries. A 2009 Center for Economic and Policy Research report found that unionization raised service-sector worker's wages by about $2 an hour, or $3 an hour for low-wage workers (including food preparation workers, cafeteria workers, cooks and housekeepers) — who also were 26 percent more likely to have health insurance with union membership. (Just 10 percent of the wage and salary workers in the U.S. belonged to a union in 2016.)
Perhaps with those numbers in mind, workers at some of the city's most visible hospitality properties (such as its busiest casino, Harrah's New Orleans) have taken part in a recent organizing push, ultimately securing union membership for hundreds. For them, the backdrop of a tourism boom may provide new leverage — and an opportunity to push back on low wages through collective bargaining.
Willie Woods, a Hilton New Orleans Riverside banquet server, was an early supporter of that hotel's union drive. When union organizers knocked on the door of the house he owns in Treme, Willie Woods was ready.
Woods, 57, works in the banquet department at Hilton New Orleans Riverside, and has worked in similar roles around the city for more than 20 years. He says it's demanding; he sometimes starts work at 4 a.m. and ends at 10 p.m. "Most people working in banquets, they miss watching their kids grow up," he says.
But Woods had one unique experience. He had worked at the unionized Fairmont Hotel (now the Roosevelt), and remembered the good pay and benefits he had when working there. And so he was one of the first to begin the difficult process of talking to his co-workers about what union membership might offer.
"[It took] a lot of behind-the-scenes talk in the break room, in the lunch room, in the parking lot, in the storage room," Woods says. "We couldn't really be out in the open talking about this. A lot of people feared for their jobs." (Hilton New Orleans Riverside did not return calls requesting a comment for this story.)
It took more than two years of conversations for Hilton New Orleans Riverside workers to come to a vote on union membership. With a successful vote in January 2017, about 500 hotel employees joined workers at Harrahs New Orleans Hotel and Casino, the Ernest N. Morial Convention Center, the Loews New Orleans Hotel and food and beverage workers at the Louis Armstrong New Orleans International Airport as members of UNITE HERE Local 2262, creating a new and unexpected foothold for the hospitality union in the city.
At the Hilton, workers now have joined union leaders in contract negotiation talks, working on an agreement that typically addresses issues like disciplinary action, vacation days, insurance, seniority — and compensation for rank-and-file employees.
"They serve the guests and they do the work," Patrick-Cooper, the union's organizing director, says. "[With our contracts], our goal is for the workers to be able to get their fair share."
Part of the reason this is happening in New Orleans now is the well-established presence of national brands, which provides a gateway for unions with relationships with parent companies of local properties. For example, when workers at Harrah's organized and were bargaining in 2015, the union was able to look at existing contracts at other Caesars Entertainment properties.
But another part is the dark motivator provided by struggle. Many New Orleans hospitality workers have held similar jobs or even worked at the same property for decades without meaningful raises or improvements in their standard of living, Patrick-Cooper says. "They're concerned about job security and being able to be with their family and not work three and four jobs ... [The union is] our avenue to be able to get there."
At rallies and in interviews this fall, New Orleans hospitality workers consistently have said they don't feel like they're benefiting from tourism growth. click to tweet   If this movement gains momentum, New Orleans could join major cities such as Chicago, New York and Las Vegas as a place where union membership is commonplace among hotel and casino employees. As numbers grow, there's also the potential for increased political influence: Geoconda Arguello-Kline, secretary-treasurer of Nevada's 57,000-member Culinary Workers Union, says the group now counts the son of a unionized MGM Grand housekeeper (U.S. Rep. Ruben Kihuen) and former union political director state Sen. Yvanna D. Cancela among its supporters.
Similar alliances already are forming locally. Patrick-Cooper says District D City Councilman Jared Brossett was instrumental in securing protections for union members at the forthcoming new Louis Armstrong New Orleans International Airport terminal. During his candidacy, District B Councilman-elect Jay Banks showed up at a rally to declare himself "a friend" to the union, suggesting an incoming New Orleans City Council which is at least thinking about the welfare of working people.
But the greatest influence lies with the workers themselves, who are chipping away at a longstanding perception that New Orleans — and the South, more generally — can't organize.
"Now that we're doing [this] in the South, we feel that the sky's the limit," Patrick-Cooper says. "Every morning when I wake up, I'm like, yes. Something can be done."