https://portside.org/2018-01-11/israel-publishes-bds-blacklist-these-are-20-groups-whose-members-will-be-denied-entry
Author: Noa Landau; Philip Weiss; Joyce Ajlouny; Rebecca Vilkomerson; Ariel Gold
Date of source:
Portside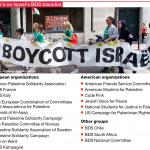 Israel Publishes BDS Blacklist: These Are the 20 Groups Whose Members Will Be Denied Entry
By Noa Landau
January 7, 2018
Haaretz (Israel)
Israel published on Sunday the full list of organizations whose activists will be barred from entering the country. The so-called BDS blacklist was released by the Strategic Affairs Ministry.
Members of the 20 organizations on the list will not be allowed to enter the country due to their support for the boycott, divestment and sanctions movement against Israel. The list primarily includes European and American organizations as well as groups from Latin America, a group from South Africa and an international umbrella organization. 
The American Friends Service Committee, a Quaker organization honored with the 1947 Nobel Peace Prize for assisting and rescuing victims of the Nazis, is among the list of groups whose activists Israel has announced it will bar from entering the Jewish State. On Saturday it was revealed that the left-wing organization Jewish Voice for Peace was on the list.
"We have shifted from defense to offense," Strategic Affairs Minister Gilad Erdan said. "The boycott organizations need to know that the State of Israel will act against them and not allow [them] to enter its territory to harm its citizens."
"No country would have allowed critics coming to harm the country to entry it," added Erdan.
Interior Minister Arye Dery, whose ministry is responsible for implementing the list, said: "These people are trying to exploit the law and our hospitality to act against Israel and to defame the country. I will act against this by every means."
New Israel Fund CEO Daniel Sokatch said in response that "banning political opposition is the policy of autocracies, not democracies," adding that "our position is principled: We do not support the BDS movement. We oppose the government's travel ban and all its actions to punish those with whom it disagrees."
On instructions from Dery and Erdan, several individuals have already been denied entry into Israel over their support for BDS. Isabel Phiri, a citizen of Malawi living in Switzerland who is a senior official of the World Council of Churches, was put on a flight back after she arrived at Ben-Gurion Internationl Airport in December 2016. The Interior Ministry's Population and Immigration Authority said that this was "actually the first time that the State of Israel was clearly refusing entry to a tourist based on anti-Israel activity and promoting economic, cultural and academic boycotts against it."
For months the Strategic Affairs Ministry had refused to divulge which organizations are on the list. However, a joint team from the Strategic Affairs and Interior ministries had previously determined the parameters that serve as a basis for barring activists from coming into the country.
Those who hold senior or important positions in blacklisted organizations will be denied entry, as well as key activists, even if they hold no official position. Mayors and establishment figures who actively and continually promote boycotts will also be prevented from entering, as will activists who arrive to Israel on behalf of or as part of a delegation initiated by one of blacklisted groups.
The full list
European organizations:
France-Palestine Solidarity Association
BDS France 
BDS Italy
The European Coordination of Committees and Associations for Palestine
Friends of Al-Aqsa
Ireland Palestine Solidarity Campaign
The Palestine Committee of Norway
Palestine Solidarity Association of Sweden
Palestine Solidarity Campaign
War on Want
BDS Kampagne
American organizations:
American Friends Service Committee
American Muslims for Palestine
Code Pink
Jewish Voice for Peace
National Students for Justice in Palestine
US Campaign for Palestinian Rights
Other groups:
BDS Chile
BDS South Africa
BDS National Committee
 
Quaker Group Honored by Yad Vashem for Helping Jews During Holocaust is Now Banned from Israel
By Philip Weiss
January 8, 2018
Mondoweiss
One of the special ironies of the weekend's news that Israel is barring 20 international organizations from entry because they support BDS (Boycott, Divestment and Sanctions) is the appearance on that list of the venerable American Friends Service Committee, or AFSC, which was founded 101 years ago as an antiwar organization.
AFSC earned distinction and a Nobel Prize for helping Jews and other refugees escape the Holocaust. Now it is on that list because it is helping Palestinians!
AFSC is honored at Israel's Holocaust memorial, Yad Vashem, in Jerusalem. From Yad Vashem's portrait of the American Friends Service Committee:
Relief organization established in 1917 by the Quakers, also known as the Society of Friends, as a forum for doing service to humanity in a moral
fashion. The Quakers make up one of the smallest religious groups in the United States.

During the first years after Adolf Hitler rose to power, the Quakers were afraid to jeopardize their reputation in Germany, so they did relatively little to help
refugees escaping the Nazis. However, after the Kristallnacht pogrom of 1938, the AFSC opened a Refugee Division, which provided services for European
refugees who immigrated to the US. The AFSC concentrated on Americanizing the new arrivals and adjusting them to their new country.

The Foreign Service Section of the AFSC did even more than the Refugee Division. Cooperating with Jewish relief agencies, in 1939 the organization
sent a delegation to Germany to check on the situation of Jews and Christians and provide relief if necessary. They mainly assisted Christian refugees, but
they also helped Jews. Among other activities, they fed and saved children in France, assisted Jews who had reached Portugal, and organized the activities
of relief agencies in Spain.

In 1947 the AFSC won the Nobel Peace Prize for helping refugees during and after World War II.
Mike Merryman-Lotze of the AFSC was quoted today by IMEU on the move by Israel:
"We will continue to stand up for peace and justice in Israel and Palestine regardless of the recent Israeli announcement that staff from AFSC and 19 other organizations may be denied entry to Israel because of our support for the grassroots Boycott, Divestment, and Sanctions movement for Palestinian human rights.

"Our response to the Palestinian BDS call is in line with our similar support for divestment from apartheid South Africa and boycotts during the civil rights era. Our work is motivated by Quaker belief in the worth and dignity of all people, and it is that belief that has led us to support and join in nonviolent resistance to violence and oppression around the world, including the Palestinian BDS call, for a hundred years."
Thanks to Ofer Neiman and Eitan Diamond. Oh and Haaretz also did the story. And thanks to Mondo's co-editor Adam Horowitz– who used to do Palestinian work at AFSC.
P.S. This story feeds my spiritual understanding that Palestinians are being forced by Israel to recapitulate the history of the Jews. What we experienced in Europe, Palestinians must experience in Israel and Palestine. This time around we play the guys with the jack boots! Of course there is a big arc in that story; the group goes from being humiliated outsiders to people granted prestige by the world for their suffering. Palestinians are gaining prestige by the moment. AFSC is surely proud of being named.
[Philip Weiss is Founder and Co-Editor of Mondoweiss.net.]
AFSC Among Human Rights Orgs Barred from Israel
By Joyce Ajlouny
January 8, 2018
American Friends Service Committee
Yesterday the American Friends Service Committee (AFSC) was included on a list of 20 organizations whose staff may be denied entry to Israel because of their support for the Palestinian-led boycott, divestment, and sanctions (BDS) movement.
Motivated by Quaker belief in the worth and dignity of all people, AFSC has supported and joined in nonviolent resistance for over 100 years. We answered the call for divestment from apartheid in South Africa, and we have done the same with the call for BDS from Palestinians who have faced decades of human rights violations.
Throughout our history, we have stood with communities facing oppression and violence around the world. In 1947 we were awarded the Nobel Peace Prize in part for our support for Jewish refugees fleeing the Holocaust. We will continue our legacy of speaking truth to power and standing for peace and justice without exception in Israel, occupied Palestine, and around the world. 
All people, including Palestinians, have a right to live in safety and peace and have their human rights respected. For 51 years, Israel has denied Palestinians in the occupied territories their fundamental human rights, in defiance of international law. While Israeli Jews enjoy full civil and political rights, prosperity, and relative security, Palestinians under Israeli control enjoy few or none of those rights or privileges.  
The Palestinian BDS call aims at changing this situation, asking the international community to use proven nonviolent social change tactics until equality, freedom from occupation, and recognition of refugees' right to return are realized. AFSC's Principles for a Just and Lasting Peace in Palestine and Israelaffirm each of these rights. Thus, we have joined others around the world in responding to the Palestinian-led BDS call.  As Palestinians seek to realize their rights and end Israeli oppression, what are the alternatives left to them if we deny them such options?  
Quakers pioneered the use of boycotts when they helped lead the "Free Produce Movement," a boycott of goods produced using slave labor during the 1800s. AFSC has a long history of supporting economic activism, which we view as an appeal to conscience, aimed at raising awareness among those complicit in harmful practices, and as an effective tactic for removing structural support for oppression.  
The 17th century Quaker abolitionist John Woolman spoke to the spiritual foundation of this work when he said, "May we look upon our treasures, and the furniture of our houses, and the garments in which we array ourselves, and try whether the seeds of war have nourishment in these our possessions." 
The ban on entry to Israel for activists who support the Palestinian-led BDS movement is part of a larger effort by the Israeli government to silence and constrain human rights and anti-occupation activists. In recent months, more Palestinian activists have faced arrest, death threats, and imprisonment without charge or trial in response to nonviolent activism for human rights.  In addition, organizations inside Israel have been denied funding and access to event venues and have faced threats of trial and imprisonment. 
At a time when the Israeli government is moving to expand settlements, redefine Jerusalem, and annex portions of the West Bank, support for nonviolent activism that seeks freedom, equality, and justice is critical. 
Therefore, as long as these and other human rights violations persist, we will continue to support Palestinian-led boycott, divestment, and sanctions efforts as effective nonviolent tools for realizing political and social change.  We hope one day to see Israelis and Palestinians live together in peace. This will only happen when the human rights of all are recognized and respected. 
In solidarity, 

I'm a U.S. Jew on Israel's BDS Blacklist. I Have Family in Israel. But I Won't Be Silenced
Israel wants to intimidate the growing numbers of Jews fighting for equality and freedom for all people in Israel/Palestine. It won't work
By Rebecca Vilkomerson
January 7, 2018
Haaretz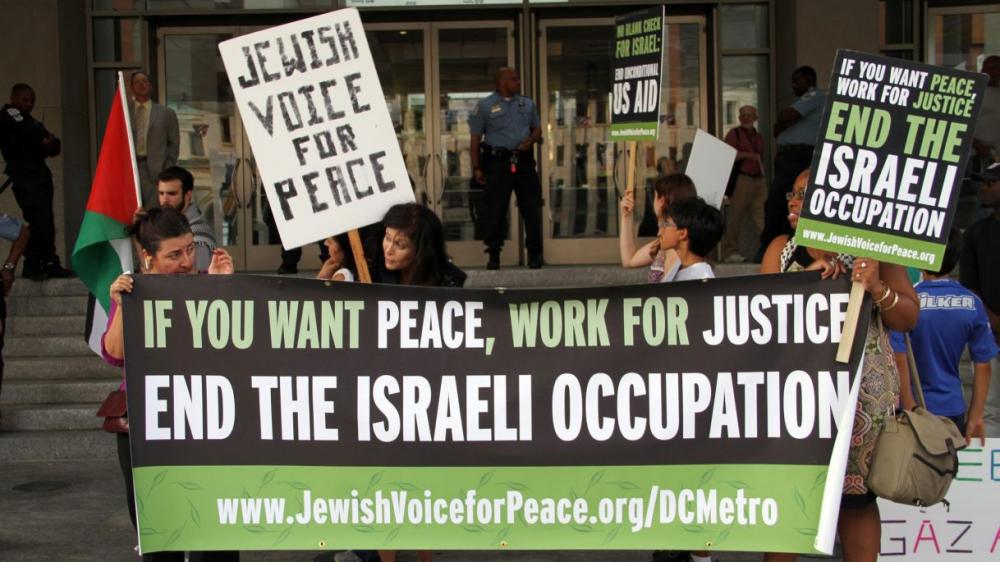 The first time I went to Israel I was four months old. Throughout my childhood and young adulthood I visited regularly: My grandparents, in Haifa; and my aunt, uncle and cousins, on a religious kibbutz near the Jordanian border. There was no place, with the exception of the town where I grew up, to which I felt more connected.
As an adult, married to an Israeli, we spent three years living in Tel Aviv with our two young daughters, who also have Israeli citizenship.
In March last year, the Israeli Knesset passed a bill that forbids entry to "foreign nationals who call for economic, cultural or academic boycotts of either Israel or the settlements," and yesterday, the Ministry of Foreign Affairs announced that as a result 20 organizations have been placed on a blacklist that would prohibit entry specifically to its leaders. That list was published in full Sunday. Jewish Voice for Peace, the organization of which I am executive director, is one of the organizations named.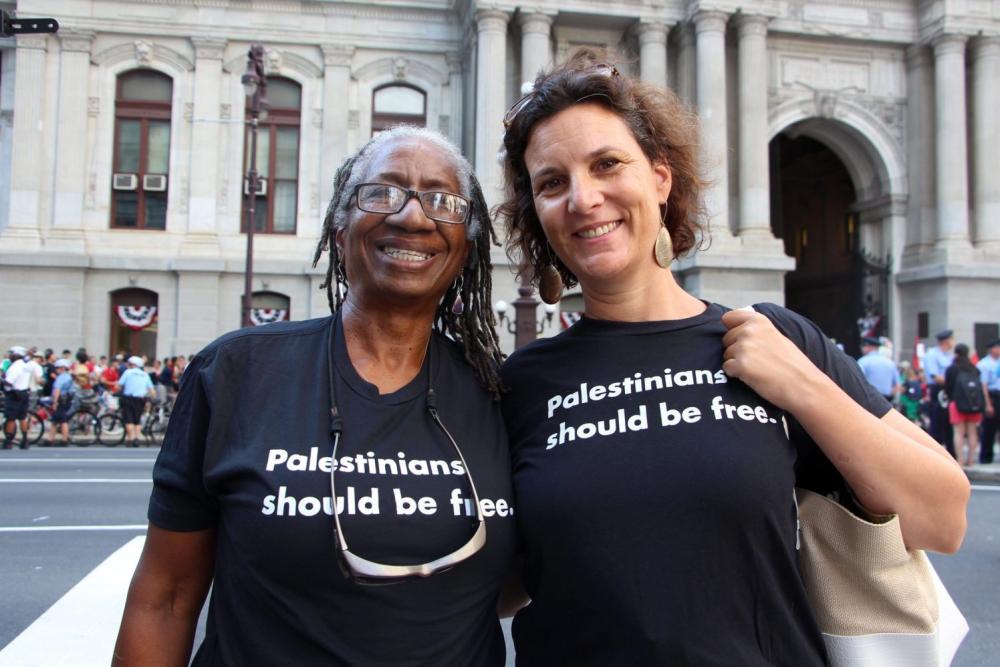 Despite the fact that my grandparents are buried there, that my aging in-laws still live there, and my extensive ties of friendship and family, my support for the Boycott, Divestment and Sanctions movement (BDS) for Palestinian rights now excludes me from Israel.  
BDS is a call from Palestinian civil society to build a global movement to pressure Israel to end the occupation, offer full equal rights to Palestinian citizens of Israel, and allow Palestinian refugees the right to return. The BDS movement is inspired by the tradition of nonviolent resistance to oppression, and draws on the example of the movement to divest from South African apartheid and other examples of targeted economic and cultural pressure to achieve justice.
It could not be more clear from this most recent move that the rising global tide of support for BDS deeply alarms Israel, which recognizes it as a potent tool to change the status quo of Palestinian dispossession that has been an integral part of Israeli statehood.
The Israeli ban formally expands the prohibitions it already imposed below the radar for decades - based on categories of citizenship, religious and ethnic identity - to apply to political positions. In other words, while Israel had already routinely denied entry based on racial profiling, it is now proudly declaring a blanket ban which is overtly anti-democratic.  
While I am personally feeling the pain of exclusion for the first time from a place that I am bound to by deep ties, I am very aware that Palestinians have faced profiling and bans on entry to Israel, and in particular, a categorical rejection of the right of return as refugees, since the founding of the state.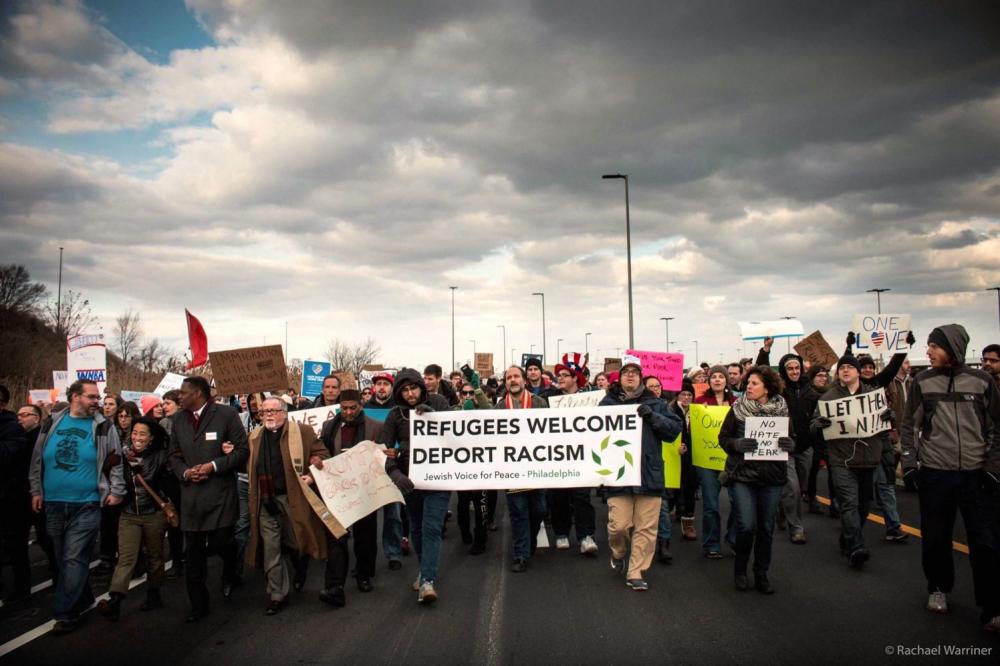 As the progressive movement here in the U.S. rallies on behalf of the rights of refugees and people targeted for their identities, it is an important reminder that Israel has been pursuing similar policies for decades. The many Jewish organizations that have admirably joined efforts to end the Arab and Muslim ban in the U.S. should equally vociferously object to Israel's decision to restrict entry by political position.
In fact, the greatest impact of Israel's new law will likely be on Palestinians -inside Israel, in the occupied territories, and in the diaspora. Palestinians from the West Bank, Gaza, East Jerusalem or abroad who are married to Israeli citizens, for example, may be forced between not traveling abroad at all or finding themselves in exile when they attempt to return. Those who want to enter Israel for medical treatment or family reunification may find it impossible.
And Palestinians around the world who speak up for their rights, and who have already faced arbitrary rejections upon attempting to enter, now face an official policy that will exclude them from their homeland.
The public naming of JVP on this list is significant. Clearly, the Israeli government is very aware that increasing numbers of Jews and all people worldwide support the BDS movement, and are seeking to intimidate and coerce us into silence.
It will not work. JVP members have no doubt about the justice of fighting for equality and freedom for all people in Israel/Palestine, and the legitimacy and efficacy of BDS to bring that day closer. As long as Israel continues to violate the fundamental rights of Palestinians, people will continue to speak out -Palestinians, Jews, and people of conscience the world over.
[Rebecca Vilkomerson is the executive director of Jewish Voice for Peace. Twitter: @RVilkomerson]
Israel Made Itself A Pariah By Barring Me And My Fellow Activists
By Ariel Gold
January 7, 2018
Forward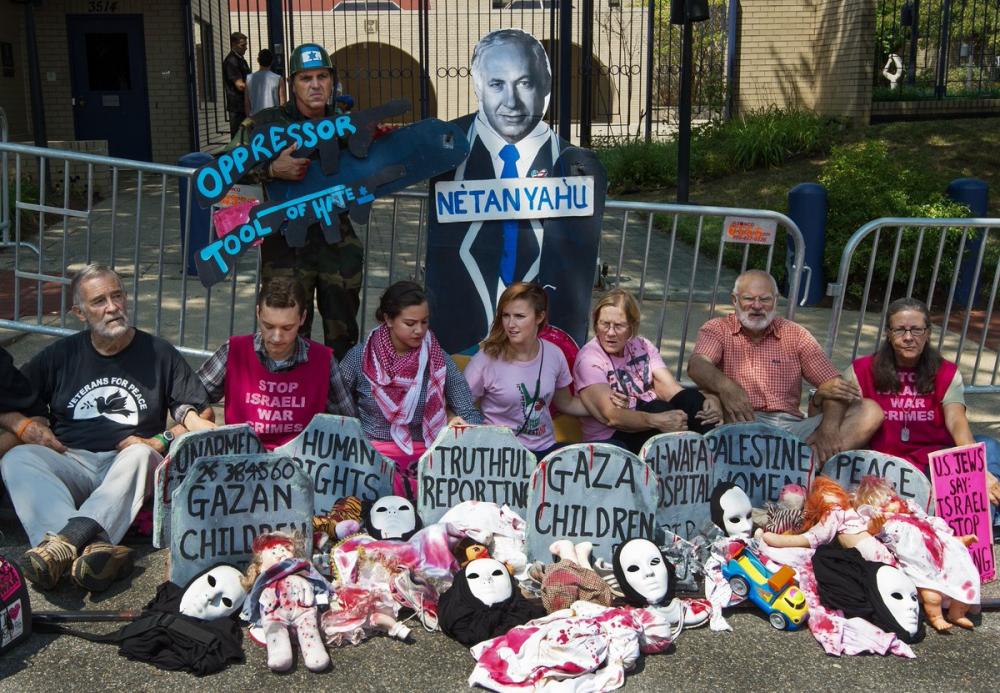 As a Jewish mother, one of the most important things to me is to instill in my children a sense of Jewish identity and values. For my now 15- and 16-year-old children, this has over the years included Tot-Shabbat at our synagogue, Hebrew school, Jewish summer camp and even Jewish youth group trips to Israel.
As a family, our history dates back to Rabbi Joseph Karo of 14th-century Palestine, writer of the Shulchan Aruch (the codification of Jewish religious law). In 2015 I took my children to visit Karo's grave, in the holy Jewish city of Safed. It was the most prominent grave in the cemetery. My son, daughter and I placed stones at the gravesite of the ancient rabbi our family descends from and said a short prayer.
But our identity as a Jewish family manifests in another way, too: in the responsibility to think critically and act as effectively and morally as possible. This means a commitment to ending the human rights abuses Israel commits against Palestinians.
For this reason, I had decided that in between my son's bar mitzvah and my daughter's bat mitzvah, I would take them to see both the ancient sites of our Jewish faith and the current reality of the Israeli occupation of Palestine. From traveling to Safed and to a family reunion in Tel Aviv to touring the segregated city of Hebron and meeting with the Tamimi family in Nabi Saleh, it was one of the most important and educational things I have ever done to honor and continue my family's Jewish identity.
But 2015 may have been be the last time I was able to visit those sites. On Saturday, the Israeli government released a blacklist of 20 organizations banned from entering Israel due to their support of the boycott, divestment and sanctions movement.
CODEPINK, the women-led grassroots anti-war organization, of which I am the co-director, was among those included.
Sadly, I am not surprised at Israel's undemocratic, unprincipled and cowardly fiat. Indeed Israel's entire existence is predicated on and constructed around such exclusion.
Since 1948, Palestinian refugees, whose descendants now number in the millions, have been refused the right to return to their homes and lands, which were seized from them during the establishment of Israel. Over the past seven decades, as Israel's occupation of Palestinian lands has expanded, Israel has met criticism of its widely understood illegal actions by refusing entry to more and more activists and critics, to include Jews like myself.
Last summer, I spent six weeks in Palestine and Israel, staying mostly in the West Bank city of Hebron with the Palestinian human rights group Youth Against Settlements. Along with being attacked by a settler in Hebron, who hit me and screamed that I should "go to Auschwitz," a campaign was launched against me by right-wing extremists.
Infuriated by my outspoken criticism of Israel and my association with Palestinians, they used my support for BDS to demand I be expelled from the country. Rather than ignoring or refusing their ridiculous charge that I was a bad Jew who shouldn't be allowed in Israel, a public security official told the Israeli newspaper Yisrael Hayom that I would not be allowed to enter the country in the future.
The BDS movement that has so angered and frightened Israel and has now led to my banishment began in 2005 as a call from Palestinian civil society to employ the same methods that successfully ended South Africa's apartheid in order to achieve a just peace in Palestine and Israel. The aims and tactics of the movement are simple and straightforward: Apply nonviolent economic pressure on Israel until Israel ends its occupation of all Palestinian lands conquered in 1967; grant equal rights to Palestinian citizens of Israel, and honor United Nations Resolution 194, which upholds the right of return for Palestinian refugees.
As the BDS movement has grown and seen major successes (prominent companies such as SodaStream and Ahava have moved their factories inside Israel's 1948 boundaries, and global prison and security giant G4S has ended its Israeli contracts), Israel has become more and more afraid; it lashed out at those who are most effective in supporting the Palestinian struggle. In March 2017, the Knesset passed a law barring supporters of BDS from entering the country; and last month, the parliament approved $72 million to campaign against the BDS movement.
As BDS grows, builds and succeeds, Israel becomes more and more desperate to contain it. The latest effort is this blacklist.
But the repression Israel is meting out on the international stage is also happening on the ground in Palestine, but with more dire consequences for those under its grips. For more than the past 12 months, Israel has been pursuing 18 charges against the human rights defender Issa Amro for his human rights work. They have now arrested and are continuing to hold nonviolent activist Munther Amira from Bethlehem and are exacting a revenge of epic proportions against 16-year-old Ahed Tamimi and her mother for Ahed Tamimi's slap of a soldier after her teenage cousin had been shot in the face with a rubber coated-steel bullet.
All these are Palestinian activists I have spent long periods of time with when I have visited Palestine. Now, international partners like myself will be barred from standing in solidarity on the ground, where it is most needed.
I feel a deep loss for my children and for myself that I am now banned from Israel, that I can no longer explore our history there and can no longer visit the people dear to me.
But the irony is also not lost on me that Zionism, which my great-grandparents supported in the United States in the early 1900s, and which resulted in the ethnic cleansing of Palestinians from their lands, is now being used as a litmus test to decide who are the "good Jews" who should be protected.
Ultimately, I have hope that this will further the cause of the struggle. By blacklisting organizations and banning even Jews and Quakers who take principled stances to support Palestinian human rights, Israel is isolating itself even further.
I hope this isolation will bring the worldwide struggle for Palestinian rights one step closer to victory. If nothing else, it will cement for my children that they, too, like me, must devote their lives to freedom and justice for Palestinians.
[Ariel Gold is the national co-director of CODEPINK. She manages the organization's campaigns for Palestinian rights.]