https://portside.org/2018-01-26/kushner-refuses-talk-senate-judiciary-committee
Author: Mark Sumner
Date of source:
Daily Kos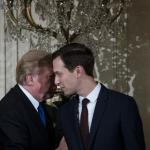 The best way to tell just how reluctant to talk the man who will fix everything really is, is to look at who is making this announcement.
A "spooked" Jared Kushner, President Donald Trump's son-in-law and adviser, won't agree to a staff interview with the Senate Judiciary Committee, Chairman Chuck Grassley said.
What does Kushner have to be "spooked" about? There are the lies he told Congress about contacts between the Trump campaign and WikiLeaks. The over 100 errors and omissions on his security form. The $285 million loan from Deutsche Bank that Kushner landed on the eve of the election. His role in funding an illegal Israeli settlement. The ongoing saga of his attempt to sell the 666 Fifth Avenue white elephant—a brilliant purchase by Jared that is threatening to drag his family business into oblivion. His statement that he walked into the Trump Tower meeting with Russian operatives not knowing what it was about, despite getting advance emails. That time he forgot to let the Senate Intelligence Committee know that he was using a private email account to do White House business. His role in trying to sell Russian nuclear reactors across the Middle East. Or maybe just the multiple occasions where his family traded on his position in the government to sell green cards in China.
After that, there's just concerns about money laundering. And money laundering. And money laundering. 
So no reason for Kushner to be nervous.
"I had hoped to speak with all the witnesses surrounding the Trump Tower meeting before releasing any interview transcripts, but with the unilateral release of the transcript for Fusion GPS founder Glenn Simpson, it seems to have spooked other potential witnesses," Grassley said Thursday. "As a result it looks like our chances of getting a voluntary interview with Mr. Kushner has been shot."
Wait … what was in Simpson's testimony that would set Kushner's knees wobbling?
Grassley likely meant to imply that Kushner was nervous because things he said behind closed doors at the Senate might appear in public if the transcript was released. Dianne Feinstein (D-CA) released the Fusion GPS transcripts—but only after Glenn Simpson himself begged for their release so that the information in them could be used to fight back against false claims being made by Republicans. Feinstein was completely within Senate rules with her release. Nothing that was either classified or sealed was revealed to the public, and the person being interviewed wanted the material released.
It's a miserable excuse for giving Kushner an out on testifying.
As far as the contents of the transcripts go, Kushner actually gets only a single mention in the Senate transcript of the interview with Fusion GPS co-founder Glenn Simpson. That mention comes in a description of the Trump Tower meeting from a Republican staffer more interested in drawing dots between Fusion and Prevezon Holdings than finding out anything about the events at the meeting. 
Considerably more attention was paid to Kushner in thetranscripts released by the House, where Simpson was asked if he had looked into Kushner's business dealings.
SIMPSON: We did look at some Kushner stuff and specifically focused on the project in Jersey City, I think partly because Trump had a position in that project, and discovered that it was -- one of the central mysteries of Donald Trump is that, you know, beginning in the mid-2000s he was not a creditworthy businessman. And so he - you know, so if you're analyzing, you know, someone who says they're a billionaire but can't get a bank loan, you know, there's this whole issue of where is the credit coming from. And so, you know, we were always trying to figure out where - how he was financing various things.

So anyway, we looked at this Jersey City project, and it was going to be financed by selling visas to foreign citizens who were seeking green cards from the United States.
The financial investigator also seemed to put a bit of a damper on the Jarvanka romance.
SIMPSON: What we heard from people familiar with the story was that the Kushner
family and their connections were a big attraction for Trump before the marriage
and that, you know -- I mean, I don't want to -- I'm trying to be polite about it, but, I
mean, there was a business element to the whole, you know, connection.
Truly a match made in … Deutsche Bank. Simpson also drew connections between Kushner's family and Russian connections that would later be used by Trump.
But again, Grassley isn't claiming that Kushner won't testify voluntarily because he is a is a money-laundering crook who has used his family wealth and social position to sell out the country in just about every way possible … nothing like that. He's just saying that Kushner won't appear because Dianne Feinstein, in releasing a transcript at the request of the witness, scared poor Jared. He's not a criminal. Just a coward.
As Grassley frets over the committee getting Kushner to sit down for questions, there is another option—he could subpoena the witness to appear. But don't get in a hurry. Grassley is more concerned here with frowning at Feinstein than he is about whether or not the committee ever gets at the truth.
Mark Sumner is a Daily Kos staff writer and the author of the nonfiction work "The Evolution of Everything" as well as several novels including "Devil's Tower."