https://portside.org/2018-03-08/fight-equality-us-womens-soccer-team-leads-way-aly-raisman-cant-stop-wont-stop
Author: Andrew Das; Dave Zirin
Date of source: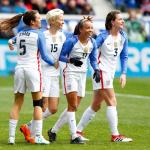 In Fight for Equality, U.S. Women's Soccer Team Leads the Way
By Andrew Das
March 2, 2018
New York Times
Two years after they began a public fight for equal pay, and a year after they signed a new collective bargaining agreement, members of the United States women's soccer team have emerged as a new kind of role model, and a surprisingly valuable resource, for women's teams from around the world.
Canada's soccer team asked for advice on how to get maternity coverage into contracts. W.N.B.A. players did the same when they had questions about how best to press their owners for leaguewide standards on issues like hotels, travel and trainers. And last fall, a player from the United States women's hockey team reached out.
Only months before the Pyeongchang Olympics, the player said, U.S.A. Hockey was still dragging its feet about marketing promises that had been made when the players used strike threats to win a major pay increase in March 2017. The team, a gold medal contender, still didn't even have its own social media accounts. Could the soccer team's union recommend a marketing consultant who could do what the hockey federation apparently would not?
"I think right now there's really a women's coming-together movement, and it's happening in sport and outside of sport," United States midfielder Christen Press said. "And I think people all around the world are realizing how important it is to make these connections with people on the same journey as you."
So when the American soccer players embraced the American hockey players on the sideline before playing a 1-1 tie against France at Red Bull Arena — the reigning Women's World Cup champions meeting the newly crowned Olympic gold medalists — the hugs seemed more genuine, more heartfelt, more personal than usual.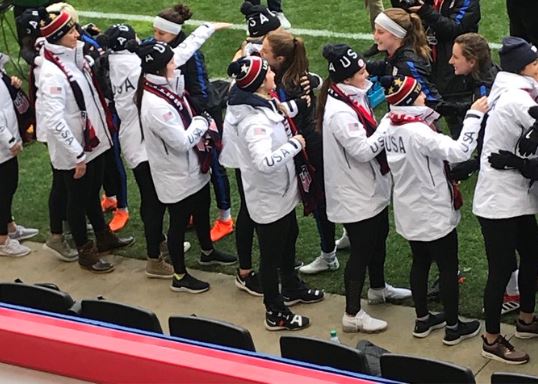 The outreach from other athletes and teams comes in many forms, players from both teams said. It can arrive as text messages between friends or teammates from different countries, or in calls to the union itself. The soccer players can back another team's fight, or trumpet its victories, with a blast from their well-followed social media accounts.
But little by little, other female athletes around the world have started finding their voices, too.
Spain's national team rose up to demand the ouster of its coach after the last World Cup, and several prominent members of Brazil's squad quit their team last year to protest the ouster of a popular female coach in favor of a man. Nigeria's players held a sit-in at their hotel to demand unpaid salaries and bonuses after winning the African championship. Ireland's team threatened to strike. Australia's did. And in October, Norway's players demanded — and won — equal pay with their men's counterparts.
"This really feels like a tipping point," said the ESPN commentator Julie Foudy, a veteran of similar gender-equity fights a generation ago after she won a Women's World Cup.
Foudy praised the union's new executive director, Becca Roux, for empowering the United States players to do much of the hard work themselves, both as they negotiated an improved collective bargaining agreement and in the months since it was signed. Most members of the team serve on one union subcommittee or another, and they hold elections to pick representatives. Regular meetings are held with U.S. Soccer to ensure promises are being kept.
"I think that's probably the most gratifying part of it," Foudy said of the women's team's growth as an off-field force for its own interests. "It's that they realized and started to pay more attention to: What's going on? Where do we want to take this? Where do we want the league to go? That's a hugely healthy exercise."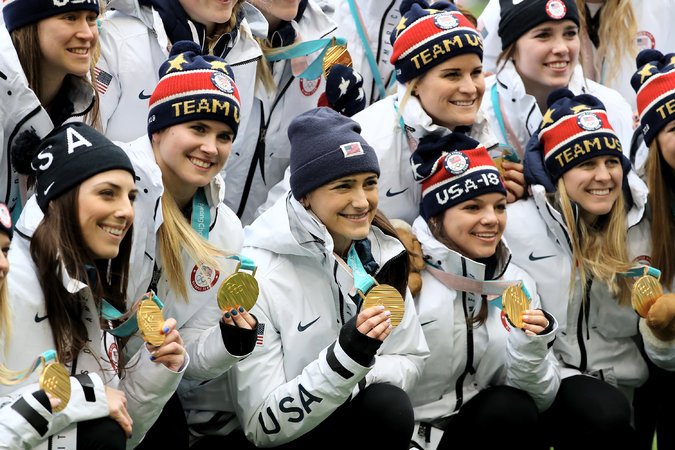 Their progress has not been lost on other teams, which have used the soccer team as a sounding board for their own fights. Last spring, the hockey players were among the most prominent teams to reach out — before, after, and during their battle with U.S.A. Hockey for improved pay and working conditions. The hockey players went further than their soccer counterparts — they threatened to boycott the world championships if they did not get their demands met — and they eventually prevailed.
 
"It's always great when women support women," the three-time hockey Olympian Gigi Marvin said. "But I think just as people you support one another, you support what's right. You support what's just and fair."
"I'm not going to reap the benefits of what we were able to accomplish," she added, "but my little niece is going to. My cousins playing peewee tournaments will."
For all the teams, though, their own careers and championship ambitions remain the priority. Sunday's soccer game was yet another chance for a swelling group of national team players to catch the eye of Coach Jill Ellis as she looks ahead to the 2019 Women's World Cup in France.
Ellis has called 58 players into national team training camps since the end of the 2016 Rio Olympics, including 27 who were invited for the first time. Sunday's starting lineup included not only beloved regulars like Megan Rapinoe, Alex Morgan and Mallory Pugh, but also the 19-year-old Stanford defender Tierna Davidson and the 22-year-old midfielder Andi Sullivan, the top pick in this year's National Women's Soccer League draft.
The big plays still come from the most familiar faces — the Americans' goal began with Kelley O'Hara winning a foul and Rapinoe whipping in a free kick before Pugh slammed in a rebound — but tests like France on Sunday, Germany last week and England on Wednesday in Orlando, Fla., are good for everyone.
"We get tested, we get vetted, we get to feel the ebb and flow of being up and being down," Ellis said. "That's why we bring these teams in, to experience that."
Off the field, the work continues, too. The national team recently chose O'Hara to join Press and Becky Sauerbrunn as part of its three-member executive committee, and Rapinoe and Meghan Klingenberg have taken leading roles as the team continues to pursue new streams of licensing revenue outside U.S. Soccer through a group marketing firm it created with the unions representing N.F.L. and W.N.B.A. players.
But they all know the calls and messages from other athletes, on other national teams, and even in other sports, will continue. And they know many of them have much further to go.
Ireland's women's soccer team threatened to skip games last year because, among other things, the players were tired of sharing track suits with the country's age-group national teams. And in September, an Argentine player revealed that she and her national teammates were paid as little as 150 pesos (about $8.50) for each training session.
"A lot of the work you do for our union, it's for ourselves," Press said. "But there's always the contextualization of hoping that when you're standing up for yourself, you're setting a good example.
"You want to think that they're inspired by us, we're inspired by them, and that makes us all more powerful."
Aly Raisman: Can't Stop, Won't Stop
Aly Raisman's lawsuit against the US Olympic Committee is a call for justice and true accountability.
By Dave Zirin
March 2, 2018
The Nation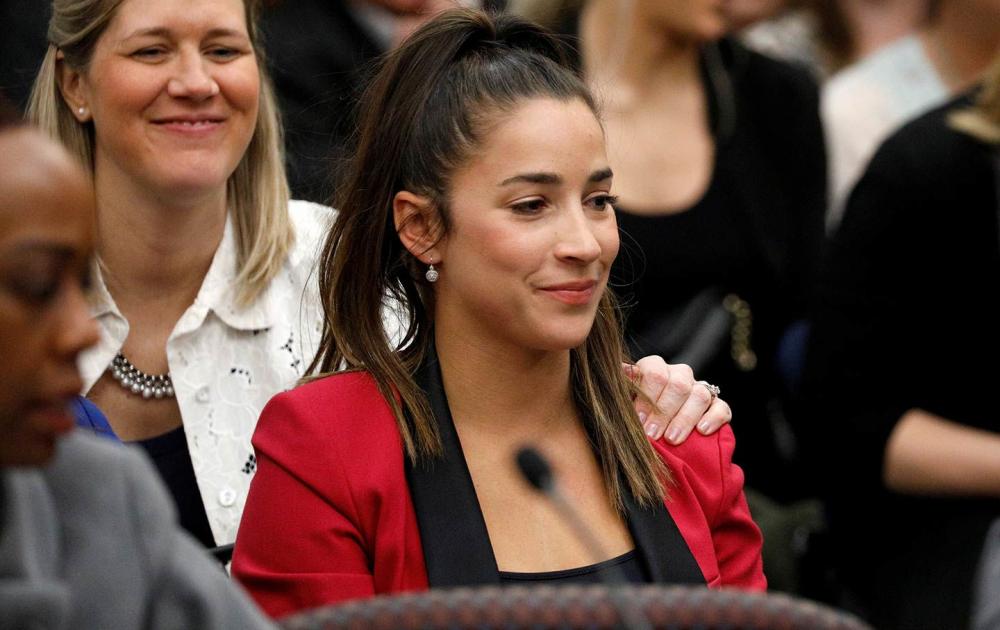 Aly Raisman isn't stopping, and that is great news for anyone who wants the powerful to be held to account or believes that the #metoo movement in sports is just barely beginning. The gold medalist who went public with accusations of abuse against one time USA Gymnastics and Michigan State doctor Larry Nasser is now suing the United States Olympic Committee for negligence, saying that they provided no oversight or intervention as Nasser assaulted hundreds of athletes "under the guise of medical treatment."
Raisman wants to know whether the USOC ignored Nasser out of benign neglect, or perhaps for more malignant reasons. Warnings about Nassar were reportedly bandied about for years, although the USOC and USA Gymnastics put their heads in the sand until an exposé published by The Indianapolis Star in 2016. The known facts tell us that even if you give the USOC every benefit of the doubt, more people were hurt precisely because they chose silence. Raisman's lawsuit puts it out there is plain and brutal language, saying that the USOC "at the highest levels of its organization" knew what was happening, and looked the other way in order to keep the Olympic trains running on time.
As Raisman said in a statement to the media that accompanied the lawsuit:
My highest priority has been to push for change, so future generations of athletes will be safer. It has become painfully clear that these organizations have no intention of properly addressing this problem. After all this time, [the USOC remains] unwilling to conduct a full investigation, and without a solid understanding of how this happened, it is delusional to think sufficient changes can be implemented. I refuse to wait any longer for these organizations to do the right thing. It is my hope that the legal process will hold them accountable and enable the change that is so desperately needed.
What makes the timing of Raisman's actions so important is that she made the choice to throw down the lawsuit just days after the post–Winter Olympics resignation of USOC head Scott Blackmun. While Blackmun's resignation was chalked up to legitimate health reasons, there is no question that his exit was thought by the USOC as another way—along with the mass dismissal of the USA Gymnastics board—to publicly turn the page on Nasser and display some kind of veneer of good governance. Raisman is making clear that the page cannot be turned until there is accountability; there cannot be peace in the Olympic Village until there is justice, or this will repeat itself again and again.
This is hardly the first time that Raisman has performed the difficult task of linking Nasser's abuse with the bystander complicity of the USOC. At Nasser's sentencing, a seemingly infinite line of survivors spoke to how Nasser's abuse derailed their lives, resulting in in Nasser receiving a sentence all totaled—between child-pornography and assault convictions—that will keep him behind bars for 300 years. But Raisman, in part due to her gold-medal fame, in part due to the fact that she was not expected at the trial, sent shock waves by her presence. Those shock waves became an earthquake when she stood up and, in addition to calling out Nasser, condemned the absence of the USOC at the sentencing, saying, "Why have I and the others here probably not heard anything from the leadership of the USOC? Why has the U.S. Olympic Committee been silent? Why isn't the USOC here right now?"
With this lawsuit, we can be assured that we won't have to settle for eventual congressional hearings, or have to stomach whatever the USOC's "independent investigation conducted by a third-party" delivers. Instead, they will be held to account by an athlete whose only goal is forcing them to actually assess how they allowed an abuser access to their athletes and then chose to do nothing.
[Dave Zirin is the sports editor of The Nation.]
Copyright c 2017 The Nation. Reprinted with permission. May not be reprinted without permission. Distributed by PARS International Corp.
Please support our journalism. Get a digital subscription to The Nation for just $9.50!