https://portside.org/2018-03-12/these-cities-saw-most-immigration-raids-during-trumps-first-year-office
Author: Liz Posner
Date of source:
Alternet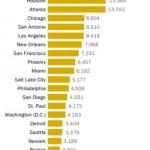 Raids conducted by Immigration and Customs Enforcement agents have increased drastically since Donald Trump moved into the White House. Across the country, 2017 saw 30 percent more ICE arrests than the previous year. A number of these high-profile arrests are particularly despicable, from news that ICE seized a woman after she reported her husband for domestic abuse, to the arrest of a handicapped girl just out of surgery.
For the past year, AlterNet has reported on ICE's notable cruelty since Trump's inauguration. Now the numbers are in, and they confirm that the stories of ICE targeting non-criminal individuals aren't just one-off aberrations. ICE drastically increased arrests for undocumented individuals over the past year, many of whom posed no threat to their communities.
Dallas, Houston and Atlanta experienced the most raids between January and December 2017. Pew writes: "ICE arrests were highest in the agency's Dallas area (16,520), which also saw the largest increase in absolute numbers between 2016 and 2017 (up 6,886)."
Dallas' undocumented population is not estimated to be nearly as large as New York's, but right-leaning local politicians have made it easy for ICE to execute raids in the north Texas area, according to the Dallas Observer. ICE told the paper that its agents "enjoy nearly 100 percent cooperation."
The situation is similar in Houston and Atlanta. CityLab writes that, "Despite former [Atlanta] Mayor Kasim Reed's defense of sanctuary cities, Georgia state law requires cooperation with ICE -- and some of the counties around Atlanta have been quite eager to help."
New York City saw an enormous increase in arrests of undocumented immigrants, up 39% from 2016. Mayor Bill de Blasio and other New York leaders have aggressively opposed Trump's anti-immigrant agenda and his shift away from Obama-era policies that mainly targeted undocumented immigrants with criminal records. New York and Los Angeles have the highest populations of immigrants without documentation in the country.
Other so-called sanctuary cities that refuse to cooperate with ICE requests saw significantly fewer arrests than obliging cities like Dallas. That's why Baltimore, Buffalo and El Paso appear low on the Pew list. The sanctuary policies appear to be working in such cities.
On the other hand, in metro areas like Miami, which saw the greatest increase in ICE arrests in 2017 (up 76 percent from 2016), ICE ramped up the number of arrests after the city abandoned sanctuary policies when the Trump administration threated to cut federal funding.
Across the country, ICE has devoted immense time, energy and resources to hunting non-criminal individuals. In New Jersey, particularly in the Newark area, the number of non-criminal arrests more than doubled in 2017. In the Dallas region, Pew reports, non-criminal arrests rose 156 percent.
In 2017, 410 cities issued protective orders to combat ICE arrests in their areas -- almost twice the number of localities that were eager to help the raids. As the standoff between sanctuary communities and the federal government continues, it looks like progressive local leadership will be the only barrier standing in the way of Trump's anti-immigrant agenda.
Liz Posner is a managing editor at AlterNet. Her work has appeared on Forbes, Bust, Bustle, Refinery29 and elsewhere. Follow her on Twitter: @elizpos.