https://portside.org/2018-03-19/southern-foodways-alliance-symposium-tells-stories-food
Portside Date:
Author: Susan Swagler
Date of source:
Alabama Newscenter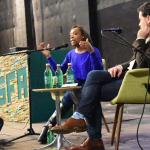 Storytelling and food are two things that Southerners do very well. So it makes sense to talk about how food has influenced our South and how the ever-changing culture here is increasingly reflected in the foods we share.
That's exactly what happened at the Southern Foodways Alliance 2018 Winter Symposium, which has found a new, permanent home in Birmingham.
"The Southern Foodways Alliance tells stories about the South," says SFA director John T. Edge. "We tell stories that we think will change people's perceptions about the South, might change understandings about the South. And we've begun to tell those stories out of Birmingham. We think Birmingham is a citadel city of the South. If you want to tell stories about the food culture of the South, the drink culture of the South, this is the place to start."
More than 150 people from all over the country gathered in Birmingham this past weekend to talk about what it means to produce, grow, cook, eat and love food in the South. They were James Beard Foundation Award-winning restaurateurs and chefs as well as some of the latest crop of nominees. They were coffee growers, food writers, oral historians, educators, activists, photographers, farmers and filmmakers. And some were there simply because they love Southern food.
The day started with a concert of corridos (storytelling folk songs) by the celebrated female mariachi band La Victoria. The trio traveled to Birmingham a few days early to meet with people in the Hispanic community for a corrido workshop. "El Corazón de Alabama" ("The Heart of Alabama") was the result, and these collaborators (and some of their children) joined La Victoria on stage for that one.
Then there were stories, because, as Edge says, "the stories we tell each other change our place and change us."
Some highlights included CNN's Moni Basu talking about growing up in an Indian household in the American South and how food narratives can effect change. Fawn Weaver and Clay Risen talked about Nathan "Nearest" Green, the former slave whom many believe taught Jack Daniel how to distill whiskey. And filmmaker Ava Lowrey debuted "Dol," a short documentary about Dolester Miles, the twice James Beard-nominated pastry chef at Birmingham's Highlands Bar & Grill. Atlanta-Journal Constitution reporter Rosalind Bentley talked about the women who fed the Civil Rights Movement and sustained protesters with home-cooked meals respectfully served on their good china.
Of course there was delicious food involved.
This started Friday night with clam chowder from Bettola's James Lewis and Muscle Shoals native Adam Evans (formerly of The Optimist restaurant in Atlanta), who is opening a new restaurant in Birmingham. Attendees ate at picnic tables set up in a 1920s warehouse near Lakeview.
Saturday morning was fueled by fresh Royal Cup coffee and big pieces of Dolester Miles's golden corncake with strawberry preserves. Lunch was the work of Duane Nutter of the newly opened Southern National in Mobile. (He and business partner Reggie Washington got their own James Beard nod a few weeks ago as a semifinalist for Best New Restaurant.) Nutter's salad of Sea Island Red Peas and Shrimp with Meyer Lemon Vinaigrette was a hit. Everything wrapped up with Conecuh County Gumbo from local chef Becky Satterfield, of Satterfield's Restaurant in Cahaba Heights.
The day actually was about experiencing food in a much deeper way, and Birmingham has long played a part in this. Edge credits Frank Stitt of Highlands and the late Bill Neal of Crook's Corner in Chapel Hill, North Carolina, for ushering in the "new Southern food movement."
When Highlands opened in 1982, there was a barbecue restaurant down the street, Edge says. "They were growing cotton in a planter out front. Highlands offered a different kind of narrative. It offered a narrative that says, 'Here's a newer South. Here's a different story to tell, to tell by way of food.'"
The story will continue this time next year at the next SFA Winter Symposium, and it will happen in Birmingham because exciting things are happening in the city, which has become an epicenter of changing food stories.
Little Donkey in Homewood is an excellent example. "It's a Greek-owned, Mexican-Southern restaurant in Birmingham, Alabama, serving fantastic fried chicken," Edge says. "That's what the South looks like today. That's what the South tastes like today."
Edge says, "I think what Birmingham will do over the next five to 10 years … chefs, restaurateurs, food folk will do two things: They'll dig deeper into their pasts and understand the resonance of what has made us. They'll face down ugly truths and unearth beautiful, redemptive stories at the same time. And, yes, I'm talking about food when I say that.
"And I think the other thing is they will embrace new narratives and new people. Rates of immigration into Alabama, into Georgia, into Mississippi are high," he says. "So newer South stories will emerge in Birmingham, too. Newer people will claim Birmingham, will claim Alabama, and the South will benefit from that. Birmingham will benefit from that."