https://portside.org/2018-04-05/when-factory-leaves-town
Author: Jane La Tour
Date of source:
The Indypendent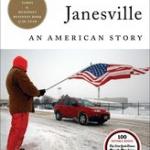 Amy Goldstein, Janesville: An American Story
Simon & Schuster, January 2018, $16. audio, $23.99. e-book, $11.99
ISBN: 9781501102264, Audio: ISBN 9781508238881, E-book: ISBN 9781501102288
In his poem, "What Work Is," Philip Levine, the great poet of the American working class, wrote about time spent on the "miserable night shift at Cadillac," about waiting on line at Ford's Highland Park plant with "the knowledge that somewhere ahead / a man is waiting who will say, / "No, we're not hiring today," That was a poem about Detroit. Now there's a new book by Washington Post reporter Amy Goldstein, about another auto-dependent place and what happened after its major employer, General Motors, pulled out — when "we're not hiring today" turned into "we're not hiring ever again," in a once-flush community built around the prosperity that flowed from manufacturing.
"Foreclosures, food banks, clinics and other manifestations of our low-wage economy have struck at the premise of the American Dream."
Between 2008 and 2009, 8.8 million jobs were lost in the "Great Recession." Goldstein's book, Janesville: An American Story, describes the consequences of this loss in Janesville, Wisconsin, a city of 64,000 people in Rock County, southwest of Milwaukee. When the huge GM plant closed, as many as 9,000 people lost their jobs — as we learned in Economics 101, the result of the "multiplier effect," when job losses spin outward in ever-widening spirals. It is the story writ large of the collapse of American manufacturing over the past quarter-century. To read this up-close description of one small city's unraveling is to better understand how Donald Trump's phony populism found enough adherents in Rust Belt states like Wisconsin to deliver him the presidency in 2016.
The story spans five years, from the financial collapse of 2008 to 2013, a year of supposed economic recovery. Goldstein took the time to get to know the people she was writing about. Everything about this book is compelling, from the evocative cover photograph to the crystal-clear, compassionate prose to the cast of characters — people we come to know and care about.
Janesville is the home of Rep. Paul Ryan. Even Ryan, with his excellent connections to politicians and corporate executives, was powerless when the good-paying GM jobs were swept away. As a seasoned reporter, Goldstein knows how to tell a story, and she has great material — the three families at the center of the book and others who add up to a full portrait of this close-knit American community.
We watch as each newly unemployed worker and their families struggle to find a way forward — to survive. Various options are available: Becoming a "Janesville Gypsy," working at distant GM plants and traveling hundreds of miles to get home on the weekends; enrolling in the job retraining center to learn a new skill, with little hope of finding a decent new job; working two to three low-wage jobs without any benefits and having the kids take on jobs too. We watch as poverty increases and high-school students become homeless, as medical clinics reduce their "intake" and people are turned away. As the once strong and proud United Auto Workers local loses its membership, then its leadership, until retired volunteers take over to keep it afloat; as the town tradition of the annual Labor Fest diminishes and then dies.
Janesville: An American Story is an ethnography of one of the nation's heartland working-class locales where foreclosures, food banks, clinics and other manifestations of our low-wage economy have struck at the premise of the American Dream. After reading the last page of the epilogue, you'll be hungry for more. The documentation and appendices, including an analysis of the job-retraining programs, add depth and insight into how the author collected her information.
One of the starkest divides portrayed is that between the pensioned GM retirees and the newly severed GM workers struggling to keep themselves and their families above water. Goldstein examines the political dynamics of Janesville and shows us just how distant and unsuccessful the policies that emanate from D.C. are — whether initiated by Barack Obama or Donald Trump. Read it, weep — and learn. Then, to paraphrase the words of the great Joe Hill shortly before his death: Don't mourn, organize.
[Author Amy Goldstein has been a staff writer for thirty years at The Washington Post, where much of her work has focused on social policy. Among her awards, she shared the 2002 Pulitzer Prize for national reporting. She has been a fellow at Harvard University at the Nieman Foundation for Journalism and the Radcliffe Institute for Advanced Study. Janesville: An American Story is her first book. She lives in Washington, DC.]
[Essayist Jane La Tour  is the author of Sisters in the Brotherhoods: Working Women Organizing for Equality in New York City.]
The Indypendent is a New York City-based monthly. Distributed free in the city's five boroughs, it is available by subscription for $12 annually. To subscribe or make a contribution, go to http://indypendent.org/donate/