https://portside.org/2018-06-04/can-jeremy-corbyn-restore-labours-working-class-vote
Portside Date:
Author: Joshua Chaffin
Date of source:
Financial Times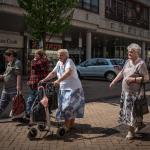 To thousands of urban and well-educated voters who have flocked to the Labour party over the past two years, Jeremy Corbyn is at least a saviour and possibly the messiah.
But to the denizens of the Pleasley Miners Welfare, a working man's club next to the old Pleasley colliery in Mansfield, Mr Corbyn is other things: "a Commie" . . . "an arsehole" . . . "nuts".
"He's got strange ideas," says one former miner, as he lines up a shot on the snooker table. "I think he's the worst Labour leader we've ever had."
For more than a century, the Pleasley pit supplied coal to the UK, and its workers supplied votes to the Labour party. But the mine closed in 1986, much of its equipment entombed half a mile beneath the surface, and the political machine is now broken, too.
In a historic upset, voters in Mansfield, a constituency in the East Midlands, last year sent a Conservative to Westminster for the first time. In so doing, they put aside an enmity for the Tories passed down by several generations for presiding over the closure of their pits and textile mills, twin blows from which the town is still reeling decades later.
More galling for Labour, the new MP, Ben Bradley, is a 28-year-old of light experience who was subsequently found to have suggested on a blog that "unemployed wasters" undergo vasectomies.
To Steve Yemm, the longtime chairman of the local Labour party, the real surprise is not that Mr Bradley won — but that his margin of victory was not even larger. "In many respects, it's been coming for a long time in Mansfield," he says.
The canary in the coal mine may have been Labour's loss of control of Mansfield council in 2002. Party elders insisted it would soon be overturned — but it never was.
There was Mansfield's overwhelming support for Brexit in the 2016 referendum, even though Labour opposed it. Then there was the visceral distaste when many working-class voters set their gaze last year on Mr Corbyn, an avowed Socialist from north London who has past associations with groups such as the Irish Republican Army and Lebanon's Hizbollah.
"There's an intrinsic quality to this and Jeremy and many of the people around him are identified with the far-left," says Mr Yemm, a miner's son who became a pharmaceuticals executive.
He worries that Labour's rebirth under Mr Corbyn is hastening a political realignment in the working-class communities that have long been the party's bedrock. In a sort of political role reversal, polls show the Conservatives now enjoy a comfortable lead across the country among semi-skilled and less-educated voters. That shift is reinforcing doubts about whether Labour can ever reach power under Mr Corbyn, and whether, as some predict, the party might instead be heading for a messy split between irreconcilable factions.
"You see this in the former South Yorkshire coalfields, you see it in the north-east in exactly the same way. This is really, in my opinion, about voters who are older and with lower educational attainment moving away from Labour. Mansfield sits right on that national trend," he says.
In neighbouring Ashfield, Lee Anderson blames Mr Corbyn for almost single-handedly shrinking Labour's margin there from nearly 9,000 votes in 2015 to just 441 last year. Long-time Labour councillor Lee Anderson defected to the Tories in March.
"The biggest objection we got last year on the doorstep was Jeremy Corbyn. By a mile. Nothing else came close," says Mr Anderson, a former miner and longtime Labour councillor who defected to the Conservatives in March. "I don't think they're speaking to people like me any more," he says of his former party. "They're more interested in ideology and being pure."
To Corbynites, that is the grumbling of a traitor from a failed regime. It was under Tony Blair, the former leader who saw the UK's economic future as the City and financial services — not the pits or the foundry — that Labour became unmoored from its working-class base, they say.
In Mr Corbyn, they believe they finally have a leader determined to make more than gestures or incremental changes to lift up downtrodden regions. The party's Mansfield membership has more than doubled in the past two years, and includes many people who were not involved in politics before they were signed up by the grassroots Momentum group that is devoted to Mr Corbyn.
"I don't think the Labour party — pre-Corbyn — had a message of hope for areas like this," says Martin Lee, a local solicitor who has succeeded Mr Yemm as Labour's local chairman. "We've been, as a party, in decline for 20 years."
Mr Lee moved to the area "for the love of a good woman" and is now a measured man with grown children. He confessed to being "a little bit uncomfortable about the idea of 'Corbyn the great messiah'" but was convinced that people in Mansfield would eventually come around if they only listened to the man and his policies. He did at a hustings event two years ago and still sounds surprised by the impact it had. "That was what, I suppose, I'd been waiting to hear for quite a while," he says.
***
Speaking to the residents of Mansfield, it can feel as though neither Labour nor the Conservatives has a particular grip on the public and that the strongest political force these days is a diffuse anger that wells up from the depths of ancient pits such as Pleasley.
Once home to thousands of workers, the colliery has gone quiet. From a distance it looks tranquil on a recent afternoon: new houses are being put up on the reclaimed hillside in a development called Orchid Rise. The death of mining has brought grass and a riot of birds and middle-aged dog walkers.
At sunset, the pit's headstock sat above it all like a rusting crown: two enormous wheels — or "winders" — suspended on either side of a 40m brick, Victorian-era smokestack that vented the labours of twin Markham steam engines that were both massive and intricate. The building that houses them is now a heritage site and tended by volunteers — old men in boiler-suits tinker with boyish wonder, marvelling, it seems, at what Britain once built.
Among them is Les Lovegrove, 74, a retired miner from nearby Kirkby-in-Ashfield. "I feel sorry for the young today. There's nothing there for them, nothing," Mr Lovegrove says. "These youngsters. They keep saying they keep committing suicide and things like that. No wonder. I'd commit suicide if I were a young'un because when I left school, well, you could go from one job to another. You could leave one job on a Friday and get another job on a Monday. That's it. It's all gone. They've let it all go, them powers what be."
Just a generation ago, the local miners were considered the industry's aristocracy. The pits in the surrounding Nottinghamshire county were prolific and the workers were well rewarded, thanks to the contract that emerged from the 1974 miners' strike, tying wages to productivity.
Looking back, the men tend to describe the job as both horrible and wonderful. It was dark, dirty and dangerous. But it was also well paid — particularly for young men with few qualifications — and bred a unique sense of camaraderie. "It was a brotherhood," says Mr Anderson, recalling a familiar passage from school to the pit. After suggesting to a teacher he might like to become an astronaut, the reply came: "That's good — because you're going to a dark place."
Everything changed in March 1984 when the National Union of Mineworkers called a strike. While miners obeyed the picket elsewhere, many in Nottinghamshire — the surrounding county — did not.
They had been earning good money, and many trusted promises from the Thatcher government that their prolific pits would be spared.
Decades have passed, but the bitterness remains. Eric Eaton, who had taken out his first mortgage two days before the strike, obeyed the strike. His then-best friend did not. Just the other day, Mr Eaton, now 71 and coughing occasionally from years of inhaling coal dust, saw the man's wife in the supermarket.
"We smiled at each other but we didn't speak," he recalls, adding: "Until we pass away, there's still going to be that bitterness."
Not long after the strike ended, the government began closing the pits anyway. Many went in the early 1990s although one, Thoresby, creaked along until 2015.
"It was diabolical," Mr Eaton says of the scene in his village after the Newstead colliery closed in 1987. Drugs, anti-social behaviour — even dogfighting — arrived like plagues. If you owned a home, there was no one to sell it to. The other local industry, textiles, was also collapsing.
Mansfield was the hub at the centre of such villages. It has had various development plans over the years and grants from Brussels and Westminster. But the town has not managed to latch on to a future. To the extent that new jobs have arrived, many have been the sort of warehouse and delivery work that is unreliable and poorly paid. "Mickey Mouse jobs", as Barry Donlan, a former hosiery worker, calls them.
A study by the Industrial Communities Alliance ranked Mansfield last among 96 communities in Britain for its low wages. There, years of austerity that followed the 2008 financial crisis have brought homelessness, a brain drain and "black mamba", a particularly powerful form of synthetic cannabis. Like other cash-strapped councils, Mansfield has been selling assets and investing in property in other parts of the country to try to make a return.
"We notice it when we go away," a woman sitting in the town centre says of its decline. There were handsome buildings but many were derelict, including the former premises of the BHS department store just a few doors down from where she is sitting.
"Even people who have jobs don't have money," she says, as a mostly old and white parade of people file past. Some trundle along with the help of walkers and mobility scooters. Some seem too young for such scooters but are riding them anyway. Some are smoking as they whizz past. There are obese men and women, and hooded youths. A very thin woman with a pushchair is engaged in some sort of drama with a man in a tracksuit attempting to smoke something. In the market square, a single voice can be heard above the rest — a bellowing trader is trying to unload "pies for a pound!" It is less a working class, says one resident, than an underclass.
"What is it — 30 years since the mines closed? And we still haven't got it right," says Chris Barron, a long-time councillor in neighbouring Ashfield. "The big problem we have in Ashfield and Mansfield is we don't have an identity."
There is one former mining site that is still busy. In 1993, the Shirebrook colliery closed and, with government support, was converted into an office park.
The retailer Sports Direct is the main tenant, with a metal-faced corporate headquarters, a sprawling warehouse facility and outlet stores. One shop, for the Flannels luxury retailer, is 17,000 sq ft and features Belstaff jackets and designer jogging pants for upwards of £500. Behind the counter is a VIP room, strewn with lingerie and cushioned banquettes, geared toward the area's professional footballers and their wives.
But the atmosphere in Sports Direct's warehouse is less festive. In 2016, the chair of a parliamentary committee investigating work practices said the conditions there were more akin to "a Victorian workhouse" than a modern retailer. The factory relies on thousands of eastern European workers, mostly supplied by outside agencies. Workers, the committee found, were in effect paid less than the minimum wage because they were forced to wait in a bottleneck, unpaid, before leaving the facility. The environment was so intense that one woman gave birth in a toilet cubicle.
These are the sorts of failings of the modern economy that Mr Corbyn has long campaigned against. The Labour party's manifesto in the 2017 election called for an end to zero-hours contracts, a higher minimum wage and free school meals. It also had features geared specifically to former mining communities, including a pledge to launch an inquiry into the clash between police and striking miners in 1984 at Orgreave.
"When I heard that manifesto, it was the best thing since sliced bread!" says Alan Spencer, the local head of the NUM. On a wall behind him in his Mansfield office is a painting of an impassioned Arthur Scargill, the former NUM leader who led the failed 1984 strike. He sees a bit of Mr Scargill in Mr Corbyn, whom he praises for "opening up" the local party.
"When we talk about policies, the policies are universally popular," says Sonya Ward, 44, who grew up among miners thinking it was the norm for men like her father and uncles to have fewer than 10 fingers. "It was only when I was older . . . I found out they all got cut off in industrial accidents," she says.
Ms Ward studied in London but was drawn home — even though she is clear-eyed about Mansfield's problems. "In a lot of ways, it's a great place. It's a resilient community," she says.
In February, the longtime youth worker was selected as Labour's parliamentary candidate for Mansfield with Momentum's backing. The miners' strike, which she witnessed as a child, was still being felt in a pervasive distrust of politics, she argues. Labour's policies could make a difference but "the difficulty is that so many people are so despondent that they find that hard to believe".
In September, three months after the election, a few thousand souls braved the rain to hear the messiah speak in Mansfield. The crowd ranged from retired miners to teenagers. It was an encouraging moment for Labour.
But winning back Mansfield will require more sweat than magic, according to Ms Ward and Mr Lee. They are promising a sustained campaign — not just turning up a month before election day and calling on the loyalty of a monolithic working class. "People don't fit in a neat box, do they?" she says. "People are not as tribally political as they were."
Brexit proved that. Some 70 per cent of Mansfield voters supported leaving the EU in the 2016 referendum even though Labour officially backed remain. (Mr Corbyn, long sceptical of the bloc, campaigned with little vigour for it. He has since been opaque about his intentions).
"I just think we've always done well as a nation when our back's against the wall," Mr Anderson says, explaining why he favours Brexit. Mr Yemm calls the vote "an act of political nihilism" for Mansfield.
With a pledge to deliver Brexit and control immigration, Sid Pepper, a first-time candidate for the UK Independence party, won 11,850 votes in 2015 to place a close third. Two years later, many of those voters bolted for the Conservatives after Prime Minister Theresa May swore her commitment to Brexit.
Mr Pepper, 68, is an entrepreneur, a climate change-denier and an unlikely Mansfield populist: the son of an engineer, he grew up in relative affluence and was bullied by miners' children when he walked past their terraced houses as a boy. He has no great nostalgia for miners or mining. "That was for poor people and people with no ambition," he says dismissively.
Sitting in a coffee shop owned by his partner on a recent afternoon, he explains his political rise. "To my mind, Labour no longer represents the working class — but I don't think there is a working class," he says. So what is there? "There's just an elite and the rest of us . . . We're all in this shit together."
He finds Mr Bradley naive — but refreshingly so. As for Labour, he predicts it will lose the next general election in Mansfield. "Momentum might work on the Westminster elite, but not here," he says, accusing its activists of "bullying" behaviour. Eventually, he sees the party splitting between a Corbynite-Socialist branch and a more moderate one.
He gazes out of a second-storey window at Mansfield's market square and shakes his head in irritation. "They tried to save the market but it's not working," he says, bemoaning its reliance on cash in an increasingly cashless society and the remorseless advance of online shopping. "Give up," he urges. "It's failing. It's in the past!"