https://portside.org/2013-02-16/el-paso-rns-join-national-nurses-organizing-committee-texas
Portside Date:
Author: National Nurses United (NNU)
Date of source:
NNU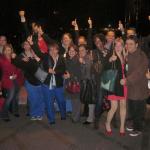 Registered nurses at Sierra Medical Center in El Paso voted by 60 percent Tuesday night to join the National Nurses Organizing Committee-Texas, the Texas affiliate of National Nurses United, the nation's largest organization of RNs.
The vote count was 113 to 74 in a secret ballot election conducted by the National Labor Relations Board. NNOC-Texas will represent some 250 RNs at the hospital. Overall, NNU represents 185,000 RNs across the U.S.
"We are thrilled to have won our election," said Sierra RN Nena Brown. "It is a mandate by nurses at Sierra who are determined to improve the quality of patient care and be the strongest possible advocates for our patients and our community!"
With the victory at Sierra, NNOC-Texas now represents nurses at four El Paso hospitals, 75 percent of the acute care RNs in El Paso, a west Texas city of 650,000 people. NNOC-Texas say that will strengthen the collective voice for nurses throughout the region to work to improve care conditions for all El Paso area residents.
"We are so glad that we joined our RN colleagues at Providence, Del Sol, and Las Palmas, making El Paso a union town for Registered nurses," said Sierra RN Monica Martell. "We will use our collective unity to improve quality of care for the hospitals in our city and raise the standards for nurses in Texas."
Sierra also becomes the third Texas hospital that is part of the Tenet Healthcare system where nurses have voted to affiliate with NNOC-Texas, joining with Providence, and Houston's Cypress Fairbanks hospital. The election win brings to seven the number of Texas hospitals represented by NNOC-Texas/NNU. Nationally, NNU affiliates represent some 5,000 RNs at 13 Tenet hospitals in Florida, Missouri, California, and Texas.
Since it was founded just over three years ago in Phoenix, NNU has won elections for more than 15,000 RNs at 40 hospitals in 11 states.
Sierra RNs, who will next elect a team of their RN colleagues to represent them in contract negotiations with hospital officials, said they will emphasize improved staffing other patient care protections, and economic improvements in contract talks, all intended to assure quality patient care, and to promote retention and recruitment of RNs.
___________________
Nurses at El Paso's Sierra Ok National Union
By Vic Kolenc
El Paso Timeselpasotimes.com
February 14, 2013
http://www.elpasotimes.com/business/ci_22584215/nurses-at-sierra-ok-national-union?IADID=Search-www.elpasotimes.com-www.elpasotimes.com