https://portside.org/2018-09-27/it-aint-over-till-its-over
Author: Kathy Wilkes
Date of source:
Isthmus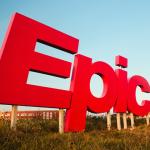 On May 21, media outlets all over the country reported that the U.S. Supreme Court had terminated the landmark Epic Systems v. Jacob Lewis lawsuit in a stunning defeat for workers. Casey was among them.
One of 9,000-plus Epic employees gathered in the cavernous auditorium at the firm's Verona headquarters, Casey had already heard the news and listened intently as CEO Judith Faulkner addressed the decision.
"She literally said maybe one sentence," recalls Casey, who like other Epic workers interviewed for this article is using a pseudonym. "It was something like, 'You might have heard that Epic's Supreme Court case was decided in our favor, and that's interesting.'
"My reaction was quick anticipation, because I was so curious about what Judy was going to say next," Casey adds. "But she just went on to something else."
Casey wanted to ask a question — "Is there any reason why we should be happy about this?" — but that was that. "They handled it badly," Casey says. "I'm ashamed we're a part of this massive shift."
To the labor movement and business interests that "shift" is tectonic. In denying class action status to Epic technical writers seeking overtime pay, SCOTUS stripped more than 60 million workers nationally of "concerted activities" rights that have been in place since the passage of the 1935 National Labor Relations Act.
Writing for the court's conservative majority, Trump appointee Justice Neil Gorsuch ruled that nonunion workers under employer-required arbitration agreements cannot form common cause to settle workplace disputes.
Typically a decision like that would be the end of it. In this case, it definitely is not.
SCOTUS sent the case back to the U.S. Court of Appeals 7th Circuit to determine if there were unresolved issues. On Aug. 23, the appeals court remanded the case to the U.S. district court in Madison to consider "additional questions" — most notably whether Epic's mandatory arbitration agreement is unconscionable and consequently unenforceable.
A finding to that effect would be, in a word, epic.
Epic hasn't responded to requests for comment, but former and current workers are forthcoming about the conditions that spawned the lawsuit.
In separate interviews, they agree that Epic's business model has potential, strives to be egalitarian and provides opportunities for young workers and women. But long hours, they say, are seemingly hard-wired into the culture, and — combined with a team organizational structure exerting pressure on all sides — meeting productivity demands is a continual challenge.
Workers in classifications at the low end of demand, they say, put in 40-55 hours per week. Workers on travel assignments can log 60 hours a week or more.
Although workers describe Epic's process for pay raises as "opaque" or "a mystery," they say the environment is such that getting an increase may be dependent, at least in part, on working long hours to complete tasks and please teammates.
"Failure is not an option," says Everly. "You know every single other employee, and you'd better be nice to them because basically everyone you work with gives feedback. You have to be good across the board. That's where people complain about the grind and the hours."
Until recently, Casey had been able to work with the team leader to keep hours reasonable, but the past several weeks "have been brutal. I've been averaging 10 hours a day and working some weekends. I'm thinking of leaving if things don't change." When people quit, Casey says, it's often because of excessive demands.
Epic is well known for employing young, educated workers eager to build their resumes and make their mark. But there's a downside. Young workers hired "straight from college work crazy hours," Casey says. "That seems to be the model."
Jordan says job stress may be taking a toll on some workers, both emotionally and physically. Filing for workers' compensation, however, "would probably be a tremendous stigma" and "not good for their outcomes as an employee."
Jordan wonders if Epic's management structure is at fault. "Epic is a factory for young, enthusiastic college grads, and that's 100 percent by design. There's opportunity, but the price of realizing it is burn out."
Premium pay for overtime is meant to be expensive, but that's about a lot more than money in workers' pockets. Labor contracts and government statutes requiring overtime rates of time and one-half for hours over 40 per week are deterrents to employers who might otherwise overlook workers' need for work-life balance.
Overtime disputes in IT can be particularly tricky. With exemptions for some computer-related work and the complexity and abundance of employer-created classifications, tracking is difficult.
Such was the experience of Wisconsin Professional Employees Council, AFT Local 4848, bargaining on behalf of thousands of workers with the state of Wisconsin. "They could and would obfuscate by gaming the job titles," says Bill Franks, chief steward emeritus for the union. "We had hundreds of discrete classifications — we wanted fewer — so you can tell who won that round of negotiations."
Lawyers representing Epic workers raised the overtime issue and others at district court where the lawsuit, Lewis v. Epic, originated in 2015. Court filings show animated debate on numerous points of law.
The lawsuit charges that Epic violated Wisconsin laws and the federal Fair Labor Standards Act by refusing to pay overtime. Epic argued that the workers are exempt and moved to dismiss the class action on grounds that the company's arbitration agreement precludes it. Lewis argued that Epic employees had the right to act collectively through the National Labor Relations Act and that the agreement was unconscionable.
Judge Barbara Crabb found Lewis's NLRA argument persuasive enough and didn't rule on unconscionability. Neither did other courts on appeal. But now that the case has been returned to the district court, it "may still consider whether the agreement is unconscionable and therefore unenforceable," explains Lewis attorney Caitlin Madden of Hawks Quindel. It's unknown when a decision will be reached.
"Unconscionability" is a big word for a relatively simple legal premise: A contract that is one-sided, oppressive and/or unfair to one of the parties may be invalidated.
Cornell law school's Wex legal dictionary notes: "A contract is most likely to be found unconscionable if both unfair bargaining and unfair substantive terms are shown. An absence of meaningful choice by the disadvantaged party is often used to prove unfair bargaining."
Epic implemented mandatory arbitration in 2014 — four months after Hawks Quindel filed the first of four class actions, Nordgren v. Epic, which resulted in a $5.4 million settlement for overtime pay. Distributed via email, the notice gave workers little choice: "I understand that if I continue to work at Epic, I will be deemed to have accepted this agreement."
The agreement restricts legal avenues for employees with wage and hour complaints. Among other things, it prohibits class action arbitrations, requires arbitration filing fees of $200 (give or take), may or may not reimburse legal fees to workers who prevail (depending on applicable laws), forbids arbitration decisions to set precedent (unless for the same worker with the same complaint), and lets workers file claims with but not collect monetary awards ordered by government agencies — forcing arbitration with the company and its lawyers to recoup back pay.
If the courts nullify the agreement, the best case scenario for Epic workers is that Lewis's overtime complaint has another chance as a class action, and two other overtime class actions currently on hold may move forward.
Worst case for Epic: The floodgate could open to more class actions from any of the firm's 9,700 workers freed from mandatory arbitration.
Troubling case for jurisprudence: The Supremes' evisceration of labor rights will have sprung in part from an essentially illegal contract.
In a twist of legal déjà vu, a finding for Lewis in lower courts could send the case back to SCOTUS.
Dan Ortiz, director of the Supreme Court Litigation Clinic at the University of Virginia School of Law, argued Lewis's case before SCOTUS. He says that, although he can't make any predictions, "Epic would certainly have reason to seek review [which] would depend in part on exactly how the unconscionability issue was framed and whether the decisions below rested mainly on state or federal law.
"The Supreme Court typically avoids state law issues," Ortiz adds, "and often shies from review if the state and federal issues are intertwined in complex ways."
Another major legal precedent could affect the more than 55 percent of America's workforce now bound by mandatory arbitration. "This trend has weakened the position of workers whose rights are violated, barring access to the courts for all types of legal claims," the Economic Policy Institute reports, "including those based on Title VII of the Civil Rights Act, the Americans with Disabilities Act, the Family and Medical Leave Act, and the Fair Labor Standards Act."
Nonunion Epic workers don't have a collective bargaining agreement to guide them through the maze of job titles and overtime laws affecting them, and they'll have to wait as the courts and respective counsels grapple with the "unconscionability" issue.
If they lose that argument, attorney Madden says, every overtime dispute "will have to be addressed individually in arbitration, with each employee bringing a separate claim for an arbitrator to address substantially similar issues.
"Most importantly," she says, "these claims aren't going away."