https://portside.org/2018-10-02/state-workers-connecticut-loyal-unions-despite-right-end-dues
Author: Dan Haar
Date of source:
Connecticut Post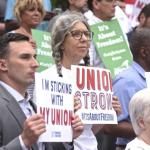 After 28 years as an account clerk for the city of New Haven, 28 years as a member in good standing at AFSCME Local 884, Dolores Robinson decided to stop paying dues.
That's now her right, after the so-called Janus decision by the U.S. Supreme Court in June. Public employees need not pay union dues to keep their jobs under the 5-4 ruling, and in most states — including Connecticut — they don't lose privileges such as help with employer disputes.
Robinson has been an officer of the union local over the years, even serving a term as vice president. But a free $530 a year was too much to pass up.
Then she had a long conversation with Jody Barr, the new executive director of AFSCME Council 4, which represents 30,000 state and municipal employees in Connecticut. She came around.
Then she had a long conversation with Jody Barr, the new executive director of AFSCME Council 4, which represents 30,000 state and municipal employees in Connecticut. She came around.
"I said, 'What am I doing?' It was wrong. It was just greedy," said Robinson, who works at the city police department. "If I did this and everyone else did this ... that's going to bust our union."
Robinson's story has pretty much held up across the state and the nation in the three months since the Janus decision. Observers figured public employee unions would see defections ranging from a few percent in union-friendly states such as Connecticut to a quarter or more of all members in some places as anti-union groups prodded them to drop out.
So far, that hasn't happened. In Connecticut at least, defections amount to a tiny trickle — just a fraction of 1 percent in most cases.
In fact, several unions are seeing significant numbers of people who were not previously members signing union cards. Before Janus, those non-members — known as agency fee payers — had to pay the full dues, typically $400 to $700 a year.
As of July 5, the state comptroller's office no longer withholds those fees from non-members. The unions lose that money until they sign up those non-members, a scramble underway now.
Whether more union members opt out of paying dues as they realize their rights — as supporters of the Janus decision expect will happen — remains to be seen. But for now, labor leaders rejoice as rank-and-file workers such as Robinson stick by their unions in the tense early months of the post-Janus era.
"It's showing the truth of what a union means to union members," said Barr, whose bargaining units represent 30,000 public employees in Connecticut, split evenly between state and municipal jobs. "They value the strength and the representation that they get in being part of a union."
Fierce battleground
AFSCME Council 4 and other state employee unions are rapidly cutting into the ranks of non-members, restoring dues payments that were cut off from a total of about 7,100 people, depending on the month. Those lost payments would have amounted to about $3.5 million a year from state employees alone if all of the former agency payers had refused to sign union cards.
Unions are seeing such success that labor leaders are claiming renewed strength, spurred by the attack the Janus decision represents.
"This was a movement from the right to weaken unions and I think it's backfired," Barr said.
Could it be that the Supreme Court decision, feared as a brutal blow by unionists who anticipated it for years, is actually helping unions by forcing them to organize smarter and better?
It's too soon to reach that conclusion, said Carol Platt Liebau, president of the Yankee Institute for Public Policy, a Connecticut group that favored the Janus decision and lobbies for curtailing public employee union powers.
The Yankee Institute has reached out to public employees, letting them know they have the right to stop paying dues without losing privileges. "Sometimes it takes a while for people to become aware of their rights," said Liebau, who wouldn't give details about the campaign.
She says the unions aren't letting people know they can quit. As for the low numbers of defections this summer, she said, "People have been afraid of ostracism and other things that will happen to them if they speak out."
Liebau says she only wants workers to act in their own self interest, whatever that means to them.
Union leaders say workers' self-interest rests with solidarity, not in individual members saving several hundred dollars a year as their unions weaken. They say they're doing nothing more than offering the logic of sticking together.
In one example from recent weeks, a public university employee who was an agency payer pointedly refused to sign up as a member — until the union represented him in a dispute. He didn't need to pay dues, but quickly did so.
AFSCME Council 4 has six people on the task of organizing existing workers and building new databases, Barr said. As for the Yankee Institute, he said, "They're going to spend more money trying to tell our members to opt out than we are going to lose."
One worker at a time
Here's how the numbers are shaking out for AFSCME Council 4: As of the last week of September, a grand total of 46 dues-paying union members had opted out, Barr said. Of those, 18 are state employees and 28 are municipal — rounding errors of less than one-quarter of 1 percent of the overall numbers.
"I have more than that retire from the Department of Correction in a month," Barr said.
Other unions report similarly tiny losses. At SEIU District 1199, the health care workers, president David Pickus said he's lost 30 out of about 7,000 dues-paying members.
As for signing up former agency payers, AFSCME Council 4 had a total of 2,050 of those, many of them corrections officers, Barr said. The good news: Many of them were not opposed to joining; their union cards had simply been lost over the years as they transferred to different jobs.
Slowly, one worker at a time, AFSCME and the other unions are getting those former agency payers to sign new cards. As of last week, Barr said he had 746 in hand and another 200 in the works.
"I'm short 1,200 people right now," he said.
He told me about a trip to the Brooklyn prison out in Windham County, where a group of officers had held out. "All 18 said 'Go pound sand,'" he said. So he and three other AFSCME organizers trekked out there on a Friday night in July, between second and third shifts.
After 15-minute conversations — one at a time — "Sixteen of them signed cards," Barr said.
Membership up
State payroll records no longer show the number of non-members represented by bargaining units because the state isn't withholding money. But a look at documents for checks dated Friday shows a favorable picture for unions.
In all, there were 45,942 dues-paying members who paid $1.24 million in the two-week pay period. That was up from 44,003 union members who paid $1.16 million in a pay period in April, and state employment has been flat, perhaps down, since then.
Of course, that still leaves as many as 5,000 employees off the dues-paying rolls, whose money was coming in before Janus. That's the group the unions are targeting for card-signings.
"The nonsense of the Yankee Institute, the Koch Brothers, the Stefanowskis, is being recognized for the lies that it is," said Pickus, at SEIU District 1199, referring to Bob Stefanowski, the anti-union Republican nominee for governor.
For Dolores Robinson, realizing her rights under Janus wasn't enough to sway her to quit even though the savings was more than $500 a year. Whether that holds true as her colleagues come to realize they can save big money and not lose privileges is the heart of the question.
It's about community vs. individualism, the great battle of America. The good news is that Janus clearly won't break the unions, which uphold the middle class at a time when the share of income going to the top 1 percent has doubled in barely more than a generation.
"By Jan. 1, we'll have a really good idea of how much money we lost and what we're going to lose going forward," Barr said. "It's not desirable, but let me tell you, the data that we're getting out of this, the structure … is going to be helpful to us in organizing our members and making them activist."