https://portside.org/2018-11-29/securing-ramaphosas-presidency-what-cost
Author: Raymond Suttner
Date of source:
Polity (South Africa)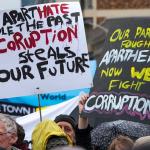 In the early months Ramaphosa engendered considerable confidence as a result of his apparently methodical, systematic and measured way of handling his office. This was a marked contrast to the embarrassingly crude conduct of his predecessor, who repeatedly flouted procedures and the constitution itself, who appeared contemptuous of the wellbeing of South Africans in general, being preoccupied with self-enrichment. No cost was too great for the country to bear in satisfying his insatiable longing for wealth and power.
The business community was impressed with Cyril Ramaphosa and may still feel that he has acquitted himself well. Business wants certainty and continuity and there is no one who is immediately challenging Ramaphosa-at least not openly. Even a Ramaphosa who does not meet all hopes or expectations creates a better climate for investment than the instability arising from his continued vulnerability to challenge and removal.
It seemed from early on, even before he became state president that Ramaphosa was intent on cleaning up the state and some progress has been made, with replacing boards and trying to recover monies disbursed on an irregular basis.
On the one hand the months that followed have demonstrated continued determination to act, albeit sometimes unevenly against the irregularities that beset the activities of the Zuma and post Zuma period. In this he has depended heavily on the often-isolated Minister of Public Enterprises, Pravin Gordhan, who continues to endure a great deal of vilification from the EFF with very few ANC leaders rising to his defence (See: Nomboniso Gasa https://city-press.news24.com/Voices/indian-cabal-narrative-is-to-protect-the-looting-project-20181119, Carol Paton https://www.businesslive.co.za/bd/opinion/columnists/2018-11-13-carol-paton-ramaphosa-seems-powerless-to-stop-fifth-column-arming-itself-in-the-background/, and statement of Jackson Mthembu on the failure of the ANC to defend Gordhan: https://ewn.co.za/2018/11/23/mthembu-i-don-t-know-why-anc-has-not-defended-gordhan-yet ).
From the outset the determination, apparent professionalism and adherence to legality, associated with Ramaphosa faced a counterweight, the insecurity around his position in the ANC and ultimately also as state president. This was first spelt out in numbers by the small majority by which he was elected ANC president. It has not disappeared but magnified into a fairly consistent set of conspiracies to build support against Ramaphosa. Zuma has not retired and is himself very much part of this. Other Zumaites remain, either mobilised for battle, as in the case of former North-West premier and leader of the disbanded provincial ANC, Supra Mahumaphelo, or biding their time while professing loyalty, waiting for the moment when Ramaphosa may be removed, to again change sides to whoever better suits their personal interests. There is nothing political about this. It is purely a question of seeking patron/client relations, restoring benefits previously derived from Zuma whose networks previously provided considerable financial benefits by fair and more often, foul means.
From what is known to outsiders, the support for and against Ramaphosa is more or less evenly matched amongst the top six ANC leaders, the NEC and the NWC with the latter apparently tilting against him.
Cabinet reshuffles
Even if one is not very interested in who holds what position in cabinet there are reasons to be concerned about the continued presence in high office of people who have been alleged with some credibility, to be implicated in criminal activities.
That these individuals who stand discredited in the eyes of many, are there as leaders of the country tells us something about the extent to which leaders are appointed who cannot reasonably be expected to evoke respect as models to emulate. If they have undesirable, even criminal qualities and tendencies what does it tell us about appointing them after their alleged deeds are well known? If one is unable to break with the compromised character of some of the worst of the Zuma era appointments, one is abandoning the possibility of those who are called leaders occupying a broad leadership role in society, i.e. a role that advances direction to the country, which creates a sense of confidence that things will get better.
One of the results of the lack of broad backing that Ramaphosa experiences is that no decisive action against Zumaites can be contemplated without unleashing active opposition or that is the calculation that Ramaphosa has made, resulting in caution over various matters, that evokes disquiet. We are told that his supporters say that he has to wait before acting against one or other person and keep them in high office till other processes unfold.
In some respects, there is decisiveness, notably over the processes cleaning up state owned enterprises, through the work of Pravin Gordhan, but more generally, there is great caution. There is a sense that Ramaphosa is prepared to rock some "boats" but is unwilling to stare down his opponents/enemies and risk that he is removed. Certainly, it would be disastrous if a Zuma proxy were to replace him. But if the Zuma proxies remain in leadership and block what can be done, the qualities that distinguish the Ramaphosa period from what went before becomes blurred.
Message and vision
Another troubling feature of the present period is that the communications emanating from leaders of the ANC and cabinet do not represent a coherent body of thought from which people can learn, that can guide them in their actions as to what conduct is likely to advance or set back transformatory goals. In this period, indeed since 1994, the ANC has been very preoccupied with winning elections and now faces a credible threat to its dominance. There is considerable use of polling (as has been the cases for some time with other parties like the DA). Polling leads to messaging that does not derive in the first place from values that the ANC sees as important for building a society that has specific qualities including mutual respect and advancing equality and ending poverty.
Polling results derive from what samples of people say they want or do not want from the ANC. This information may in fact be peripheral or unhelpful to a plan of action that addresses the broader unresolved inequalities and indignities of apartheid South Africa. There is less consciousness of the need to meet the questions that people have or explain how they can be understood within broader emancipatory programmes. Some of what is very pressing may well not be raised in surveys or in the type of questions that are asked by those commissioned to do the survey. Listening to people now, it seems, is almost purely related to defending electoral standing, rather than a broader organic relationship with the people, aimed at planning to improve their lot.
There was a time when the ANC played a pedagogic role, leading not simply by having a mass base that would follow its broad directions, but explaining the meaning of developments in the country, how to address challenges that were faced in achieving a freedom that would be sustainable. During the struggle many used to study ANC leadership statements and debate these. The analysis on Radio Freedom and especially the ANC's January 8 anniversary statement used to be both general and also specific, addressed to all and also to various sectors of society, recognising the problems of a broad and distinct character that people encountered and offering suggestions on how to deal with these, in the varied conditions that people faced.
That is no more. The ANC spokespersons do not offer clear expositions on the problems that the country faces and how these ought to be addressed. Most of the statements emanating from ANC HQ bear limited meaning and are relatively empty. They are preoccupied with battles within the organisation and posturing in relation to opposition parties, telling us very little of consequence. This may well be because while Ramaphosa is president, some of the public faces of the ANC are in fact reported to be involved in conspiracies to remove him.
While Ramaphosa is strong on issues like calling for investment, he does not evoke a clear understanding or commitment to resolving the multiple problems that people face in dealing with hardships in their daily lives. The content of his statements does not comprise a strategic vision that appreciates the various areas where people are not yet experiencing substantial freedom.
In short, the ANC lacks a vision, not meaning something that is derived from nowhere and suddenly gets advanced for society as a whole. It lacks a vision that connects the present to its historic commitment to the poor and the vulnerable, the marginalised and the silent. It lacks a vision that demonstrates that there is a plan to improve their lot.
In this context, ministers and other leaders are seen to repudiate positions that were fundamental to the ANC's vision of universal freedom, as in the spate of xenophobic statements, that have passed without rebuke.
If much of this can be attributed to Ramaphosa's weak position what exactly is it that those of us who relate constructively to his presidency are supporting, that we do not want to fail? If Ramaphosa cannot do so many things that he supposedly wants to do, what is it that remains that can give hope to those experiencing continuing hardship?
If we are to be patient and understand that Ramaphosa has to balance various forces in order to stabilise his support, is the country not being held to ransom by internal ANC factionalism? The support for Ramaphosa cannot be unconditional. It is conditional on it meaning some things, if it makes freedom grow, if it holds out a sense of hope for all, that it prevents subversion of the notions of freedom that drove many people to offer everything.
If the price of his retaining the presidency is to abandon much of that, what is it that we are supporting and why do we continue to support that leadership, of a type that makes many questions negotiable, or a range of important things are put on hold?
Emancipatory politics
It is necessary to build an emancipatory politics and it may be possible to do this without undermining the Ramaphosa presidency, with support of sections of the ANC, but going beyond that, drawing on people who are located in a variety of locations, sometimes in organisations sometimes not.
What do we understand by emancipatory politics and how is it achieved? What is its content and who are the agents for achieving it? Emancipation cannot be narrowed down to a few formulae or a checklist of potential or realised goals. One is speaking of a quality of freedom that expands, that encompasses the hopes and dreams of people, even if it does not all happen at once. In fact, it ought not to happen at once because the understandings of emancipation and freedom needs to be continually growing, expanding, drawing in more and more people as the leadership and the people in general, who are dedicated to emancipation, understand more and more. It relates to those who have and continue to experience oppression, poverty, inequality and a range of forms of marginalisation.
At the centre of emancipatory politics and an emancipatory vision must be the people of the country. They are not taken for granted. There must be respect and that must be central in developing an emancipatory vision. It is not simply that with which leaders of a political party arrive. Those who are suffering in a range of ways need to inform its content. They become part of the process of creating an emancipatory result that benefits them and improves their lives. It is urgent to build a broad movement to underpin such objectives. Yet it requires careful and thorough organisation that may take time to achieve.
Ramaphosa's must continue to root out corruption and strengthen state institutions. But he also needs to engage with any developing emancipatory initiative. This will help to transcend internal ANC power struggles and ensure that he articulates the aspirations and secures the loyalty of all freedom loving peoples in South Africa.
[Raymond Suttner is a scholar and political analyst. He is a visiting professor and strategic advisor to the Dean of the Faculty of Humanities, University of Johannesburg and emeritus professor at UNISA. He served lengthy periods in prison and house arrest for underground and public anti-apartheid activities. His prison memoir Inside Apartheid's prison was reissued with a new introduction in 2017. He blogs at raymondsuttner.com and his twitter handle is @raymondsuttner .]
Thanks to the author for sending this to Portside.