https://portside.org/2018-12-12/sy-kattelson-dies-95-photographer-made-art-street-life
Portside Date:
Author: Daniel E. Slotnik
Date of source:
The New York Times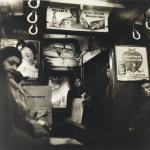 Sy Kattelson, a photographer and member of the influential Photo League, who captured workaday New York in pictures of nuance and intimacy for half a century, died on Nov. 24 at a care facility in Rhinebeck, N.Y. He was 95.
His death was confirmed by his daughter, Raina Kattelson.
Mr. Kattelson joined the League in 1947. A leftist documentary and artistic photography group based in New York, the League championed a new aesthetic and helped shape a generation of young photographers.
He was not as well known as members like Paul Strand, Sid Grossman, Berenice Abbott and Lisette Model, but he set himself apart with photographs that tended to be less political, often showing New Yorkers in unguarded moments as they rode subways, walked the avenues, wheeled perambulators and otherwise went about their urban business.
"Most people doing that type of work were doing poverty-stricken people, like on the Lower East Side," Mr. Kattelson told The New York Times in 2017. "I started to think, 'What about people like me, who were not in poverty?' So I tried to show people what they were living like."
Sy Kattelson, "Untitled," 1949. Credit: Sy Kattelson, via Howard Greenberg Gallery
Another picture showed a woman seated alone on the Third Avenue El Train in 1948, her pensive face lit like a scene from a film noir.
Sy Kattelson, "Woman, Third Avenue El," 1948. Credit: Sy Kattelson, via Howard Greenberg Gallery
Another captured people milling about on 14th Street, some faces reflected in glass and others disconnected by shadows and a ladder in the frame. Everyone is intent on their own pursuits, but they all share the same space.
Sy Kattelson, "14th Street," 1953. Credit: Sy Kattelson, via Howard Greenberg Gallery
"Mr. Kattelson's weakness — if it can be called that — is his respect for the strangers he photographs," Vivien Raynor wrote in reviewing an exhibition at the Jersey City Museum in 1988. She added, "His presence is never felt, but his inquiring yet merciful sensibility is everywhere."
The Photo League dissolved in 1951 after it was accused of having ties to Communism. During the 1950s, Mr. Kattelson shot fashion photography for Glamour magazine and then worked at a color photography lab. He eventually moved on to more artistic compositions, sometimes made with double exposures or by collaging different prints. "I didn't want to keep making the same pictures all over again," he told The Times.
In one 1990 photograph, Mr. Kattelson overlaid an image of people making their way through a crowded intersection onto one of a less cluttered street scene showing a bike and a bus — a portrayal of the transient energy of New York.
Sy Kattelson, "Bus, Line, People, 1990. Credit: Sy Kattelson, via Howard Greenberg Gallery
Mr. Kattelson's photographs appeared in the important "This Is the Photo League" exhibition in 1948-49. Last year, the Howard Greenberg Gallery in Manhattan, which represents him, held a solo exhibition of his work, the first in about two decades. His photographs are in the permanent collections of the Museum of Modern Art and the National Portrait Gallery.
Seymour Kattelson was born in the Bronx on Feb. 11, 1923. His father, Robert, was an electrician, and his mother, Bertha (Garfunkel), owned a corset shop.
When he returned home, he married Rita Lord. The marriage ended in divorce, as did a second, to Estelle Haber.
In 1961 Mr. Kattelson moved to Woodstock, N.Y., where he established an art house movie theater that became the Tinker Street Cinema. He sold the theater, now known as Upstate Films/Woodstock, and moved back to New York City in the 1980s.
Mr. Kattelson moved back upstate, to Saugerties, in the early 1990s and lived there until three years ago, when he moved across the Hudson River to Rhinebeck.
In addition to his daughter Raina, from his marriage to Ms. Haber, he is survived by three grandchildren.
Recent and archived work by Daniel E. Slotnik for The New York Times