https://portside.org/2019-01-03/voyages-damned
Portside Date:
Author: Roberta Schine
Date of source:
Portside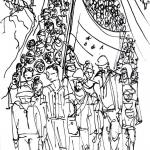 Last Sunday, I heard about a trip to the border to stand with the Central American refugees asking for asylum.

As I walked across town to the Accompaniment Training for the Sanctuary Caravan, I told myself I was just curious. I wanted to support the project in some way but felt that, at 74, I was too old to fight the good fight this time. For one thing, my injured shoulder would make getting arrested really painful. And I would need a comfortable bed. I didn't want to be an energy-drain on the group.

It's not that I've never participated in an action like this! In the 60's, I went to Cuba on a Venceremos Brigade and two decades after that I was part of the literacy program in Nicaragua. Years later, I protested the marine presence in Vieques and took part in the Teacher's Strike in Oaxaca. I still travel regularly in Mexico and Central America, my Spanish is good and camping out is not new to me.

But I've never been old before!

Sara Gozalo introduced herself as a member of The New Sanctuary Coalition, the group that's organizing the trip. Sara is 40-ish, likable, a dynamic speaker and has a slight Spanish accent. She briefly explained the goal of the NSC. "Our mission is to stop deportations."

The NSC has two main programs. In the Pro Se clinic, volunteers work with affected communities on their asylum applications. The Accompaniment Program pairs up volunteers, mostly US citizens, with people who are going to their deportation or detention hearings. The volunteers support, witness and keep the system accountable. Both of these programs are what the New Sanctuary Coalition is hoping to bring to the border. "The power is real," Sarah said. "The movement has heard of cases where judges acknowledge the community ties of an immigrant and grant bond instead of detention, or ICE agents delay deportations while cases continue."

I looked around the room and noticed that many of the 100+ people at the meeting had gray hair. Maybe I wasn't too old, after all. (It helped when Sara talked later about finding "lodging" for us. I took that to mean "beds.") I moved towards the front of my chair and tried reaching my wrists behind my back in a modified Handcuff-asana. I realized that if I pulled my scapulae together in a certain way, my shoulder didn't hurt — well, not that much. I thought to myself, "I just might be able to do this."

Sara emphasized that we'd be there to witness without confrontation. "You'll encounter Armed forces, armed white supremacists and armed Customs and Border Patrol refusing to process people in a timely manner as they turn themselves in to the authorities in order to apply for asylum. But you are to remain silent and non-violent." She kept repeating, "If you're re not the kind of person who can keep your mouth shut, accompaniment is not for you."

Restraint has never been one of my strengths. I turned to the woman sitting next to me and whispered, "I guess I should leave right now. I could never shut up around those awful people." "You'll be fine," the complete stranger whispered back. "That's what I thought, too, when I started doing accompaniment at immigration court here, in NYC. But I realized early on that ICE wasn't going to take it out on me if I made them angry. They'd take it out on the immigrant I was trying to help. You'll shut up."

Sara was now speaking about standing witness to a system that functions in the shadows: "It's much harder to do the corrupt and racist things they're doing when people are recording and witnessing." The next day, I called my friend, Miriam Frank, and mentioned this to her. As usual she had something wise to say, based on her lifetime of activism and reading (and writing) history books. "Hey," she said, her voice booming into my ear, "It's like, you put the lights on and all the cockroaches run away!"

When I was a child, my parents used to tell us the story of the St. Louis. Now Sara was comparing the Central American exodus to this doomed ocean-liner. "We sometimes refer to the caravan from Honduras, Guatemala and El Salvador as the 'St. Louis' aka "The Voyage of the Damned'." That's the ship filled with German Jews who were fleeing Nazi persecution during World War II. They were denied entry in Cuba, the United States and Canada."

My parents' intention was to teach their children about anti-Semitism. As a result, I'm sensitive to the prejudice against Jews. Yet my takeaway from this history lesson has always included the persecution of all refugees. I think the same is true of many Jews and other people who grew up in immigrant families hearing tales of immigration as often as we heard about Cinderella or about little piggies huffing and puffing and blowing your house in. I dropped my head and covered my face with my hands. Sara lowered her voice. "So they went back to Germany where a third of them were killed. Would it have made a difference if people had supported them and held the Nazis accountable?" I remembered my mother's lament, "And nobody would help us!"

Someone handed me the clipboard and I signed my name.
New Sanctuary Coalition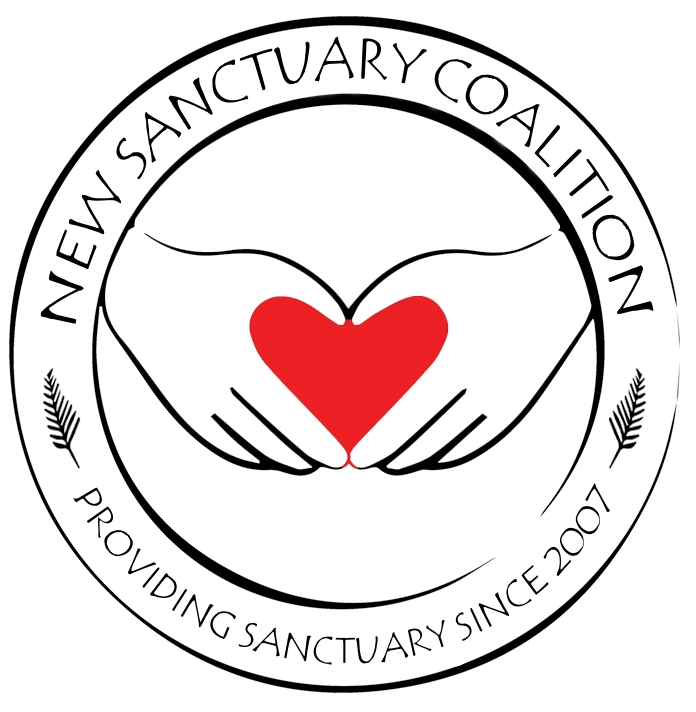 For more information about the New Sanctuary Coalition go here.