https://portside.org/2019-02-02/anti-vaccination-movement-has-fueled-measles-outbreak-washington-state
Portside Date:
Author: Elham Khatami
Date of source:
ThinkProgress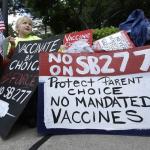 A measles outbreak in Washington state led Gov. Jay Inslee (D) to declare a state of emergency last week, and health officials reported Monday that the number of cases has increased from 26 to 36, in addition to 11 suspected cases, across two counties.
According to Washington Department of Health officials, at least 31 of the cases involve people who had not been vaccinated for measles — a troubling sign of the growing influence of the anti-vaccination movement that has spread rapidly in the Pacific Northwest.
Most of the cases have been reported in Clark County, which borders Oregon. Of the overall number of people diagnosed in Washington, 25 are under the age of 10, nine are between the ages of 11 and 18 years old, one is between the ages of 19 and 29 years, and one is in his 50s. Children under 12 months are not eligible for vaccination.
"We are close to the so-called herd immunity threshold," said Dr. Saad B. Omer, a professor of global health at Emory University, referring to the percentage of people in a population who are immune to a disease and thus can reduce the risk of transmission. For measles, the threshold is 92 percent.
"I don't want to be alarmist," Omer told ThinkProgress. "We have robust immunization programs … and the [Centers for Disease Control and Prevention] has a very proactive program to counter these outbreaks. These things keep things at bay, but there is still a concern."
In a 2016 study for the Journal of the American Medical Association, Omer and three other researchers found that a "substantial proportion of the US measles cases in the era after elimination were intentionally unvaccinated."
Measles, an airborne virus that can lead to pneumonia and encephalitis, was responsible for the deaths of hundreds of children in the United States before the vaccine was introduced in the 1960s. It was largely believed to have been eliminated in the United States in 2000, a feat attributed to vaccinations. Since then, state vaccine exemption laws have led to a resurgence, with almost 350 cases reported in 2018, nearly triple the amount in 2017.
According to the CDC, many of these cases stemmed from individuals who opted not to vaccinate due to religious reasons. Others were rooted in poor education about the benefits of vaccines. In 2015, an outbreak in Disneyland in California affected nearly 150 people. Public health experts determined at the time that the reason the virus spread so quickly was because many of those affected had not been immunized.
The anti-vaccine movement is based on junk science which incorrectly draws a connection between vaccines and the increasing risk of autism in children, a claim that has been disproved time and time again. And measles isn't the only disease that has seen a resurgence over the years thanks to the movement. Last year's flu season saw the lowest vaccination rate and the most deaths in decades, with nearly 80,000 reported deaths, including more than 180 children, of which 80 percent had not received the flu vaccine. A November 2018 report found that, at the height of flu season, more than one-third of U.S. parents were not planning to vaccinate their children.
Omer said policy intervention in the form of stricter vaccination requirements, as well as public health intervention, is needed to address outbreaks.
"As a field, we need to focus on evidence-based initiatives to better communicate with parents," he said. "We need that level of rigorous science."
[Elham Khatami is an associate editor at ThinkProgress. She can be reached on twitter @ekhatami.]