https://portside.org/2019-04-14/amnh-employees-revolt-over-appalling-decision-host-bolsonaro-museum
Author: Jake Offenhartz
Date of source:
Gothamist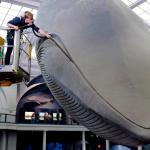 The American Museum of Natural History is facing an internal insurrection — and the threat of staff resignations and boycotts — over its refusal to cancel a gala next month celebrating Brazilian President Jair Bolsonaro.
As Gothamist reported yesterday, the Brazilian-American Chamber of Commerce intends to honor the far-right leader as "Person of the Year" on May 14th, during a ceremony held in the museum's Hall of Ocean Life. The $30,000-a-seat tickets to the event have already sold out, and attendees include a range of business leaders with financial interests before Bolsonaro.
The revelation of AMNH's role in the event sparked confusion and swift condemnation from Brazilians and New Yorkers. Earlier this morning, Mayor Bill de Blasio urged the museum — which received more than $16 million in city funds this year — to cancel, calling the event and venue "a shocking contradiction."
"This guy's a very dangerous human being," de Blasio said during an interview today with WNYC's Brian Lehrer. "He's dangerous not just because of his overt racism and homophobia, but because he is unfortunately the person with the most ability to be able to impact what happens in the Amazon going forward."
Hey @AMNH if this happens I will resign as a research affiliate with you and I will organize a boycott of your institution by every single person I know in anthropology. You should be ashamed. http://gothamist.com/2019/04/11/bolsonaro_amnh_gala.php?fbclid=IwAR3ALmiJnLHlBEfHEHn5--wHl7qWPOWNbDiIX5S5dAfE-76Qgz-QM8dOM6A …

The museum's gala space in the Milstein Hall of Ocean Life (Andrew H. Walker/WWD/Shutterstock) Each year, leaders of the international business and finance community gather in the American Museum of...
Count this oceanographer in! Unbelivable!
See Julius Busecke's other Tweets
But perhaps nowhere has the anger been as visceral and organized as inside the museum, where staff members say they were blindsided by the news, and are now furious with the institution's leadership.
"My jaw dropped when I found out," said Dr. Susan Perkins, a curator and professor of microbiology at the museum. "Anything that happens in the museum reflects on us, and Bolsonaro represents just about everything we oppose: His treatment of indigenous people, his disrespect for the environment, his views and recent actions to defund scientific research. We find it appalling that he would be in our space."
While several employees have registered their outrage over the event, the AMNH isn't budging for the time being. In a statement to Gothamist, a spokesperson described the gala as a "external, private event" that should not be seen as an endorsement of the leader's views. That spokesperson has refused to say whether the event might be cancelled, though the museum tweeted on Thursday that they were "exploring our options."
A person who answered the phone at the Brazilian-American Chamber of Commerce said they hadn't heard from the museum about the controversy. The group declined to provide a comment on the record.
American Museum of Natural History✔@AMNH

The external, private event at which the current President of Brazil is to be honored was booked at the Museum before the honoree was secured. We are deeply concerned, and we are exploring our options.
As a Brazilian researcher, it is outrageous that an individual that despises science as much as him gets honored by a scientific institution. You must cancel for the sake of Brazilian researchers. He is literally driving us out of the country.
225 people are talking about this
Meanwhile, museum leaders are privately scrambling to distance themselves from the association, and pleading ignorance to the details of the fête. In a staff-wide memo sent on Thursday afternoon, Provost Michael Novacek and VP of Human Resources Daniel Scheiner said they "share a deep concern" about the Chamber of Commerce gala, noting that it "was booked before the specific honoree was secured."
In response, some employees pointed out that Bolsonaro's selection was announced months ago — it was covered in the Brazilian press in February — and suggested that the museum's upper management had to have been aware of the choice.
"It would be hard for me to imagine that they're not just covering it up now," said one employee, who asked for anonymity for fear of losing their job. Noting past controversies at the museum, including the handling of sexual misconduct allegations against Neil deGrasse Tyson, the employee said they'd found "the museum only responds when put in a corner."
Bolsonaro Out of AMNH!@maenads_dance

Outraged but not surprised that my employer (I'm a grad student), the American Museum of Natural History, is hosting a $30,000-a-plate Gala in honor of the fascist and genocidal Brazilian president Jair Bolsonaro, a man who is forcing Indigenous peoples off their land...
Bolsonaro Out of AMNH!@maenads_dance

So that agribusinesses and mining interests can raze the Amazon. AMNH claims to care about biodiversity and climate change - they certainly employ scientists who study these things - but they'll take the money of people who would see the whole world burn to line their pockets.
204 people are talking about this
Other staff members did say it was possible the nature of the gala was only known to the Events and Conferences department, which handles both internal and external events at the museum. That doesn't excuse the museum's involvement, they noted, and instead points to the need for codified prohibition on renting out the space for events that violate the institution's values. (The AMNH spokesperson wouldn't say whether such guidelines already exist.)
As of Friday afternoon, staff members across the museum's scientific, library, and education departments were in the process of coordinating multiple initiatives that they hoped would force the museum to back out of the event. Those include a potential protest during the museum's 150th anniversary party later this month, as well as a letter sent by graduate students — in conjunction with the Democratic Socialists of America — demanding the gala be called off. At least one research associate has publicly threatened to resign and "organize a boycott of your institution by every single person I know in anthropology."
And if those threats don't work, activists with the organization Decolonize This Place tell Gothamist that they have no intention of allowing the event to take place without disruption. "They either cancel or we shut it down," said organizer Amin Husein. "It's that simple."
UPDATE: In an open letter addressed to AMNH's senior administration, museum scientists and graduate students from the Richard Gilder Graduate Center are demanding the event be cancelled, describing it as "a stain on the Museum's reputation which negates the nominal efforts it has recently made to grapple with its legacy of colonial violence and racism."
The letter goes on to quote AMNH President Ellen Futter, who previously wrote that it was the job of natural history museums to "document, protect, and celebrate the natural world" and to offer clues "into how we can protect it in the future."
The open letter concludes: "One of the ways that we can protect the future for Brazilian Indigenous populations, scientists, citizens and bioconservation efforts is in the refusing access to our collective institutional home to the fascist president who would see these peoples and efforts actively harmed and destroyed."
You can read — and sign — the full letter here.
Gothamist is now part of WNYC, a nonprofit organization that relies on its members for support. You can help us by making a donation today! Your contribution supports more local, New York coverage from Gothamist. Thank you!
Contact the author of this article or email tips@gothamist.com with further questions, comments or tips.