https://portside.org/2019-07-04/tidbits-july-4-2019-reader-comments-concentration-camps-megan-rapinoe-democratic-debate
Author:
Date of source:
Portside
Resources:
Announcements:
Military Parade - Tanks on Streets of Our Cities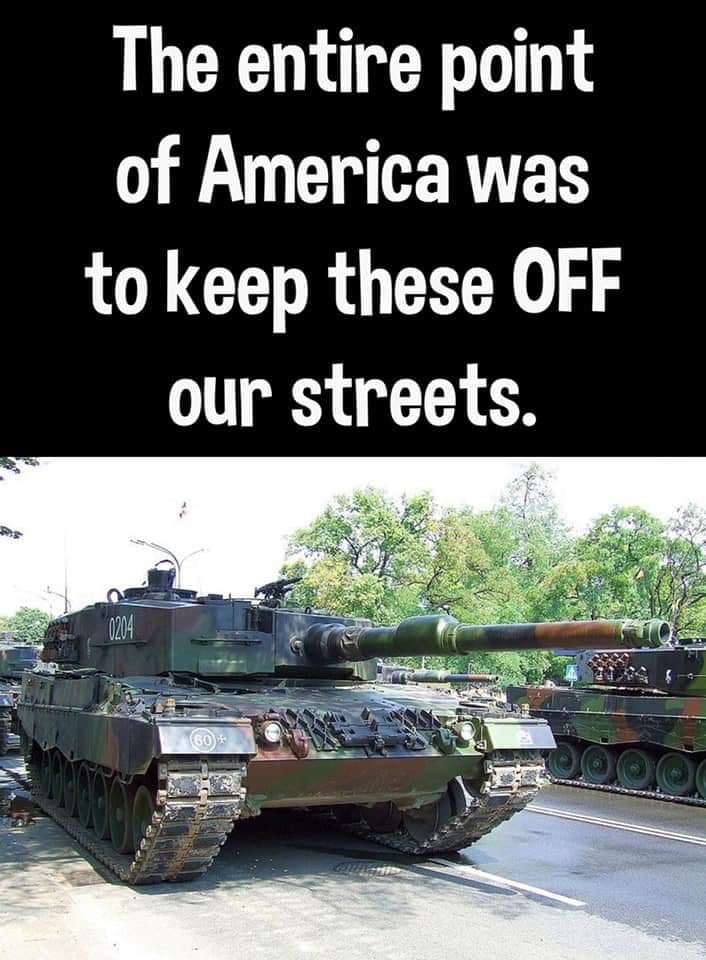 Germany's Leopard 2 tank  --  on German streets to be used against Germans protesting government policies.
Re: Wayfair's Walkout Against Concentration Camps
(posting on Portside Labor)
 
    Hundreds of workers at the online retailer Wayfair walked out of their jobs yesterday to protest their company's decision to sell beds to migrant detention camps on the US-Mexico border. Their action received support from Reps. Rashida Tlaib and Alexandria Ocasio-Cortez — AOC tweeted: "[t]his is what solidarity looks like — a reminder that everyday people have real power, as long as we're brave enough to use it."
Disraelly Gutierrez Jaime
Posted on Portside's Facebook page
     =====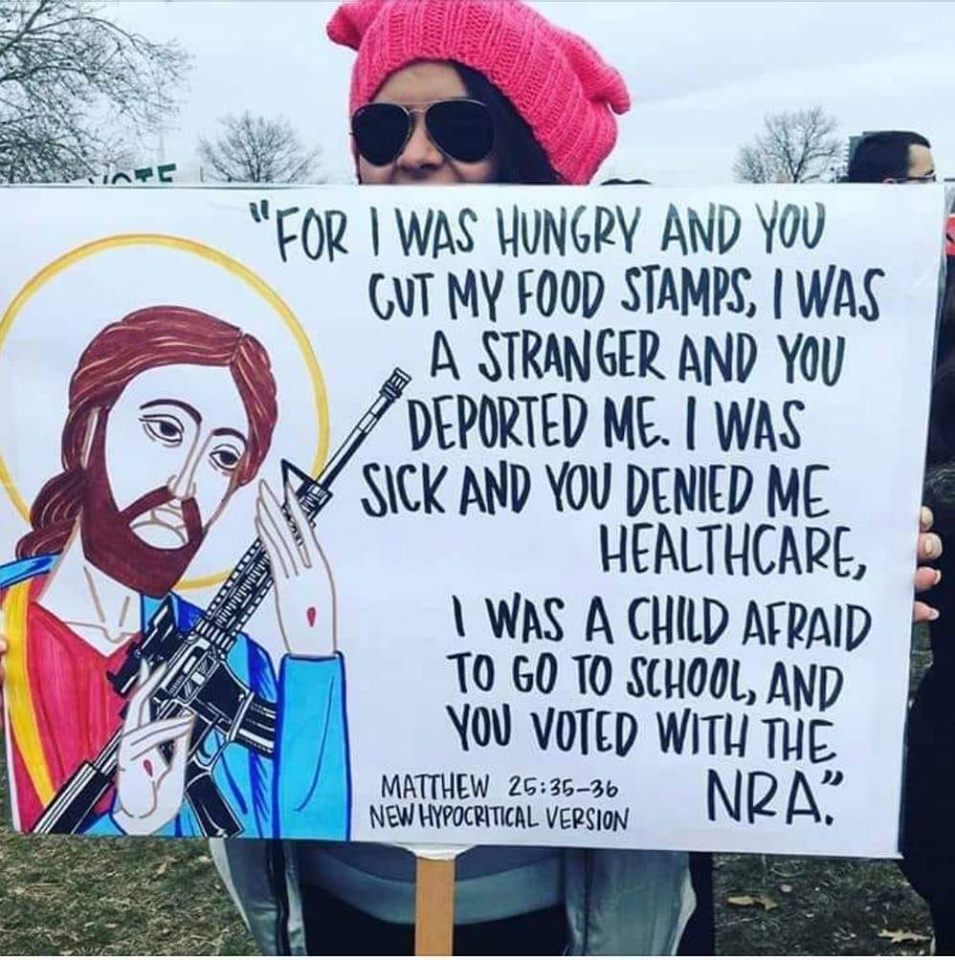 Elí Maldonado
Posted on Portside's Facebook page
Re: Horrific Detention Center Conditions Expose Trump's True Immigration Policy: Unmitigated, Unrelenting Cruelty
 
Yes, I will keep posting these stories until everyone gets the picture that these things are not right and become outraged enough to spread the word to their social media world as well! Deplorable treatment and conditions, which have been confirmed by our own government inspectors.
Paul D Robbins
Posted on Portside's Facebook page
     =====
Trumps idea of making America Great Again... More like supremacist
Eddie Rivera
Posted on Portside's Facebook page
     =====
We always wonder how human beings turn into monsters when given "lesser people" to watch over. How do American guards begin to act like the worst Nazi or slave overseers? I tried to find a name and/or description for the reverse side of "Stockholm Syndrome," but couldn't. The Stanford study said that it wasn't just the "oppressed" that took on their roles in a relatively short time; so did the "oppressors" although they had all been randomly assigned to their roles. A number of other social psychological studies (e.g., giving electric shocks to other) shows the same things. I want to believe that I can't be turned into a torturer against my own nature, but who knows.
Arlene Halfon
     =====
Have you ever been really disappointed and disgusted with the behavior of someone you love on their birthday? That's kinda the way I feel today. My big, liberal, bleeding heart can't in good conscience celebrate what we've become. Happy 243rd birthday, USA and shame on you. Get your shit together. You're better than this
Ron Stanley
Posted on Portside's Facebook page
Re: Megan Rapinoe Doesn't Back Down to Anyone, President Trump Included
 
Very brave woman!
Patricia Fornera
Posted on Portside's Facebook page
     =====
I don't blame Any athlete from avoiding this embarrassment cuz he's not a president
Che Little
Posted on Portside's Facebook page
     =====
Why would any athlete want to go there for a trump hamburger party!! He is disgraceful!
Vicki O'Neill
Posted on Portside's Facebook page
     =====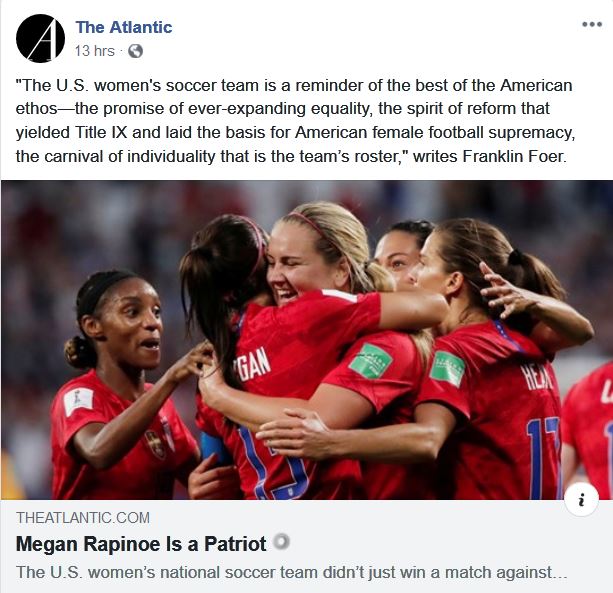 Megan Rapinoe Is a Patriot
The U.S. women's national soccer team didn't just win a match against England—it's making the case for a different kind of patriotism.
By Franklin Foer
July 2, 2019
The Atlantic
read full story here.
Re: If San Pedro Sula Is Murder Capital of the World, Who Made It That Way?
 
Thank u guys for posting this. I want so badly for ppl to understand.
Enid Gonzalez Aleman
Posted on Portside's Facebook page
Re: Trump Administration Drops Bid To Put Citizenship Question On 2020 Census
 
SADLY, they may have already accomplished some of their intentions, which is to intimidate Latinos into not participating.
Mike Glick
Posted on Portside's Facebook page
Re: Joe Biden's Response to Kamala Harris on Busing Is Going to Haunt His Campaign
 
If these debates continue it will be a disaster for each and every candidate and for the USA. Fighting each other, debilitating forces. They only will get to one place...failure.Is time for the 20 something to reunite in a historic meeting decide one candidate to run for the presidency and go fight the real enemy and beat him. Are they blind? They all are out of focus
Marisol Febo
Posted on Portside's Facebook page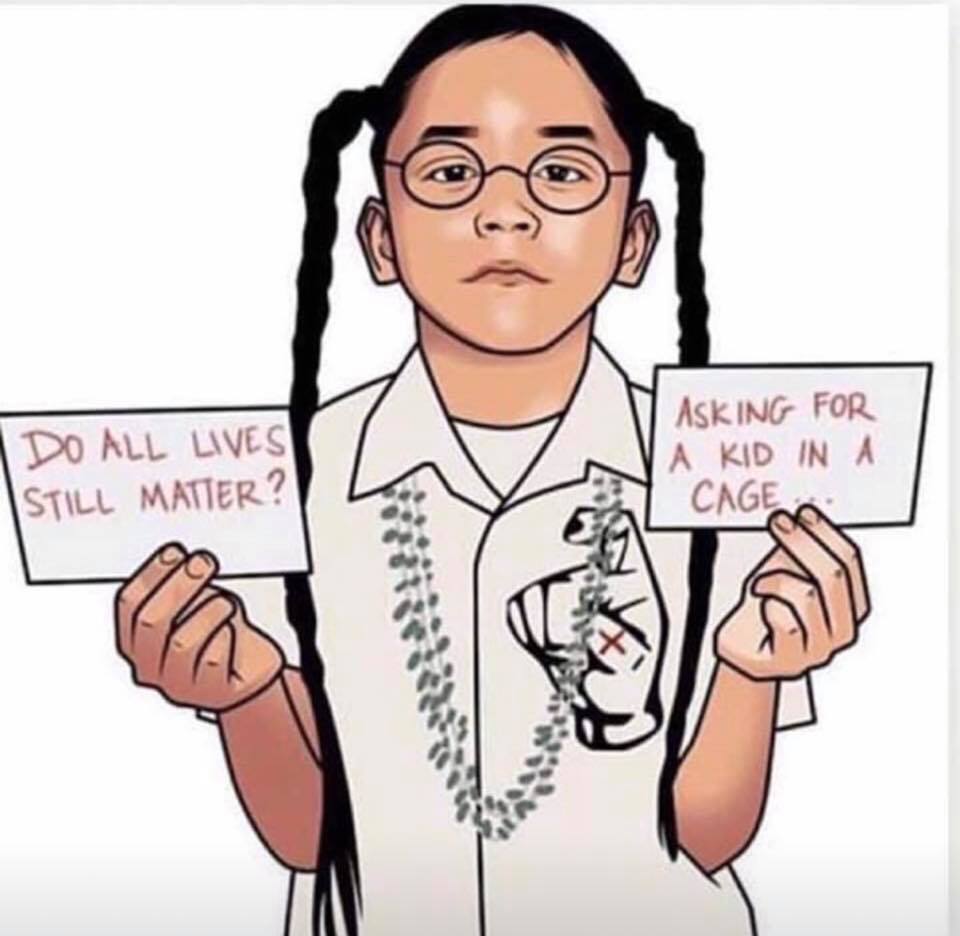 Re: The New Deal in the American Political Imagination
 
see:  Franklin D. Roosevelt's Second Bill of Rights
by Patrick J. Herring
 
Jules Bernstein
Superman: A Classic Message Restored
 
By DCE Editorial
August 25, 2017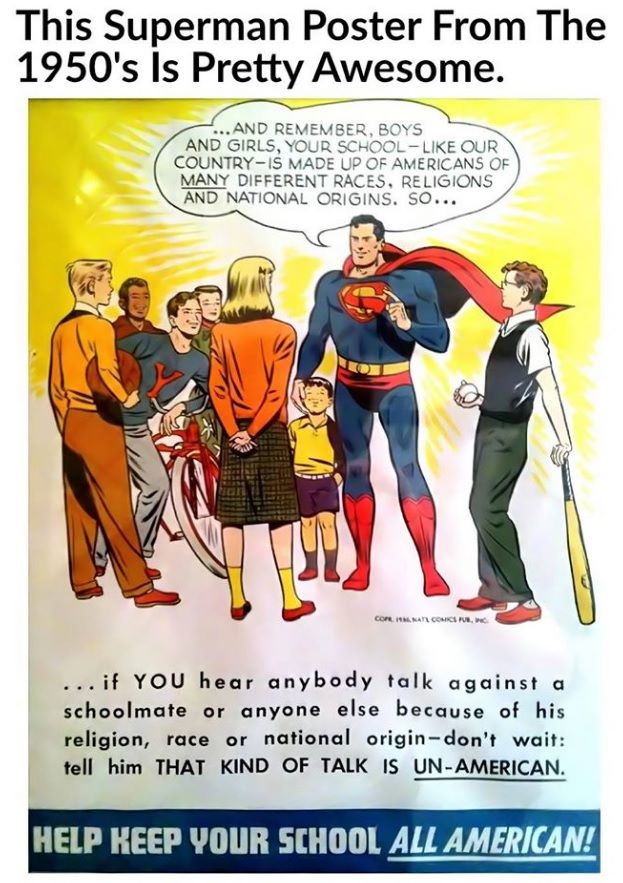 In a recently much circulated image of a 1950's-era color poster, Superman can be seen speaking to school children about the importance of respecting diversity. Only a tiny number of these posters are thought to still exist and little information remains about how the poster came to be. But what we do know is that it was not the original source of that powerful image and statement. In 1949, DC (National Comics) produced this same image and text originally for a 12 x 18" brown paper school book cover that was distributed to schools by the Institute for American Democracy, an offshoot of the Anti-Defamation League.  While the author of Superman's reminder of the American creed is unknown, the art is believed to be by noted Superman artist Wayne Boring.
1949 was also the year that DC began publishing, in conjunction with the National Social Welfare Assembly, a long running series of public service messages using its characters in the pages of its comic books.
Earlier this year, our intrepid art team here at the DC office digitally restored the poster, offering a much larger and clearer image of this classic piece of art that embodies a core value that we as Americans hold so dear.
Re: The Infamous Birth of the Custer Myth
 
No mention of movie "Little big man" with Dustin Hoffman which exposes Custer as a war criminal in a rather entertaining fashion and the native Americans as the "human beings"
Steve Goldsmith
Re: Justice Kagan's Gerrymandering Dissent
 
As you know most people do not read SC decisions or dissents.  My guess is that many would not even know that the decision was not a vote like in Congress but a document that explains the case and the court rationale for the decision.
So thanks for sending out an article about the decision and the links.
Peace!
Buzz Davis, Vets for Peace in Tucson
Re: Soaring Insurance Deductibles and High Drug Prices Hit Sick Americans with a 'Double Whammy'
 
Regarding Medicare for All (M4A), Kaiser has created an M4A brief and side-by-side summary.
Here is their comparison of the nine current health insurance reform proposals.
With the plans laid out like this, the advantages of M4A begin to emerge. The major hurdle to thinking about M4A is that it is NOT the current Medicare system, which is hobbled by 50 years of political efforts to wreck it, largely by continually ratcheting down payment rates and by not letting it control pharmaceutical prices. The insurance industry also tried to kill it at the start which is why we have the 20% private sector carve out for private plans that Medicare does not cover.
That last bit: You have to decide which "Gap Plan" is right for you is exactly why it is time to jettison the private insurance model and shift to a single system that has very low overhead, a "risk pool" of the entire nation, and thus can put a much higher proportion of its dollars into direct service. That means it can provide a wider range of services, covering more people. 45,000 seniors, adults, and children will not die every year because they lack health insurance.
A major advantage to health care providers (buried down in the text of the "brief") is they will be more likely to get on board is that M4A eliminates "excess administrative costs attributable to having multiple payers." This is a major advantage to providers. Hospitals and clinics bear huge overhead costs by having to employ billing departments with expensive computer systems to manage billing large numbers of insurers. This hidden overhead would be eliminated, and the cost could be shifted into direct care. Sole practitioners are also burdened by this, need to have the same expensive software and/or not take patients with certain insurance coverage. All of this goes away.
For patients, M4A eliminates "balance billing" – the practice of billing us for whatever the plan does not pay. This is where, even with insurance, we hear the horror stories about people going bankrupt because of medical bills.
Sanders' own summary
Kaiser is not freaked out. Why? Because Kaiser's health care SYSTEM would continue to exist, just like all of the large health care systems would continue to exist. They would just carve off their insurance overhead, which I have a hunch, they would be glad to let go and turn that into more direct care under a more profitable care funding structure. If Kaiser didn't think M4A was going to be more profitable, that would come through in this issues brief.
Takeaway: There is no reason to keep private insurance. A fully funded M4A plan - either Sanders' or Jayapal's, provides more comprehensive coverage than the current insurance models. The only resistance will come from those insurance companies that will go out of business. Having worked inside a large health care system most of my career, and spent many hours in billing meetings, I can confirm, there is no reason to keep them around. They will, however, lobby and put millions into advertising about why people should oppose M4A.
M4A eliminates copays, monthly premiums, deductibles. Both M4A exclude balance billing (billing you for residual costs insurance does not pay). Public Option plans allow it with limits, two "not specified." Sanders' plan may allow a $200 charge for some prescription drugs.
M4A sets aside up to 1% of the budget for displaced insurance workers.
Overviews
Daniel Jordan, PhD
Re: Marx and the Dutch East India Company
 
Good article.  And a rebuttal to the oft-promoted slander that Marx was indifferent to colonialism and Eurocentric.
Joseph Kaye
     =====
In the early 1970s, I lived in Singapore in an apartment building from which I looked out on to the shores of Sumatra - one of the Indonesian islands. At the time, I knew some of the history of the Dutch East India Company in Indonesia, referred to by Marx in the article below, but not enough! Living in my apartment building were employees and/or engineers of various American oil companies, who were periodically going into Indonesia to explore for oil. I questioned some of their activities. While I can't say this definitively, I wondered about the legality of their work and questioned whether they were taking antiques out of Indonesia without the approval of the Indonesian government, which was required.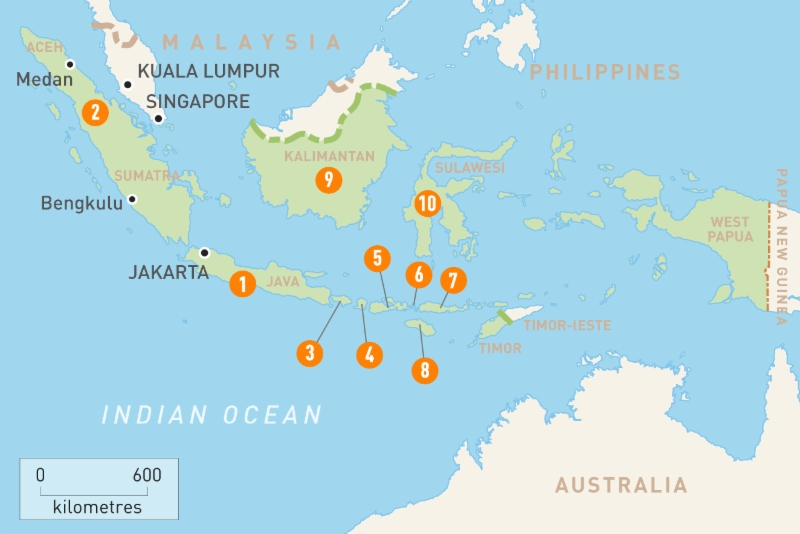 Marx suggests that the corrupt Dutch activities in Indonesia were a model for the amoral British occupation of India and further:
For Marx, next to slavery in the Americas, Dutch colonial violence in Indonesia provided a prime example of how violence was used to create the preconditions for capitalist development. 
A point to be made here also is that my overseas experience in Singapore, in the 1970s, taught me that corruption and/or thievery as a model, unfortunately, is on-going whether by the British, the Dutch, the Americans, and/or countless others.
'The struggle continues' as they say.
Here is a map of the Indonesian islands. Also, in this map, is depicted Singapore, the Philippines and Australia where I also lived for brief periods in the1960s, 1970s and 1980s.
Heather Gray
Re: These Photos Ended Child Labor in the US
 
The video about photos that ended child labor brought to mind this poem by Sarah Cleghorn:
The gold links lie so near the mill
That on a sunny day
The laboring children can look out
And watch the men at play.
Seymour Joseph
This muggy Fourth I will mourn for my country  --  poem by Stewart Acuff
 
This muggy Fourth I will mourn for my country
No sweet freedom celebrations for me
Not while evil itself tortures children in chains
Makes a mockery daily of democracy
Worships wealth and the world's worst men
Embraces white supremacy
Treats women as objects to be used
Builds barriers cultural, physical and political between our people
Intent on death and destruction killing our climate
Today America is a mockery of herself
She mocks the words of Tom Paine and Thomas Jefferson
Mocks rivers of Native blood, and millions of lashes on backs of slaves
Denigrates Frederick Douglass, Debs, Elizabeth Stanton and Anthony
There is nothing sacred left but wealth and death
And we fight for freedom where freedom is spurned.
Stewart Acuff
July 3, 2019
Street signs unveiled for newly renamed 'Paul Robeson Boulevard'
By Cyril Josh Barker
June 27, 2019
New York Amsterdam News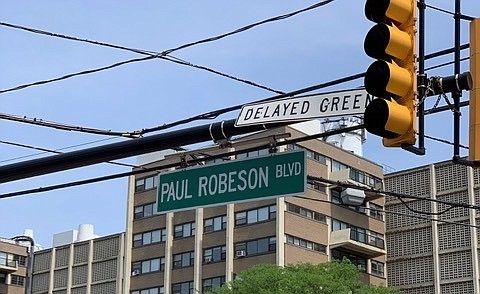 Eighteen signs are now in place in New Brunswick, N.J. bearing "Paul Robeson Blvd." replacing what used to be Commercial Avenue. The signs were recently installed in honor of the late African-American singer, actor and activist.
The renaming is part of the yearlong celebration commemorating the 100th anniversary of Robeson's graduation from Rutgers University in 1919. He attended the school on an academic scholarship becoming the university's third African-American student. Robeson was a star scholar with a consistently high grade-point average.
C. Roy Epps, president and CEO of the Civic League of Greater New Brunswick and a member of Rutgers' Robeson Centennial Committee, led the initiative to rename Commercial Avenue in Robeson's honor.
New Brunswick Mayor Jim Cahil and Paul Robeson Community School for the Arts Principal Dr. Aubrey Johnson were on-hand at the dedication ceremony when the street signs were unveiled. Officials from Rutgers University also attended.
Cahill led the ceremony at the corner of Baldwin Street and Robeson Boulevard near the entrance to Feaster Park, where the city plans to install a sculpture of Robeson.
"We celebrate the 100th anniversary of Robeson's graduation from Rutgers, but we need to be mindful of the obstacles he overcame to become the third African-American student to graduate from Rutgers," Cahill said, adding that Robeson's work to "shape the world for the better … stemmed directly from his education" at the university.
This woman has held up the same sign at Pride for the last 40 years
By Corey Kilgannon and Aaron Randle
June 30, 2019
New York Times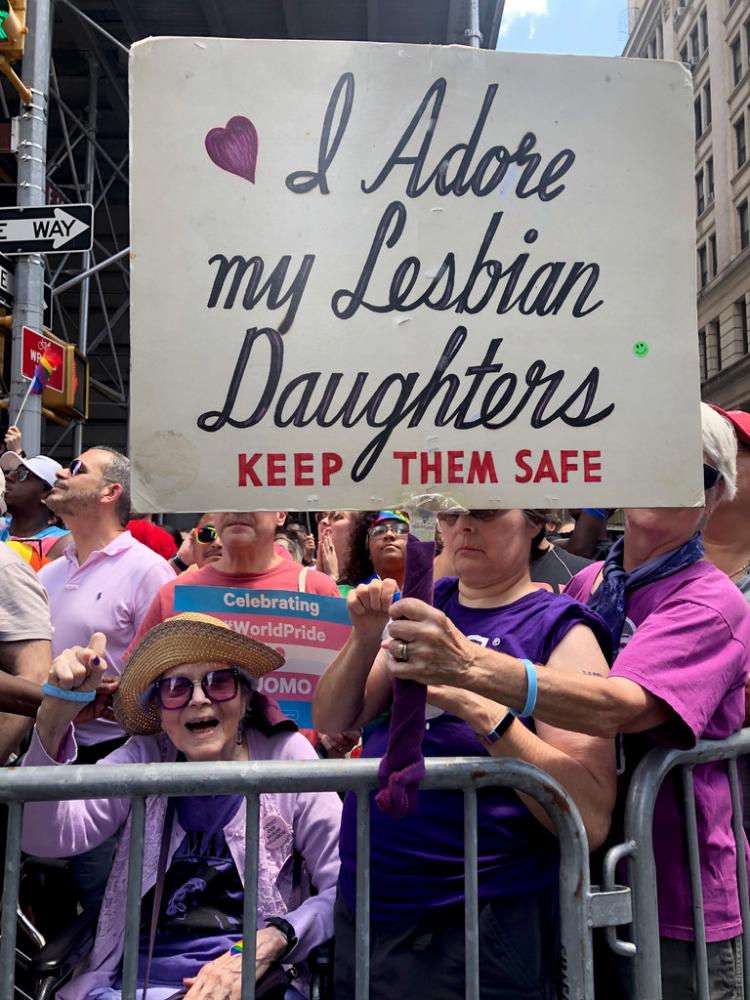 It would not be the Pride March without Frances Goldin, the Lower East Side radical, and her sign.
"I Adore My Lesbian Daughters — Keep Them Safe," read the aging piece of white cardboard held aloft by Ms. Goldin on Sunday at the Pride March, at the corner of 18th Street and Fifth Avenue.
The sign has become a staple at New York Pride marches, and Sunday was no different, as Ms. Goldin, 95, held it up while she sat in a wheelchair and flashed her toothy smile.
"She's been bringing this exact sign to Pride marches for 40 years," one of her daughters, Reeni Goldin, 70 said. Her mother — "a revolutionary" — first began bringing it, she said, because "she had a very real fear for us."
Throughout the march, Ms. Goldin was approached by attendees, police officers and elected officials, including New York State Attorney General Letitia James and Mayor Bill de Blasio and his wife, Chirlane McCray.
She has long run the Frances Goldin Literary Agency, representing such authors as Barbara Kingsolver, Adrienne Rich and Mumia Abu-Jamal. She spent a career fighting against overdevelopment and gentrification, including the urban renewal plans of Robert Moses.
Ms. Goldin has also been a regular at civil rights rallies and events for affordable housing and a host of other causes.
"I have a lesbian daughter too and I love her as well," said a woman who approached Ms. Goldin on Sunday. She hugged both mother and daughter, then turned away and burst into tears.
"People are drawn because it's just so personal," Reeni Goldin said. "My mother doesn't just love her daughters, she adores us. There's a difference."
Sylvia Ray Rivera - Poster of the Week (Center for the Study of Political Graphics)
 
Poster Text:
"Everybody says it was me that threw the first bottle. No, it was somebody behind me that threw it. But when that first bottle went by me, I said, "Oh lord, the revolution is finally here! Hallelujah, it's time to go do your thing!"
The movement was born that night, and we knew that we had done something that everybody in the whole world would know about. They would know that gay people stood up and fought, and that would make everybody else stand up and fight."
–Sylvia Ray Rivera
June 28th is the fiftieth anniversary of the Stonewall uprising. After one particularly violent police raid in the summer of 1969 at the Stonewall Inn, a gay bar in Greenwich Village, the queer community of New York City had had enough, and launched a series of violent protests in front of the bar which lasted for days, and was a pivotal event in the early gay liberation movement.
CSPG's Poster of the Week commemorates Sylvia Ray Rivera, a prominent yet often overlooked figure central to the Stonewall uprising. Rivera was a Puerto Rican drag queen and civil rights activist involved with the Young Lords and Black Panther Party. She and Marsha P. Johnson, another undercredited drag queen and activist, were founding members of the Gay Liberation Front, and co-founded STAR (Street Transvestite Action Revolutionaries).
The contributions of the LGBTQ+ rights movement in Southern California are also often overlooked. Two of the earliest and most significant gay organizations, The Mattachine Society and One, Inc., were founded in Los Angeles during the 1950's. The earliest lesbian periodical, Vice Versa, was written and distributed in LA in the 40's. In February 1967, the queer community in the Silverlake neighborhood of Los Angeles organized against police brutality at the Black Cat Tavern, predating Stonewall by over two years.
The first-ever Gay Pride Parade was started in Los Angeles on June 28, 1970 by activists Morris Kight, Reverend Troy Perry, and Bob Humphries, to commemorate the one-year anniversary of the Stonewall uprising. Although one of several demonstrations that took place that day around the United States to remember the events at Stonewall, this was the only one to classify itself as a demonstration of pride, and closed many LA streets.
-Noah Chang, Getty Marrow Undergraduate Design and Media Intern
Sources:
Written by Matt Baume
March 29, 2019
Hornet
 
June 28, 2019
Democracy Now!
June 11, 2019
American Experience (PBS)
Center for the Study of Political Graphics
3916 Sepulveda Blvd, Suite 103
Culver City, CA 90230
Housing Justice - Affordable for Whom? Organizing and Development Strategies for Housing Justice - New York - August 2-3
 
The City University of New York School of Law
2 Court Square
Long Island City, NY 11101-4356

Affordable for Whom?
Organizing and Development Strategies for Housing Justice
August 2-3, 2019 at CUNY Law School, NYC
Featuring presenters from California to the Deep South to the Northeast, all working to build a national movement to transform our relationship to land and housing
As cities across the country struggle with rising housing costs and displacement, public recognition of the need for affordable housing is increasing. At the same time, organizers and activists--led by working-class people of color--are proposing bold, community-controlled solutions, and keeping a key question at the forefront: "Affordable for whom?" Current housing policies fail to address the underlying speculative forces driving the housing crisis, and do not provide homes affordable to extremely low-income people--often defined as those who earn 30 percent or less of their Area Median Incomes (AMI). Given these shortcomings, achieving deep affordability remains a major challenge for groups around the country who are fighting for non-speculative approaches to housing and land stewardship.
While this disconnect between a vision for deep, permanent affordability and available housing finance and policy tools presents a serious obstacle, it is not insurmountable. Coalitions of activists, practitioners, and academics around the country have successfully created deep affordability--even in expensive land markets--through community land trusts, cooperatives, mutual housing associations, tenant associations, and much more. Drawing on this long history of organizing, advocacy, and innovation in the shared-equity and right to housing movements, Affordable For Whom? will facilitate an exchange of knowledge, practices, and strategies for building community power and reaching deep, permanent affordability.
Affordable For Whom? is a two-day convening focused on the development and preservation of housing that is permanently affordable. Conference activities will include panel discussions, popular education activities, and strategy and planning sessions related to four interrelated elements of deeply, permanently affordable housing:
Innovative models of community-controlled land and housing
Stewardship practices that support permanent affordability
Creative financing and funding for deeply affordable housing
Public policies determined by community priorities

Conference Organizers:  CUNY Law School, NESRI, Picture the Homeless; Right to the City Alliance; New York City Community Land Initiative (NYCCLI)
 
National Economic and Social Rights Initiative
90 John Street, Suite 501,  | New York, New York  10038
212-253-1710
info@nesri.org