https://portside.org/2019-08-15/shameful-unprecedented-move-israel-bans-omar-and-tlaib-reactions-politicians-foreign
Portside Date:
Author: Alex Henderson; MPower Change; J Street; U.S. Campaign for Palestinian Rights
Date of source:
AlterNet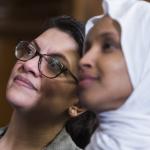 `A Shameful, Unprecedented Move': Politicians, Foreign Policy Experts React to Israel's Decision to Ban Omar and Tlaib After Trump Push
By Alex Henderson
August 15, 2019
AlterNet
Earlier this week, Axios reported that Israeli authorities had seemingly given the green light to a visit by Rep. Rashida Tlaib of Michigan and Rep. Ilhan Omar of Minnesota. But President Donald Trump urged Israeli authorities to bar the Democratic congresswomen from visiting the country, and the Israeli government won't be letting them visit after all. This has sparked some angry reactions, with critics asserting that Trump seriously crossed the line by urging Israel to not let two U.S. lawmakers visit.
Ilan Goldenberg of the Center for a New American Security (CNAS) has been a vehement critic of the decision and the role Trump played it in, devoting an entire Twitter thread to the subject.
"Trump's support for banning Tlaib and Omar opens up a can of worms for members of Congress traveling all over the world," Goldenberg warned. And according to Goldenberg, Israeli leader Bibi Netanyahu should think twice about the decision because "many governments may now find it much easier to deny far-right-wing members of Bibi's government entry."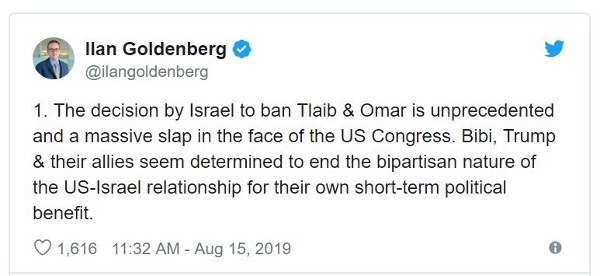 Rep. Justin Amash (a Michigan conservative and frequent Trump critic) tweeted that Israel's government "should stand up to President Trump and allow our colleagues to visit." Amash added that although "nobody has to agree with" Tlaib and Omar's views, "it will inevitably harm U.S.-Israel relations if members of Congress are banned from the country."
Condemnation of Israel's decision has come from both the left and the right. On the left, Sen. Bernie Sanders of Vermont condemned Israel's decision in no uncertain terms, denouncing it on Twitter as "a sign of enormous disrespect to these elected leaders, to the United States Congress, and to the principles of democracy." And Sen. Elizabeth Warren denounced it as "a shameful, unprecedented move."
Rep. Jerry Nadler, chairman of the House Judiciary Committee, was equally forceful in his comments, officially stating, "I strongly condemn this decision by the Israeli government, which undermines the ability for our two allied countries to have the frank, open and, at times, difficult discussions." And Democratic presidential candidate Julian Castro denounced Israel's decision as "appalling."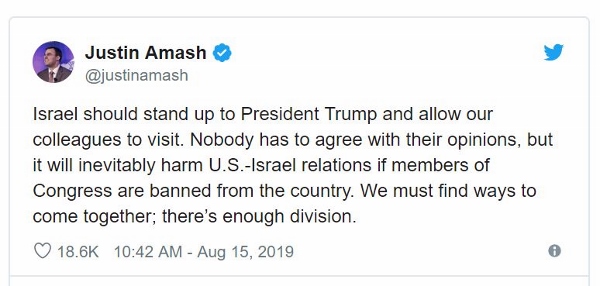 The American Israel Public Affairs Committee (AIPAC) criticized Omar and Tlaib's views but nonetheless disagreed with barring them from entering Israel, tweeting that "every member of Congress should be able to visit and experience our democratic ally Israel firsthand." And El Paso-based activist Bobby Sands essentially agreed with AIPAC's post but wanted them to "speak LOUDER."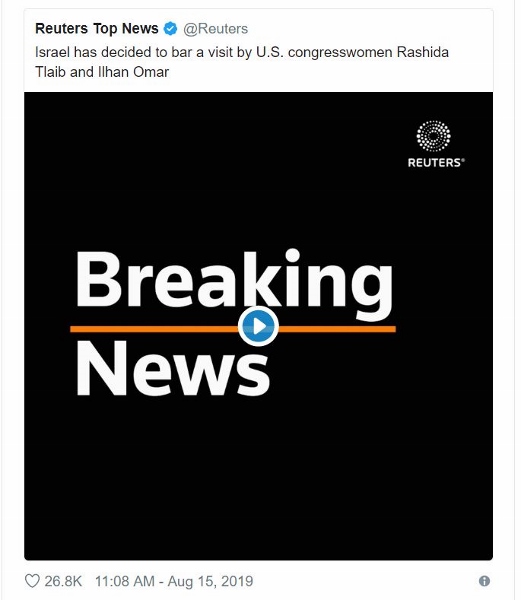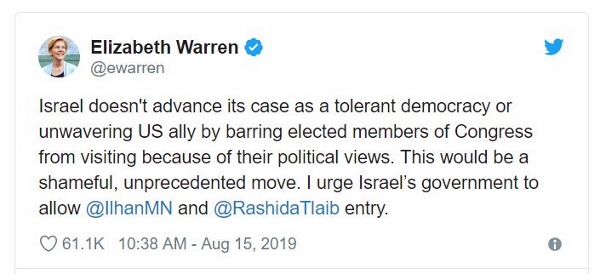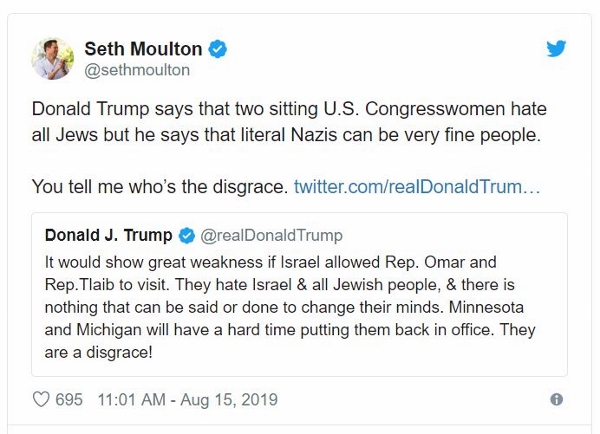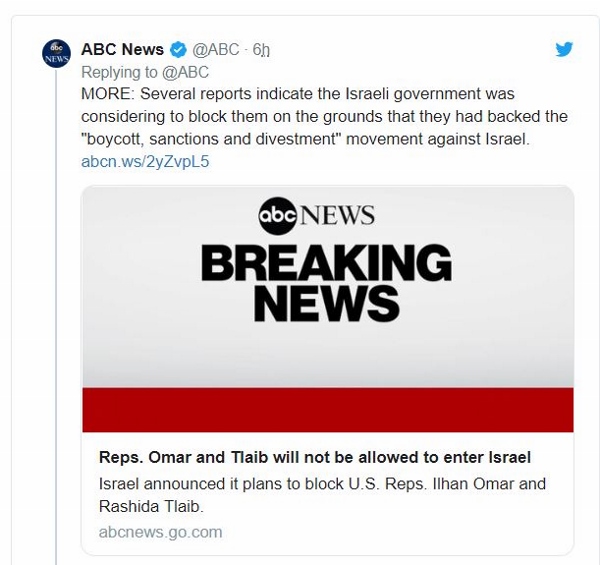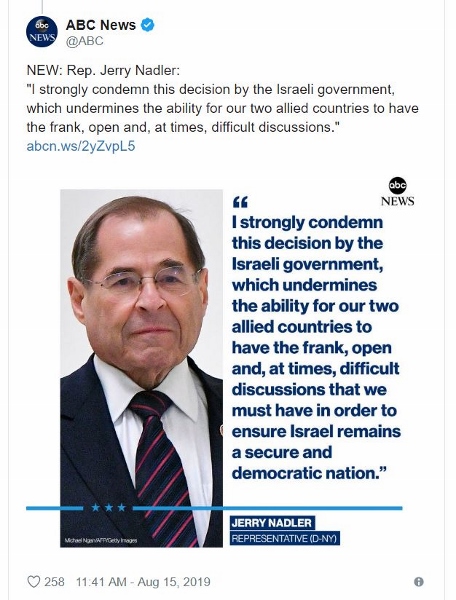 Yaakov Katz, editor of the Jerusalem Post, reacted angrily to a Trump tweet urging Israel to not let Tlaib and Omar visit. Katz tweeted that Trump's tweet "causes Israel immense damage" and went on to say that "for decades, Israel has strived and worked hard to enjoy U.S. bipartisan support. Trump, b/c of politics, wants to stop that."
Business reporter Christiaan Hetzner, based in Frankfurt, Germany, tweeted, "Trump is radioactive, and everyone who gets in bed with this administration becomes contaminated. No one has been quicker to bask in its cold glow than Netanyahu."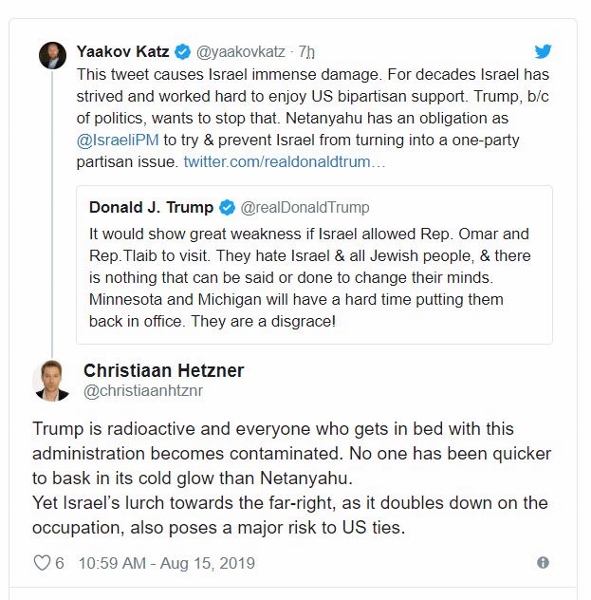 [Alex Henderson is a news writer at AlterNet and veteran political journalist. His work has also appeared in Salon, Raw Story, Truthdig, National Memo, Philadelphia Weekly, Democratic Underground, L.A. Weekly, and many other publications. Follow him on Twitter @alexvhenderson.]
Israel's Banning Two Muslim Members of Congress From Entry - Here's What We Can Do
MPower Change - Muslim Grassroots Movement
August 15, 2019

Israel's far-right Prime Minister Benjamin Netanyahu has decided, in an appalling development, to ban two sitting members of the US Congress from entering Israel: Reps. Rashida Tlaib and Ilhan Omar.1
Both women of color, both the first two Muslim Congresswomen in US history, and in Tlaib's case, the first Palestinian-American Congresswoman ever—blocked from pursuing a delegation visit with House leadership to gain greater perspective on Palestinian peoples, their stories, and and the daily struggles of military occupation.
Congress has a responsibility to condemn the Israeli government's actions immediately.
Add your name here to join the groundswell of voices poised to make sure this cruel ban-and act of aggression-backfires hard.
This blatant discrimination and undermining of their mission can only mean one thing: With your support, Tlaib and Omar's pursuit for justice has regimes in power gripping tightly to their fragile status quo.
Sign our open letter to Congressional leadership:
The barring of two Muslim Congresswomen is a discriminatory reminder of precisely why Israel's racist and exclusionary practices must be checked — and must be condemned.
Since the very first day they were sworn in on the Holy Quran, the attacks on this country's first two sitting Muslim congresswoman have only escalated.
But thanks to the overwhelming power of voices like yours, we united thousands in a movement against Islamophobic attacks seeking to scapegoat some of the most powerful advocates for justice Capitol Hill has ever seen.
When Trump's bigoted and Islamophobic incitements become a cornerstone of his re-election campaign we moved thousands of voices to call out spineless apathy from House leadership and forced a response.
When Rep. Duncan Hunter (R-CA) distributed hate-filled mailings openly lying about Reps. Omar and Tlaib, attempting to tie them to violence and terrorism in the 70's and 80's, it was you who joined thousands in boldly demanding his investigation and censure.2
And now we're here. Two sitting members of Congress banned from entering Israel—facing the same discrimination that has prevented Palestinians, Arabs, and Muslims from accessing their homes, land, and the chance to worship at Al-Aqsa, the third holiest site in Islam.
Add your voice now to prevent discrimination and aggression against Reps. Tlaib and Omar's pursuit for justice slip quietly by: Demand Congress condemn Israel now.
So what's next?
If there's any good news right now, it's this: in the few hours since the announcement this morning, we've seen an outpouring of disgust with this decision—from Israelis to Palestinians, U.S. Muslims to Jewish advocates, to people from across the world. All are making it clear that it's time for a reckoning, and possibly a long-postponed conversation on the U.S. role in Israel-Palestine.
Let's remember the stated reason for barring Reps. Tlaib and Omar: they've supported the constitutional rights of the Boycott, Divestment, Sanctions (BDS) movement—a nonviolent tactic to pressure the far-right Israeli government to end its military occupation that dispossesses millions of Palestinian's from basic dignity and freedom.
In other words: Netanyahu is banning members of the U.S. Congress from visiting Israel because they criticize his government, a dangerous act that allows authoritarianism and nationalism to thrive.
We can't let this quietly set a new precedent. Not when prominent U.S. Muslims are systematically dehumanized. Not when we let Islamophobia dictate foreign policy.
Don't let it be the new normal. Add your name to our open letter now.
Sources:
1. "Netanyahu blocks Ilhan Omar and Rashida Tlaib from visiting Israel," Vox, 15 Aug 2019
2. "Duncan Hunter sends more Islamophobic campaign mailers in California," Politico, 12 Jul 2019
[MPower Change is the largest Muslim led social and racial justice organization in the United States. Rooted in our Islamic faith and the Prophetic model, we believe in building a more just world for all people. We are building a grassroots movement made up of diverse Muslim and ally communities throughout the United States.
Muslims have been in the Americas long before the founding of the United States. For the last 120 years we have been deeply engaged in the political life of this country, led by our Black Muslim sisters and brothers, and our great spiritual luminaries. Malcolm X, Dr. Betty Shabazz, Imam Warith Deen Muhammad, Muhammad Ali and countless others who laid the groundwork for Muslims in the United States today. MPower Change builds on this legacy with deep intentionality and guided purpose.
In 2014 our founders Linda Sarsour, Mark Crain, and Dustin Craun started working together to lay the foundations for what would become MPower Change. With their more than 40 years of collective community organizing experience, their intention was to build a grassroots organization rooted in the diverse Muslim communities in the United States. Combining their experiences in faith rooted, local, and digital organizing, together they convened a group of leading Muslim organizers and faith leaders to set our spiritual, political, and organizational vision.
Launched in January of 2016, we have quickly grown to become one of the largest Muslim digital advocacy organizations in the US with a membership over a quarter million.]
Sign Our Petition: Allow Ilhan Omar and Rashida Tlaib to Visit Israel and the West Bank
August 15, 2019
According to breaking reports, Prime Minister Netanyahu is denying Representatives Ilhan Omar and Rashida Tlaib permission to travel to Israel and the West Bank. This morning President Trump attacked these members of Congress and tweeted that it would show "great weakness" if they were granted entry.
We need to be clear about this: The unprecedented decision to ban sitting members of Congress -- the first two Muslim women in Congress -- from visiting Israel is motivated purely by right-wing politics, not by the interests of the State of Israel. This is an affront to Congress and the American people and does severe damage to the US-Israel relationship.
As pro-Israel, pro-peace Americans, we know that strong democracies allow space for critical voices and scrutiny. We may disagree with the views that the members hold on such questions as BDS or with Rep. Tlaib on the two-state solution, but the right approach for a state that values democracy is to welcome criticism and debate, not to suppress it.
Just two weeks ago, Israel's ambassador to the US Ron Dermer said: "Out of respect for the US Congress and the great alliance between Israel and America, we would not deny entry to any member of Congress into Israel."
Whatever changed since then has nothing to do with Israel's security -- and everything to do with the far-right agenda of Trump and Netanyahu.
Sign our petition and make clear: Pro-Israel, Pro-Peace Americans reject this disgraceful decision.
Thank you,
Jeremy Ben-Ami,
President of J Street
==========
We reject this dangerous decision and call for Reps. Omar and Tlaib to be allowed to travel to Israel and the West Bank.
[J Street organizes and mobilizes pro-Israel, pro-peace Americans who want Israel to be secure, democratic and the national home of the Jewish people.
Working in American politics and the Jewish community, we advocate for policies that advance shared US and Israeli interests as well as Jewish and democratic values, leading to a two-state solution to the Israeli-Palestinian conflict.]
PO Box 66073
Washington, DC 20035
Phone: (202) 596-5207
Email: info@jstreet.org
#LetThemIn! Stand with Reps. Tlaib and Omar & Challenge Israel's Racism
U.S. Campaign for Palestinian Rights
August 15, 2019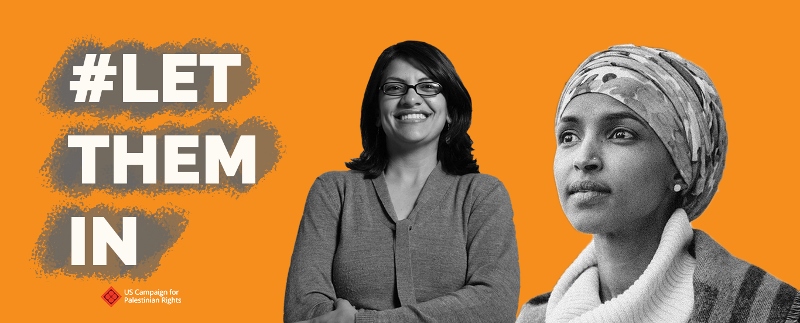 The Israeli government has decided to deny Reps. Rashida Tlaib and Ilhan Omar entry to the occupied Palestinian territory. We are appalled, unsurprised, and ready to mobilize. Tell your member of Congress to demand to #LetThemIn AND hold Israel accountable for the racist and exclusionary policies that target Palestinians, Arabs, and Muslims.
This decision is par for the course with Israel's racist and exclusionary policies. Israel has been banning entry to Palestinians since first expelling them and creating the world's most protracted refugee crisis in 1948, and discrimination against Palestinian, Arab, and/or Muslim travelers to Palestine/Israel is well-documented.
Reps. Tlaib and Omar—like the Palestinian people and people everywhere—should have the freedom to go wherever they please, whether that is to be with families and loved ones, or to inform themselves on the ground of the impact of U.S. policy on the Palestinian people, or to engage in political action in support of justice and human rights.
US Campaign for Palestinian Rights
PO Box 3609
Washington, DC 20027
United States | (703) 312-6360