https://portside.org/2019-08-26/solidarity-blackjewel-coal-miners
Author: Showing Up for Racial Justice SURJ
Date of source:
Showing Up for Racial Justice SURJ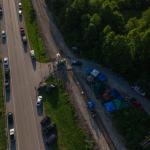 Since July 29, 2019, Coal Miners, their families, and their supporters in Harlan, Kentucky have been blockading a rail line carrying the coal of their former employer, Blackjewel Coal Company. Earlier that month, Blackjewel miners woke up to find out their employer, a company employing 1,000 miners across the Appalachian Coal Fields, had declared bankruptcy, their final paychecks weren't worth the paper they were printed on, and that they no longer had any health insurance. As of Day 25 of the ongoing blockade, the miners have still not been compensated for their labor.
As such we are asking our members to help however they are able. The Blackjewel Blockade camp have put forward a couple ways in which we can support their efforts. Below are ways you can support.  Please fill out this form if you can donate money or supplies, or go support in person!  
https://docs.google.com/forms/d/e/1FAIpQLSczxFYFPqkNra4Lj5IRLvAUoGop6BuxzY2YaLMjeViqRPQu5g/viewform?usp=sf_link
Donate and share their GoFundMes and other fundraising apps. We would like to raise $2500 through the SURJ chapter network - please fill out the form above if you donate. The funds raised go directly to the camp, the miner's families, and into their legal defense fund.

Venmo: shittyitalianguy

PayPal: motomiya_jun@hotmail.com

Cashapp: $blackjewelminers

Supply Donations. Part of our goal of $2500 will include supply donations, please include this in the form above.

Ice

Tarps

Solar Lanterns

Camping Chairs

Water Jugs

Anything that can go into their free store

Show up and support the camp. We have a goal of supporting 10 SURJ members to go in person to camp.

There is a need for folks to show up to help with the camp kitchen, night and day time security and safety, help in the free store, and keeping an eye on the train.

If folks are interested in showing up, please contact Shawn Fischer via email at shawn@showup4rj.org. We will be doing a political education call with those folks interested in being present at the blockade.
This story, as devastating as it is for the miners and their families, and as enraging it should be for anyone committed to a just and fair economy; is one that has played out time and time again for working class people in this country. It is defined by the complete disregard by those in charge with the lives of those they exploit in the search for continuous profit and power. These conditions are harnessed in the recruitment strategies of Far Right organizing in the Southern region (and beyond) and are also why it is critical that our movements practice active solidarity with the miners of Harlan and their families. Equally critical, we must engage in basebuiling and community organizing strategies in poor and working class majority white communities, who have everything to gain from successful movements for racial and economic justice. While much of the country has written off the South and it's residents, abandoning communities and ceding ground to Trump and the Far-Right, we know it is imperative to reach the working people of this region; in order to be in real solidarity with our partners, and to live SURJ's Theory of Change.
This is a monumental time in the lives of these miners. Though coal is not an answer to our environmental problems, the folks blockading the very same coal Blackjewel Coal Company used their bodies and health to extract, deserve our support. As someone who has spent the majority of my life in Central Appalachia and the South, I've had to watch as politicians and their corporate partners continue to pillage and plunder these communities, these mountains, and our families in the search of profit, power, and greed. If we want a just transition beyond Racial Capitalism, we must not only find alternatives of economy and organization for the folks living in these "write-off zones," but we must also support them in their struggles for equality and fairness as well.
Resources:
Instagram - Blackjewel Miners Blockade
Trump undoes Obama Era Mining Environmental Regulation
'Blood on the Mountain' Reveals how Hilary Clinton Lost the Rust Belt to Trump
Full length movie - Harlan County USA
WMMT Radio - How National Media Misses the Mark on Appalachian Communities
WMMT Radio - A Talk on the Tracks with the Blackjewel Miners Blockade
In Solidarity,
Shawn Fischer
Field Organizer
SURJ National Staff