https://portside.org/2019-08-27/bernie-sanders-picks-union-endorsement-pittsburgh
Portside Date:
Author: Julian Routh
Date of source:
Pittsburgh Post-Gazette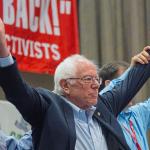 Vermont senator and 2020 Democratic presidential candidate Bernie Sanders picked up the endorsement of the Pittsburgh-based United Electrical, Radio and Machine Workers of America on Monday, moments after calling for the working class to rise up and "tell the corporate elite that this country belongs to all of us" at the union's annual convention Downtown.
Mr. Sanders, speaking to a few hundred union members at the Wyndham Grand Hotel, compared the union's message to that of his own presidential campaign, saying that the U.S. cannot continue to be a nation in which there's a "huge gap between the very rich and everybody else."
"If there is going to be class struggle in the United States, it's time that the working class got on the offensive and won that struggle," Mr. Sanders said in an animated 45-minute speech.
The UE, which represents about 35,000 workers in a variety of manufacturing and service-sector jobs, said it endorsed Mr. Sanders because of his consistent involvement in the union's strikes and workplace actions, including his support of members' efforts in Erie earlier this year to get a new contract with Wabtec Corp. after a months-long dispute.
"Bernie was an outspoken supporter of UE Locals 506 and 618 in their first contract struggle with their new employer, Wabtec in early 2019," read a resolution adopted by the convention on Monday. "Bernie reached out to UE to offer whatever assistance that members needed and he could provide."
Mr. Sanders congratulated the locals in his speech, deeming their efforts a model for fighting the corporate greed that's becoming more common in America, with companies giving bonuses to executives while demanding concessions from workers.
"You stood up and fought back," Mr. Sanders said of the workers, whose nine-day strike in February garnered national attention and the support of the Democratic senator.
The senator's campaign for the presidency intersected with union rights last week when he released a plan that he said would double union membership in the U.S. by the end of his first term, if he wins.
Mr. Sanders's labor plan would impose penalties on companies that refuse to negotiate in good faith and prevent companies from purposefully misclassifying employees as independent contractors or denying them overtime by falsely labeling them supervisors, among other things.
The policy proposals -- as well as Mr. Sanders's appearances in Western Pennsylvania in general -- strengthened one attendee's views on the candidate.
Bethany Hallam, the Democratic nominee for Allegheny County Council at-large, said the 2020 Democratic race is now a toss-up in her mind between Mr. Sanders and progressive counterpart Elizabeth Warren, the senator from Massachusetts.
"We hear [Ms. Warren] has a plan for everything, but Bernie has the most comprehensive union labor plan out of any candidate running for the presidential nomination right now," Ms. Hallam said.
Echoing themes from his usual campaign stump speech, Mr. Sanders also remarked that his ideals are not "pie in the sky," but reasonable. As he said at his other Pittsburgh rally earlier this year, he claimed that ideas that were deemed "too radical" during his losing 2016 bid for the presidency are now mainstream in the Democratic Party, including raising the minimum wage to $15 per hour and making public colleges and universities tuition-free.
Mr. Sanders also criticized President Donald Trump repeatedly, calling him a "pathological liar" and claiming he's waging a war on workers by giving tax cuts to the rich and loading his administration with billionaires, among other things.
With the endorsement, the UE -- which had endorsed Mr. Sanders in 2016 as well -- became one of the first national unions to step into the 2020 arena officially. The International Association of Fire Fighters endorsed Vice President Joe Biden in Pittsburgh earlier this summer.
UE members from across the country flocked to the convention in Pittsburgh, which runs through Thursday.
Jonathan Martin, a 31-year-old welder from Virginia, said he is drawn to Mr. Sanders's message that workers have to stand up and fight for a better standard of living.
"The fact that working American citizens in this country don't have enough money to live, provide or stay ahead of the game -- we gotta do something about that," Mr. Martin said. "Corporations are just making too much money."
A new national Monmouth poll, released on Monday a few hours after the senator's speech, put him in a virtual three-way tie with Ms. Warren and Mr. Biden for the Democratic nomination. Mr. Sanders, whose support jumped 6 percentage points from Monmouth's poll in June, came in at 20% in the latest poll, with both Ms. Warren and Mr. Biden at 19%.