https://portside.org/2020-01-18/hindu-nationalists-are-transforming-india-israel-style-ethnostate
Author: Abdulla Moaswes
Date of source:
+972 Magazine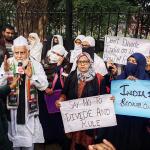 In recent weeks, police in India have been cracking down on thousands of protesters across the country. In many instances, local police are responding with brutality and deadly violence, setting out to inflict "maximum damage" on demonstrators. A video uploaded on social media shows officers in Kanpur cursing at protesters and targeting them with live fire. Another video, from the Jamia Millia Islamia university in Delhi, again shows policemen using live ammunition on protesters. Footage from the protests at Jamia also shows female student protesters rescuing their male colleagues from police violence.
The protests are in response to the passing of the Citizenship Amendment Act (CAA) in December. First introduced to parliament by the Bharatiya Janata Party (BJP), the law allows members of the Hindu, Jain, Parsi, Sikh, Buddhist, and Christian communities from Pakistan, Bangladesh, and Afghanistan to claim citizenship in India, while excluding Muslims from that clause.
While BJP members have portrayed the law to international audiences as a means of aiding minority groups from neighboring Muslim countries escape persecution, it is in fact the latest in a series of repressive steps the Indian government has taken against the country's Muslim minority. By making religion a condition of Indian citizenship, the act has a more troubling purpose: to transform India into a Hindutva version of Israel.
Hindutva, or Hindu nationalism, is the political ideology followed by the BJP and its leader, Prime Minister Narendra Modi. In pre-colonial times, followers of the Hindu religion never thought of themselves as a nation. As Professor Romila Thapar of Jawaharlal Nehru University argues, a national narrative of Hinduism only emerged after the writings of early 19th century British historians of India, such as James Mill, who wrote about a Muslim nation and a Hindu nation "perpetually antagonistic towards each other."
The ideological father of today's Hindu nationalism, however, is Vinayak Damodar Savarkar. An early 20th century politician, he drew inspiration both from Nazi Germany and from the Zionist movement in advocating for India to become a Hindu ethnocratic state that treated Muslims "like negroes" in the United States of his time.
In late November, the Indian consul-general to New York City, Sandeep Chakravorty, cited Israeli settlements in the occupied West Bank as an example of what India is hoping to achieve in Kashmir. It is clear from the works of academics such as Vivek Dehejia and Rupa Subramanya that this view of Israel as a model for India is not only applicable in Kashmir — a territory under Indian military occupation for seven decades — but also within the "mainland" and other states.
In line with their ideological affinity to Zionism, the BJP pledged during the 2014 Indian elections to institute a policy similar to Israel's Law of Return, which would grant Indian citizenship to Hindus from neighboring countries. The Citizenship Amendment Bill was subsequently introduced to the Lok Sabha, India's lower house of parliament, in the summer of 2016.
Protests in many cities, such as Delhi, Hyderabad, and Lucknow, were expressions of solidarity with Muslim Indians. The earliest opposition to the bill, however, emerged in the state of Assam in 2016, where the Assam Gana Parishad Party criticized the BJP for seeking to compromise the identity of the indigenous Assamese people.
Although Hindus form most of Assam's population, the question of indigenous rights in the state is a highly sensitive legacy of British colonial rule. It is widely known that the British promoted the movement of Bengali settlers to Assam, and even instituted Bengali as the official language of the courts in 1836.
The large-scale arrival of refugees from Bangladesh during its war of independence in 1971 led to violent pogroms by indigenous tribes against the refugees in the later part of the decade. Indigenous residents of other states in northeast India protested for similar reasons, most notably in Tripura.
An escalation toward settler-colonialism
India has always had a problematic relationship with the religious and ethnic minorities it has ruled over, who make up about 15 percent of the population — and with its Muslim minority in particular. But the BJP's de jure creation of tiered citizenship between Muslims and non-Muslims represents an alarming embrace of ethnocracy and apartheid.
Just as the repeal of Article 370 in August allows India to shrink Kashmir's Muslim majority, the CAA is designed to facilitate a similar demographic change and diminish India's Muslim population. This law is particularly dangerous when used alongside India's National Register of Citizens (NRC), which is the official record of India's citizens as per the 1955 Citizenship Act. The register has not been updated in the vast majority of the country since the 1950s, yet Indian Home Minister Amit Shah declared in 2019 that it will be used to expel "each and every infiltrator in India."
To make it onto the NRC, Indians will have to demonstrate possession of documents that prove their legal status prior to a cut-off date: March 24, 1971 in the case of Assam, for example. This poses an enormous problem to people who perhaps have not been able to hold onto such documents over the years.
In Assam, almost 2 million residents have not been able to make it onto the NRC, including about 700,000 Muslims. Although non-Muslims will be rendered stateless for a short period, the CAA will allow them to regain citizenship. Muslims, on the other hand, are excluded from this safeguard and may be forced to reside in detention centers.
The practical consequences of India's NRC bear many similarities to Israel's control of the population registry of the occupied West Bank and Gaza. Although the Palestinian Authority may update its own copy of the citizenship registry, it is Israel that determines the status of Palestinians, including whether to recognize their legal documents or to decide the extent that they can freely move in and out of the occupied territories.
According to Israeli human rights non-profit B'Tselem, Israel has not updated the Palestinian population registry since 2000. The group also states that the reasons for Palestinians losing or not gaining official status by Israel include prolonged time spent abroad and absence from population censuses, among others.
In this context, Israel uses the Palestinian population registry to manipulate and engineer demographics in a way that suits Israeli settler-colonial ambitions. This is further supplemented by the arbitrary incarceration and detention of Palestinians as a form of population control.
The Indian state has employed oppressive structures and processes, ranging from state-sponsored massacres to full-blown military occupation, for virtually its entire history. However, the repeal of Article 370 and the adoption of the CAA are an escalation toward settler-colonial ambitions. It attempts to erase the association between indigenous peoples and their lands, while creating an association between non-indigenous settlers and those same lands.
It is no coincidence that these changes are occurring under the rule of Hindu nationalists and the most Israel-friendly administration in India's history. As with Savarkar almost a century ago, the fascist dreams of Modi and other Hindu nationalists today remain inspired by the actions of Zionists.
[Abdulla Moaswes is a Palestinian lecturer in media studies and the social sciences. He is a graduate of the School of Oriental and African Studies (SOAS) and the University of Exeter and his research focuses on transregional linkages between the Middle East and South Asia. Follow him on Twitter @KarakMufti.]