https://portside.org/2013-04-06/revolution-ecuador-regional-leaders-forum-and-lula-latin-american-integration
Portside Date:
Author:
Date of source:
Portside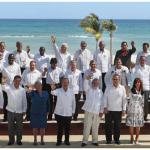 (1)
Rafael Correa's "Revolution" in Ecuador Continues
By Kristina Wischenkamper
l'Humanite
March 31, 2013
http://www.humaniteinenglish.com/spip.php?article2239
Rafael Correa has been triumphantly re-elected [February 17] to the presidency of Ecuador's 15 million people in the first round of elections, according to official estimates. His main opponent, the conservative banker Guillermo Lasso, quickly admitted defeat on Sunday night.
Rafael Correa, the charismatic and popular leader and 49-year-old economist, who since coming to power in 2007 has brought about a socialist shift in his country's politics, has promised to consolidate his "revolution" during the final four-year term allowed him by law.
"Thank you for your confidence. We will never let you down. This victory is your victory". This was Rafael Correa's message to thousands of cheering fans from the balcony of the presidential palace in Quito. "Our revolution cannot be stopped. We are writing history." The Head of State won the first round with more than 56% of the votes after almost 40% of the ballots had been counted.
Rafael Correa was clearly ahead of his main rival, the conservative banker Guillermo Lasso, credited with 24% according to a partial count released by the National Electoral Council (CNE). "Tonight, I must recognize President Rafael Correa's triumph", announced the right-wing businessman and leader of the Movement for the creation of opportunities (Creo), in a speech given to his supporters gathered in the port of Guayaquil (southwest). The Head of State "has won re-election and deserves our respect," he continued. Given his showing in the election, Guillermo Lasso, who was briefly Minister of Finance during a violent economic crisis in the late 1990s, poses as the head of the opposition to Rafael Correa, now in power for six years.
After the results were announced, the streets were invaded by a forest of green flags, the colour of the ruling Alianza Pais. "Rafael, we love you", shouted the crowd, amid fireworks and a symphony of car horns. "I hope that Correa will continue to eradicate poverty and create more work for Ecuadorians," Rodrigo Felicitas, a father of 43 years, told AFP.
________________
(2)
President Mujica, Bachelet and Lula to Debate on Progressive Forum
Prensa Latina
April 2, 2013
http://www.prensa-latina.cu/index.php?option=com_content&task=view&idio…
Montevideo,
Uruguayan President, Jose Mujica, will participate here with former Presidents Michelle Bachelet of Chile, and Luiz Inacio Lula Da Silva of Brazil, on Thursday in a debate on progressive forces in Latin America.
The meeting, to be held in the building of the Southern Common Market (MERCOSUR), will analyze both the current tensions and the prospects of that political trend, according to organizers.
Convened by the Friedrich Ebert Foundation, the discussion will examine the experience of progressive governments in Latin America and its relationship with the union movement before and after reaching the government.
On the theme "Transformations at risk? Perspectives and tensions of liberalism in Latin America" will also take part the general secretary of the Trade Union Confederation of Workers of the Americas, Paraguayan Victor Baez.
The organizers said that another goal of the meeting is to promote a public debate between political and union leaders about the sustainability of the changes and the agenda items that are pending.
Another goal is to establish the importance of coordination and partnership between the political and union spheres to consolidate and deepen the process of change in Latin America.
___________________
(3)
Lula Calls for Creating Culture of Latin American Integration
Prensa Latina
April 3, 201
http://www.prensa-latina.cu/index.php?option=com_content&task=view&idio…
Montevideo
Former Brazilian President Luiz Inacio Lula da Silva spoke today of the need to create a culture of Latin America integration, in all its breadth, beyond trade.
"I have taken the initiative to start discussing integration by listening to social movements, intellectuals, businessmen, trade unionists, and politicians," Lula said in an interview published today in La Republica newspaper.
"We need to mentally define what kind of integration we want. Is it to copy the model of the European Union? Is it to build something new? What does every leader have in mind?" the former Brazilian president said.
"Outside the government, you have more freedom to act, talk and reach out to other sectors of society. That is my dream, that is my wish, and I hope to have some time left to do it," said Lula in Montevideo where he was attending a meeting on information society.
The former Brazilian president highlighted the role of presidents such as Hugo Chavez and Nestor Kirchner in the construction of the Union of South American Nations (UNASUR) and the strengthening of the Southern Common Market (MERCOSUR).
Lula recalled that Chavez and Kirchner had strong Latin American, South American and continental callings, "and refused to submit to the logic of domination to which many other presidents were subjected."