https://portside.org/2020-03-31/dispatches-culture-wars-march-31-2020
Author:
Date of source:
Portside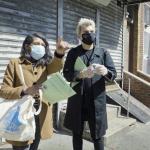 Everything Has Changed Overnight
By Nathan J. Robinson
March 27, 2020
Current Affairs
There is only one issue on everybody's minds: the virus, along with its consequences. An effective, on-message Democratic opposition is needed, exposing Trump and offering a clear plan of their own. Unfortunately, Democrats for the most part have failed utterly. 
By Peter Rugh
March 27, 2020
The Indypendent
Sprawling mutual aid work is underway across the borough and New York City, now the epicenter of the COVID-19 pandemic in the United States.  
By McKay Coppins
March 30, 2020
The Atlantic
As the coronavirus now emerges as another front in the culture war, social distancing has come to be viewed in some quarters as a political act—a way to signal which side you're on.
By Frank Rich
March 26, 2020
New York Magazine
There's a titanic dynamic playing out now in real time. Celebrities and the wealthy are first in line for the lifeboats of coronavirus tests. The permanent residents of resort towns on the Eastern seaboard are being shoved aside by prematurely returning summer vacationers who are stripping shelves of food and flooding the limited local health facilities.
By Gilad Edelman
March 23, 2020
Wired
Now we're faced with the threat of another global catastrophe arising from the clash of nature and modern human activity. As with climate change, any serious effort to mitigate or stave off this disaster will require major economic disruptions. 
How To Talk To a Corona Skeptic
By Teresa Carr
March 24, 2020
Undark
Is there something people who communicate about Covid-19 can do to better convey the gravity? Experts have some ideas.
Chesa Boudin: Prisoners at Risk
By Jennifer Gonnerman
March 26, 2020
The New Yorker
As covid-19 has been spreading throughout the country, Boudin has been outspoken in urging criminal-justice leaders to reduce their jail and prison populations. 
By John Nichols
March 27, 2020
The Nation
Bernie Sanders's moral outrage and devastating sarcasm struck back against a GOP assault on poor and low-income workers. 
By Daniel Strauss and Lauren Gambino
March 28, 2020
The Guardian
Even with the ramped-up online schedule, it can still be difficult for Biden to break through as he is overshadowed by other figures actually fighting on the frontlines.
By Brendan Wetmore
March 25, 2020
Paper
It may have taken suffering and virus with no cure to make it happen, but celebrities are pivoting towards uplifting the working class more so than the executive branch of the United States government.