https://portside.org/2020-04-05/trump-decided-global-pandemic-was-good-time-be-neighborhood-bully
Portside Date:
Author: Jeremy Kryt
Date of source:
Daily Beast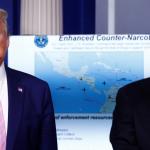 POPAYÁN, Colombia—The ravages of the pandemic have begun here now, and as it worsens millions of Venezuelan migrants pose a tremendous challenge to fragile infrastructure throughout Central and South America, where poor living conditions and a lack of resources mean they are largely defenseless against the novel coronavirus.
That would be bad enough. But recent moves by the Trump administration could make the situation incalculably worse.
In the middle of the enormous health crisis sweeping the United States and devastating the world economy, President Donald Trump has decided to double down on his efforts to drive Venezuelan head of state Nicolás Maduro from power.
On Wednesday Trump announced plans to deploy warships and aircraft near Venezuelan waters, allegedly to intercept cocaine shipments but clearly intended to further isolate and intimidate Maduro's "socialist" regime. Just last week the U.S. Justice Department charged Maduro with drug trafficking and put a $15 million dollar price on his head, a move apparently aimed at fomenting dissent among the nation's officer corps.
Trump's State Department also has imposed new sanctions that are more crippling than ever, despite the pandemic, further weakening Venezuela's already frail health-care system. The net result is less likely to be a change of regime in Venezuela than a complete COVID-19 meltdown. Experts warn that the fallout could trigger a rampant exodus of the infected and desperate, destabilizing the entire region.
"The Trump administration has signaled that it will continue to institute collective punishment on everyday Venezuelans, a punishment that will grow even more deadly as the virus spreads," Cavan Kharriazan, a Venezuela specialist with the Center for Economic Policy and Research [CEPR] in Washington, tells The Daily Beast. "This will inevitably lead to Venezuelans seeking treatment and relief in already strained neighboring countries, risking further spread across borders."
Conditions in Colombia already are dire. The number of confirmed cases is, as of this writing, 1,267 with 25 deaths. But a lack of available test kits means the true number is likely much higher, and the fearsome exponential spread of the disease in many countries suggests a doubling of infections approximately every three days.
One prominent epidemiologist has predicted the total collapse of the national health system in Colombia—a close U.S. ally—by early April. Panic already has resulted in widespread looting and prison riots that left 23 dead and more than 80 inmates wounded.
The looming shortages of food, hospital beds, and medical supplies mean expatriated Venezuelans will be among the hardest hit. The Norwegian Refugee Council has warned that the vulnerable, largely impoverished population of migrants represent a potential powder keg: Colombia as well as other countries like Colombia could be faced with "carnage" if—or when—COVID-19 sweeps through the camps and barrios where they have taken refuge.
About 90 percent of Venezuelan immigrants in Colombia work in the informal economy, meaning the ongoing and strictly enforced quarantine has rendered them instantly jobless and with nothing to fall back on. According to the news site Colombia Reports, hundreds of refugee families in Bogotá already have been displaced all over again—evicted because they couldn't pay the rent.
Due to the pandemic "refugees and migrants from Venezuela face specific risks," says Olga Sarrado, a spokesperson for the United Nations High Commissioner for Refugees (UNHCR), in an email to The Daily Beast.
"Many depend on daily wages to pay their rent, buy food, and purchase needed medicine," Sarrado says. "Others are living in the streets without a shelter," making it impossible "to follow the quarantine and self-isolation measures."
Those factors could facilitate an even faster rate of transmission for the novel coronavirus.
"Migrants, especially those without stable housing, will be stuck in limbo and forced into dangerous living conditions, such as over-crowded facilities," says Kharriazan of CEPR.
The barrio called Sindical, on the outskirts of the provincial capital of Popayán in southern Colombia, is home to a large contingent of at-risk Venezuelan exiles. These streets, once full of despecho music and empanada vendors, have fallen eerily silent. At night the residents light votive candles in their windows, on their stoops. Kindled pleas that the families inside might be spared from viral outbreak and economic backlash alike.
"I don't know what we're going to do now. We've nothing left for rent or food," says Kenny Oramas, 45, as he gazes out over the barrio's shuttered park, the padlocked soccer pitch.
"I get paid by the day," says Oramas, a father of two who paints cars at a nearby body shop that's now closed for the national lockdown, which could extend through June or beyond. "If I can't work nobody will give us anything. It's very hard to see our kids go hungry. To see my wife worry we'll be tossed out in the street."
Like many refugees, Oramas is an undocumented immigrant who left his homeland in 2018 due to rising scarcity, inflation, unemployment, and to give his family "a more dignified kind of life."
The novel coronavirus has left Oramas and many of the 4.5 million other Venezuelan refugees scattered throughout Latin America with nowhere left to run. And the strictly enforced quarantine means aid workers in high-risk zones like Sindical are faced with limited mobility and resources.
"Now, with the virus here, we're worse off than we were in Venezuela," Oramas says, but with legal border crossings closed there's no going back.
"All we can do is trust in God," he says.
[moderator: Telesurenglish quotes from a letter a letter issued on Sunday by Venezuelan President Nicolás Maduro warning the administration of U.S. President Donald Trump against making any unwise military decisions against the Bolivarian Republic.
"Venezuelan Foreign Minister Jorge Arreaza read a letter on Sunday that Venezuelan President Maduro sent to the people of the United States, following Washington's recent threats toward the Bolivarian Republic.
In the letter, the head of state indicated that "in Venezuela we do not want an armed conflict in our nation, we cannot accept war threats," and urged the American people not to believe in the reasons that Trump indicates for attacking Venezuela.
President Maduro urged the people in the United States to not believe Trump's statements about "fighting drug trafficking", calling these claims by the U.S. leader false and unfounded.
In the text, President Nicolás Maduro rejected the threats of the Trump administration against Venezuela that seek to lead the region to an expensive, bloody and indefinite armed conflict.
"We in Venezuela do not want an armed conflict in our region. We want fraternal relationships, cooperation, exchange and respect, "he said.
He stated that the country cannot accept war threats, or blockades, nor the intention to install an international guardianship that violates sovereignty and ignores the advances of the last year in the political dialogue between the government and a large part of the Venezuelan opposition.
After showing solidarity with the U.S. people that are suffering from the COVID-19 pandemic, he called on the people of the country to hold their leaders accountable and compel them to focus their attention and resources on the necessary and urgent fight against the pandemic.
Furthermore, he requested the cessation of military threats, the end of illegal sanctions and the blockade that restricts access to humanitarian supplies, which are so necessary today in the country to combat this virus.
"I ask you, with your heart in your hands, not to allow your country to be drawn, once again, to another endless conflict, another Vietnam or another Iraq, but this time closer to home," the letter highlights."]
---
Jeremy Kryt has reported on the drug war and human rights issues from Mexico, Central America, and Colombia. His work has appeared in the Huffington Post, the Earth Island Journal, and In These Times magazine, among others. He lives in Chicago and travels often on assignment.