https://portside.org/2020-06-19/juneteenth-and-struggle-workers-rights
Author: Rebecca Dixon
Date of source:
NELP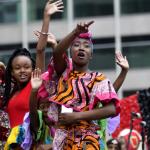 As the movement for Black lives touches every aspect of private and public life – we join people across the United States celebrating Juneteenth today and reflecting on the country's collective memory. Juneteenth was first celebrated by Black people in 1866 in Texas; we also honor their joy and resilience today. As we contribute to the fight for workers' rights and to build worker power, we are clear that the origins of the U.S. labor movement start with enslaved African people and their descendants struggling for emancipation. For this reason, Juneteenth deserves an honored place in our labor history timeline – and it requires that we connect it to the long-term fight for labor justice, centering Black workers.
One hundred and fifty-five years ago, on June 19, 1865, two-and-a-half years after President Lincoln signed the Emancipation Proclamation, General Gordon Granger issued an order in deeply confederate Galveston, Texas – ensuring the law of the land, that enslaved people were now free people, would be fulfilled. That order read:
This involves an absolute equality of personal rights and rights of property between former masters and slaves, and the connection heretofore existing between them becomes that between employer and hired labor.
The freedmen are advised to remain quietly at their present homes, and work for wages. They are informed that they will not be allowed to collect at military posts, and that they will not be supported in idleness either there or elsewhere.
The racist logic embedded in the order, even while it's about people being free, is painful in that it still set up a relationship built on exploitation and uneven power. The master became the employer and the shameless insistence that "idleness will not be tolerated" was an only slightly veiled hint that social control and surveillance would prevail in the new social structure – and that Black people would still be valued above all for their labor. The order guides us in understanding how racial capitalism – a system that holds up white supremacy and is dependent on the construct of race as a hierarchy as a means for exploitation – was upheld post-slavery. This logic has been so deeply embedded, but Black people have been fighting to dismantle it throughout history.
Following the Emancipation Proclamation, the era of Reconstruction, which lasted from 1865 to 1877, saw the promise of equality including just wages and working conditions disrupted and denied. The Reconstruction Amendments moved citizenship and voting rights forward – and while this created an opening for numerous Black men to hold local, state, and national office, new racist laws based in repression were severe. Rather than compensating people for generations of forced labor, Black Codes in the South restricted people's freedom and ensured that the same class of plantation owners would benefit from cheap labor. Annual labor contracts between white landowners and Black tenant farmers and sharecroppers – who rented and worked the land, giving owners a share of the profit – were not only required but could lead to massive debt for which Black people were prosecuted and hired out for work in order to pay it down. These and other ruthless injustices from that era make Reconstruction an unfinished labor justice project that we must return to in earnest.
There was a real opportunity for the U.S. to make amends and make meaningful structural changes for Black people in the South with the New Deal only six decades after Reconstruction; but as I've previously pointed out, the framework that brought us Social Security, minimum wage, overtime pay, and the right to organize also had limitations which excluded agricultural and domestic workers, effectively excluding nearly half of all Black men and 90 percent of the Black women. In this pandemic we have been reminded of the vital necessities of food and caregiving, and the people who make sure we have both. It is significant that Black women were historically segregated in that work that all along has been valuable to the larger collective – yet what has historically been devalued as Black women's work – which is still compensated with the lowest wages and least protections.
Black women have been on the frontlines of this crisis as registered nurses, nursing assistants, home care workers, cashiers, school teachers, and customer service representatives. Still, policymakers, corporations, and employers have fallen short during this pandemic. Our long fight for worker justice requires policy solutions that will address occupational segregation. We must fight for livable wages and increased wages in all occupations, guaranteed quality health care, paid sick leave and paid family and medical leave; robust labor protections and laws that counter wage theft and retaliation; strong social insurance programs that support stability and give workers power to leave when facing unjust conditions; sectoral bargaining that raises working conditions and wages across sectors; and just cause employment protections that require fair notice and severance pay before a worker can be left without a job. Black women's labor is vital to everyone's labor rights and freedom; we must center them in our struggle.